Machine-to-Machine Connections in the Internet of Things
April 29, 2014
In a new article series, Machina Research will provide insights around developments in machine-to-machine (M2M), the Internet of Things (IoT), and Big Data. Here, in this kickoff article, principal analyst Emil Berthelsen covers current applications and possibilities, market size and potential, and who can benefit from connected devices. Many products and services have become "connected." An increasing number of cars are now "connected," which send information to their drivers' smartphones and receive instructions in return on things like unlocked doors and open windows. Connected cars also receive new navigation or infotainment updates and exchange data with car dealers for preventive maintenance services and warranty checks. Meanwhile, home lighting and heating/cooling systems can also be "connected," allowing home owners to remotely manage the environment when away and achieve additional energy savings or to enhance home security through real-time closed-circuit TV solutions. Pets can be "connected," allowing them to be tracked and traced; elevators and escalators can be "connected," sending information for routine maintenance scheduling; vending machines can be "connected," signaling when refills are needed. The story of the Internet of Things goes on, but none of this is new to industry, where the remote monitoring of equipment and assets has already been widely implemented. Probably better known as telemetry or machine-to-machine (M2M), this "connected" world started some time ago. But let's consider how these "connections" are changing in M2M and the Internet of Things (IoT). In the most basic and traditional of M2M models, a connected device forms a part of an M2M application. This device has a sensor or an actuator, a controller, some processing power in certain cases, memory and power management capability, and, of course, some form of connectivity. The device captures such data as temperature, vibration, humidity, pressure, etc, and transmits this data to the supporting systems in the back end -- all in a narrowly defined application. Having been expensive to design and implement and even more costly to change, investments in M2M have been limited to where business cases have supported relatively expensive solutions, and for many years, companies have not been able to take advantage of the significant benefits of M2M and IoT. This has (almost) all changed. At the remote-device end of the connection, costs are coming down. Cheaper controllers and chips, lower-cost connectivity modules, and a growing number of improved and competitive connectivity options[1, have significantly changed business cases and accelerated the adoption of M2M and IoT in many industries such as automotive and intelligent buildings. Machina Research forecasts this growth to continue, as illustrated in the chart below, with M2M connections growing from 3.6 billion in 2013 to 22.5 billion by the end of 2023[2.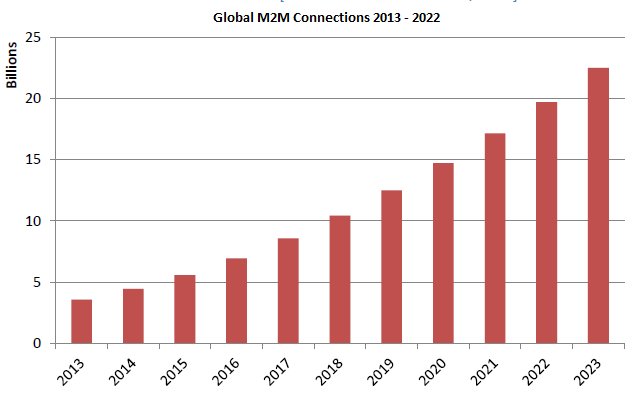 More and more devices are now becoming connected, and as the number of innovative applications and advantages from real-time information are recognized[3, these installed devices become drivers for additional connections. Within manufacturing, construction, and intelligent buildings, to name just three of many industries, connected devices are underpinning significant operational cost reductions (such as fleet and supply chain efficiency, energy savings, resource and scheduling optimization, minimizing downtime through predictive maintenance), identifying new revenue opportunities (such as new business models based on real-time monitored usage or greater asset utilization), or improved customer experiences (such as being able to monitor a host of environmental conditions that may impact production or construction or allow manufacturers to monitor the life cycle and quality of their products in real-time rather than through historically collected data). It is in improved customer experiences where companies will see significant benefits. This may be in terms of product and service life-cycle management, or more directly, in retail scenarios with in-shop close-proximity sensors for information and payment solutions, or smart meter readers allowing customers to manage their energy consumption better. In the Internet of Things, not only will connected devices deliver data to applications in back-end systems but some M2M and IoT applications will also be designed with business rules and models allowing for greater "intelligence" at the edge. The world of connected devices delivers significant changes with a host of options: more connected devices, a greater range of applications, multiple connectivity options, a growing amount of data, and, unsurprisingly, a growing ecosystem of device manufacturers, solution providers, system integrators, connectivity providers, and platform providers. From the perspective of a business or an industry looking to become connected, M2M and IoT have on the one hand become simpler in terms of execution, but on the other have become more complex in terms of the competitive landscape. Significant steps have been made in lowering entry costs and overcoming the complexity of application development and management. Many applications are now available as off-the-shelf products, ready for enterprise customization[4 and integration into to well-established enterprise resource planning (ERP), customer relationship management (CRM), or human resource management (HRM) systems. Machine-to-machine and the Internet of Things will become an everyday technology. But what are the opportunities? What is the size of the market for connected solutions? How does a company go about connecting its products and services? Which kinds of M2M industry players can best assist? What will it cost? How do I launch a request for information (RFI) or request for proposal (RFP)? Throughout this article series, Machina Research will share insights around developments in M2M, IoT, and Big Data. Machina Research has written a white paper, "Connecting your business: The top 10 things to consider when procuring M2M services," which can be downloaded at the company's
website
------------------------------------------- [1 As outlined in the granular global M2M forecast database of Machina Research, connectivity technologies identified and forecast per application, industry sector, and country include wide area fixed line (PSTN, DSL, cable, etc), short range (Wi-Fi, Zigbee, Ethernet), wireless wide area networks (2G/3G/4G and LPWA -- low-power wide area networks), satellite and metropolitan area networks (MAN). [2 Machina Research Global M2M forecast database 2014 [3 The topic of real-time data capture, processing and analysis, or Big Data addressed even greater opportunities from connected devices. Machina Research addresses these topics in a number of conference presentations, Research Notes, and a more detailed Strategy Report. For more information, visit
www.machinaresearch.com
[4 Examples of off-the-shelf M2M and IoT applications may be found from M2M and IoT platform providers like ThingWorx, SeeControl, and Digi (Etherios).
Emil Berthelsen is principal analyst for Machina Research