Entrepreneurs More Likely to Outsource Than Delegate Work to Employees
November 19, 2013
Most entrepreneurs feel they work too much, yet a majority would rather outsource certain assignments than turn to their own employees to get the job done, according to a survey conducted by The Alternative Board. Sixty-six percent of the respondents to the
small business owner survey
 said that they work an average of 40 to 60 hours a week, but would prefer to work 30 to 49 hours a week. Compare that to Bureau of Labor statistics data, which say that the average employed person aged 25-54 (with children) works about 8.8 hours a day -- an average of about 44 hours a week.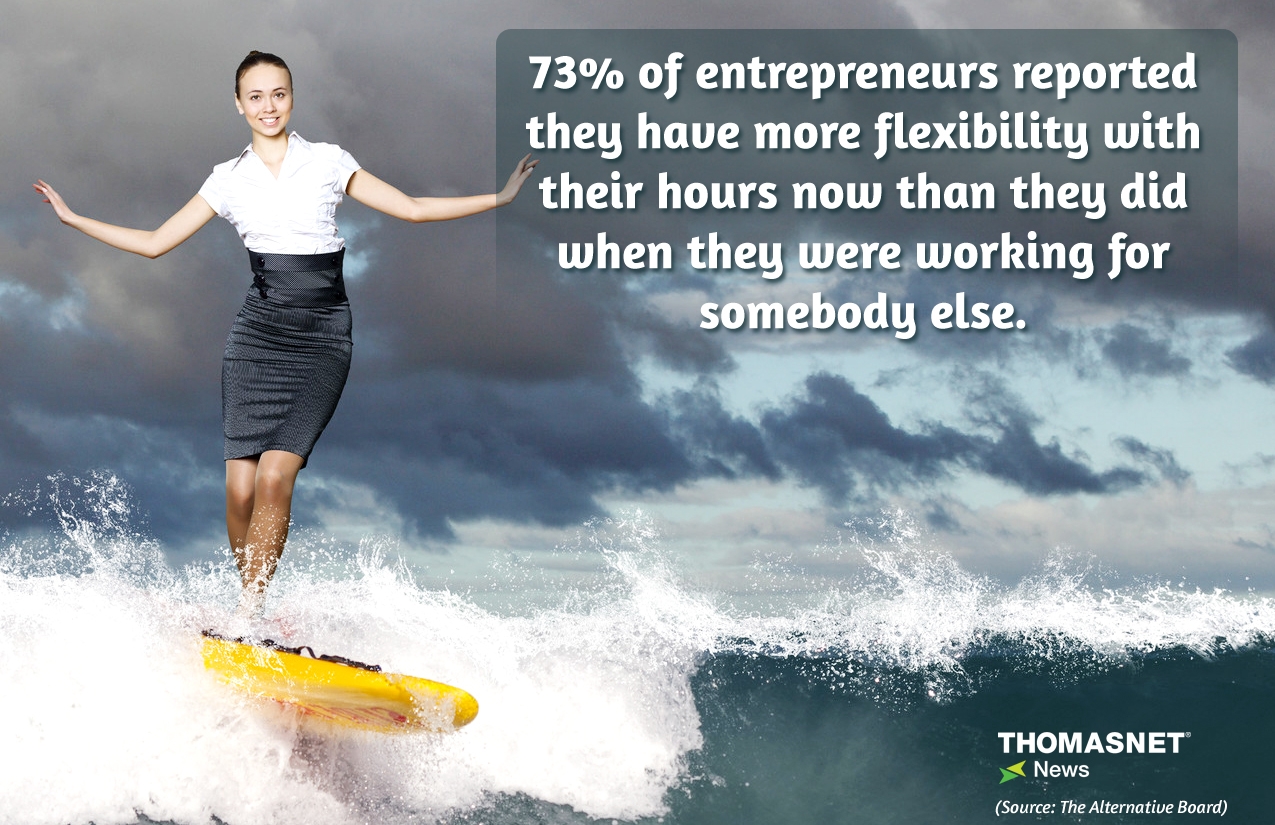 Hundreds of entrepreneurs responded to the survey, according to The Alternative Board, an association of business advisors. While 73 percent of entrepreneurs admitted that their current business gives them more flexibility with their time than when they were working for another employer (click on infographic to enlarge), most also feel that they spend too much time on the job -- with 76 percent often extending their work hours into the weekend. Aware of their long hours on the job, many entrepreneurs are not taking action to improve their work-life balance. One key finding reveals that small business owners are hesitant to delegate work. A considerable segment of respondents, 30 percent, feel they are the most capable person to get the job done, while 20 percent say their employees do not have the right skills. Another 20 percent say they take control of the task to expedite its completion. Entrepreneurs are somewhat more likely to outsource particular work assignments than delegate the tasks to their own employees. Fifty-six percent of the respondents claim they would search outside their company for talent to complete certain jobs -- perhaps an indicator that more of these small businesses would benefit from investing in training their employees, as The Alternative Board suggests. Of those who do not outsource, almost 20 percent say they cannot afford to do so, while another 19 percent say they would rather have their employees do the work. Eighteen percent said they fear that outside contractors will not do the job correctly. The survey results were released in time for
Global Entrepreneurship Week
, which runs until Sunday, with events, business competitions and sessions intended to support small business start-ups. Check back on ThomasNet News Career Journal for coverage on entrepreneurs this week.