Degrees in Cleantech and Sustainable Manufacturing Come in Many Forms
April 1, 2013
Front Range Community College
, which has campuses throughout Colorado, often become technicians, installers, or repair personnel. Some associate's degrees are a bit more robust, though.
Central Piedmont Community College
(CPCC) in Charlotte, N.C., offers the Associate of Arts and Science in Sustainability Technologies. Program Chair Matt Miller insisted that many graduates typically go on to find positions in "modeling, monitoring, and configuring" clean technology systems. CPCC is unique, Miller said, in that it attracts older students than do most community colleges. "When we first opened our doors, our students were mostly working professionals looking to retool themselves for a new job," he said. Many already had bachelor's or even master's degrees. On the bachelor's level, there are few degrees geared specifically toward "green" engineering or clean technologies. One exception is
Appalachian State University
in Boone, N.C., which offers the Bachelor of Science in Appropriate Technologies, and another in Sustainable Development. Another is
California State University
, in Chico, Calif., which offers a B.S. in Sustainable Manufacturing. Other schools, like
University of Dayton
in Ohio, offer a minor in Sustainable Manufacturing for students majoring in one of its engineering degrees. To date, there are few schools that have followed the trail blazed by
Metropolitan State University
in Denver, Colo. Last year,
we wrote about
how the school has begun incorporating sustainability and clean technology elements into the majority of its engineering classes. For those who truly aspire, there are also master's degrees that focus on sustainable engineering.
University of Michigan
designed a dual degree program that includes elements from both its School of Natural Resources and Environment and the College of Engineering.
Rochester Institute of Technology
offers both M.S. and Ph.D. programs in Sustainable Systems. Before students go looking into degrees in sustainability, they should consider this caution from Rowland: He said that employers are looking less at the diploma than they are at the skills conferred to the candidate. "It's not clear to me from the employers' side that there is a demand for a specific degree so much as a degree with specific competencies that are oriented toward looking at the manufacturing processes through sustainability lenses," he said.
ThomasNet Aids Students of Sustainability Technology & Engineering
Students that are actively seeking degrees in manufacturing and engineering disciplines are eligible for a scholarship from
ThomasNet,
the publisher of IMT Green & Clean Journal. The
ThomasNet North American Manufacturing Scholarship
program was announced earlier today (full press release
here
), and will provide up to 30 graduating high school seniors with an interest in manufacturing careers with a $1,000 scholarship each to pursue studies at a two-year or four-year college, or a vocational-technical school.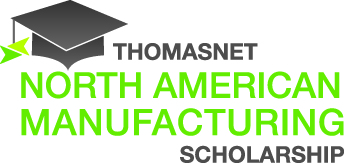 Members of the manufacturing community can show support for the new scholarship program by signing up for a
free IMT e-newsletter
, such as our sister publication
IMT Career Journal
. For each new subscription, ThomasNet will make a contribution (up to $30,000) to the scholarship program.  
The resurgence in American manufacturing and the rapid growth of clean technologies are feeding another trend: the rise of cleantech and sustainable manufacturing education. Students considering a job in this field need to first ask themselves, "What kind of a job do I want?" More importantly, they need to consider just how "green" they want their degree to be. "What I've seen more of, rather than new degrees focusing on sustainable manufacturing, is more sustainability working its way into technology and engineering programs," said Dr. Paul Rowland, executive director at AASHE (The Association for the Advancement of Sustainability in Higher Education). According to Rowland, most true "cleantech" degrees are being designed at the associate's level. These degree programs, he said, focus on energy efficiency, photovoltaic installation, and wind machine maintenance, and are driven in part by federal stimulus funding. Graduates with these degrees, such as the ones offered by