Hydrogen Fuel Cell Technology Continues to Grow in Uses and Capabilities
March 20, 2013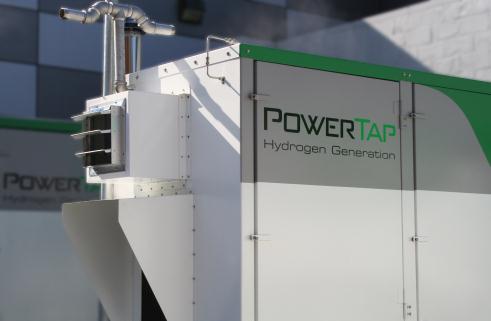 Hydrogen fuel cell technology has been around for a few years, and sometimes the progress isn't always easy to see. But like with every new technology, you need to have a little patience. Hydrogen fuel cells are being developed in a variety of areas by a wide array of companies, both public and private, governmental and civilian, at the present time. With a few recent news stories coming to light it seemed like a good opportunity to take a look at some of these projects and see exactly where hydrogen fuel cells are in their development, where they're being implemented and used right now, and what's stopping us from living in a much more hydrogen fuel cell-dependent world. It's not for lack of trying; thanks to a huge glut of natural gas production in the U.S., hydrogen is "hot" again. Since natural gas can cheaply be turned into hydrogen, it's not hard to envision a future where hydrogen fuel cells could give us cheaper, and cleaner electricity in our homes. James Warner is the director of policy and external affairs at the Fuel Cell and Hydrogen Energy Association, a trade group based in Washington, D.C.  He ticked off several ways that fuel cell technology is already being implemented, with each new month bringing new developments. Fuel cells are seeing commercial deployment in fuel cell forklifts, in material handling equipment, and for stationary distributed generation, Warner said. "Right now there are fuel cells that provide distributed generation to schools, grocery stores, data centers, anywhere that has requirements for highly dependable, on-site generation." Warner also talked about new fuel cell power plants, where fuel cells are strung together. Some of these fuel power plants, operating independently from the grid,
are already being constructed in South Korea
, and there are tentative plans for others to be built in Connecticut. A Swedish company called My FC is now selling portable fuel cells that you can take on camping trips, providing power for electric lights (flashlight batteries are so 20th century, anyway). BIC and Horizon are also getting into the portable fuel cell business These My FC PowerChecks will be sold through retail giants REI and Brookstone within the year, Warner said. "Costs are coming down and durability is increasing," Warner said. Two recent stories put fuel cells in the news again and showed just how seriously they're being taken. First, military renewable energy experts in the U.S. Navy are currently testing a trailer-mounted regenerative fuel cell system that they hope could save money and war-fighter lives. The Naval Air Warfare Center Weapons Division at China Lake Naval Air Weapons Station in Ridgecrest, Calif., is
looking at and testing a system consisting of a fuel cell
and an array of solar panels that could then be towed behind ground vehicles and generate 5,000 watts of electricity. There were also quite a few exciting hydrogen fuel cell projects on display at the recent ARPA-E exhibition; ARPA-E is a research arm of the Department of Energy that funds and promotes new projects. At the exhibition a Connecticut-based company called Proton OnSite showed its progress on using electric current to break up water molecules into hydrogen and oxygen.  Proton OnSite has been working for two years on the project, for which it received a $4.6 million grant. Mark Schiller, a vice president of business development, said the project is "about improving efficiency and lowering costs in the emerging energy markets. We've invested $100 million of our own money in the evolution of our technology." Proton OnSite's project is actually sort of the direct opposite of a traditional fuel cell, which of course converts hydrogen to electric current and water. In Proton's project, the oxygen and hydrogen atoms are instead split up in a chemical reaction, and the hydrogen can either be turned back into electricity in a fuel cell or used for industrial purposes. "We're basically a generation system in that we're generating hydrogen," Schiller said. "Fuel cells use hydrogen; we make it." Proton OnSite also uses its technology in other exciting ways; in Antarctica right now, the company has supplied hydrogen generation and storage systems to scientists at NOAA (National Oceanic and Atmospheric Association) to assist in getting their weather balloons up quicker and more cheaply than by using helium. Other companies are also doing quite a bit for hydrogen generation. ClearEdge Power, also a U.S.-based company, is making micro-CHP (combined heating and power) fuel cell systems, for small commercial and residential buildings. ClearEdge recently merged with UTC power, which produced fuel cells on every manned space shuttle. ClearEdge is making hydrogen fuel cell stacks, guaranteed for 10 years, that generate heat and electricity in places where solar are wind aren't feasible. Some grocery chains are using CCHP (combined cooling, heating, and power) systems, using the stacks for cooling, heat and power at the same time. "I think we're the only company making systems that do that," Fritz said.  ClearEdge also recently 
inked a $500 million deal
to supply fuel cells to an Austrian renewable energy company. Nuvera is another U.S. company pushing hydrogen fuel cell generation forward; operating mostly in the automobile sector, Nuvera also believes that hydrogen generation systems are the wave of the future. "I think the concept and development of a hydrogen generation system that's an appliance, that can be deployed in any setting, to produce hydrogen from natural gas and water, is the next big thing that will be commercially common," said Gus Block, Nuvera's director of marketing and government affairs. Energy storage is another area hydrogen fuel cells are continuing to be utilized; in Orange County, Calif. there's a new facility called a Tri-Generation Facility. The system uses a high-temperature fuel cell and biogas produced from the anaerobic digestion of waste to efficiently produce hydrogen, electricity and heat. The electricity and heat produced are used to power and warm the facility, and the tri-gen facility also produces up to 100 kg of hydrogen per day for a nearby hydrogen 
fueling station
 - enough to fuel 25-50 vehicles. Still, as promising as some of these hydrogen fuel cell projects sound, all the execs I talked to said there were still limitations. Schiller at Proton OnSite cited the lack of infrastructure for hydrogen fueling stations as a big stumbling block; right now Schiller said there are fewer than 50 stations in the U.S., though the California Fuel Cell Partnership set a goal of 68 stations in that state by 2025. Warner, of the trade association, said he thinks the high cost of catalysts, the problems with standardization across federal and state requirements, and the lack of sufficient onboard storage on fuel cell vehicles are three big problems the industry is working to overcome. Still, when you hear these execs say that fuel cell cars will be on the road within five years, and how much progress is being made every year by researchers, it's hard not to be optimistic that hydrogen fuel cell technology will be available to us sooner than you'd think.