Are Small Modular Reactors a Better Nuclear Solution, or Just More of the Same?
February 27, 2013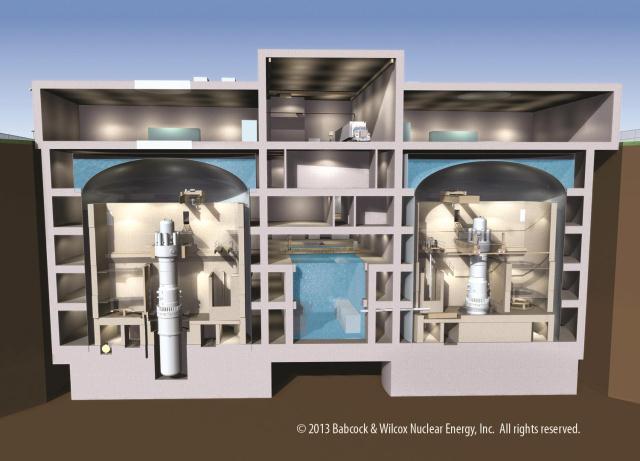 It hasn't been easy to be a pro-nuclear power supporter over the past few years. It seems like each year brings a new series of setbacks or "bad news" stories. But in the last few years the U.S. Department of Energy and some enterprising major companies, along with politicians like Sen. Lisa Murkowski (R-Alaska), have begun developing new models for small modular reactors (SMR) that just might be nuclear's future. Last November the DOE promised a mammoth $452 million in funding to companies that can help design a working model of an SMR that can be mass-produced, transportable, and serve as a low-carbon substitute to oil and natural gas power. If the predictions of the organizations working on SMRs are correct, we could be seeing a whole mess of new, smaller reactors popping up all over America by 2022. First things first, though: What is an SMR? Simply put, an SMR is defined by the Department of Energy as a small, modular nuclear reactor that generates less than 300 megawatts of power, sometimes as little as 25 megawatts, compared to conventional reactors which may produce more than 1,000 megawatts. The original ideas for SMRs date back to military ships back in the 1950s and '60s, but this is believed to be the first time they will be developed for commercial sale. The advantages of SMRs, as touted by their current developers, is that they'll be much more efficient in generating power, they'll be easier to assemble and ship, saving precious operating costs; they'll be much safer than their larger nuclear reactor counterparts, and that they'll create jobs and have a strong economic benefit in the municipalities and locations they're housed in. I spoke last week to representatives from two of the biggest innovators of SMRs right now, Babcock & Wilcox, an engineering behemoth based in Charlotte, N.C. (they were the winners of the DOE $452 million project), and Westinghouse, the electric giant. Both are wildly optimistic about SMRs future; others I talked to, not so much.
Babcock & Wilcox: The Power of "Modularity"
Darren Gale is the vice president and project director of mPower America, B&W's nuclear power arm that's dealing with building SMRs. In coordination with the Tennessee Valley Authority (TVA), B&W believes it can build SMRs in three years or less, once all parts of a vessel are available and a site has been readied. "About five years ago, after different methods of attempting SMRs had been tried and were unsuccessful, we started to realize we needed a better way to replace big plants who got so expensive that utilities simply couldn't afford to bite off that much at a time," Gale said. "And so we have developed this new design that we think allows utilities to get nuclear power at a cheaper rate, taking up a smaller space, and making major improvements to our energy grid as we do it." Gale said that one major benefit among many to SMRs is their "modularity";  the fact that you take several components of a large plant, like a fuel vessel, a steam generator, a pressurizer, and the lead piping that goes between those vessels, and combine them into a simple vessel, makes shipping and constructing so much easier. He also said that he expects SMRs to be able to replace the power generated by antiquated coal-fired energy-producing plants in the U.S. "You're not overhauling the grid, you're just replacing part of it," Gale said. In addition, he believes that SMRs will prove to be much safer than current reactors. "There are two big reasons for that," Gale said. "Number one, these reactors are completely passive, meaning that there are no powered parts or components for (humans) to put the plant in a safe condition; the reactor would put itself in a safe position by itself. "The second thing is," Gale continued, "is that SMRs are all contained underground, so the threat of external forces like an earthquake or a hurricane are reduced. Environmentally, both B&W and Westinghouse quickly trumpet that "nuclear is such a large part of our non-carbon footprint," and that it's vital to keeping the U.S. energy grid as carbon-free as possible.
Westinghouse: An Economic Boost
Energy giant Westinghouse was also hoping to be a part of the DOE funding, but for the moment has not been included in it.  Westinghouse is combining with Burns and McDonnell to build their own reactors. "The holy grail problem for SMRs in the past has been economics," said John Goosen, the vice president of Innovation and SMR Development for Westinghouse. "What's happened now is that with passive safety and these SMRs, we can reduce a lot of the components needed. Now you can make these small enough, like a 12-foot diameter by 81 feet tall, and you can split them in half, and put them on a rail-car or a tractor-trailer and reduce your transportation costs by a huge amount. Westinghouse made some very bold claims in its press release announcing SMR development, saying that "the building of a single Westinghouse SMR will provide an estimated economic impact of nearly $3 billion in greater than 15 states and will create or sustain more than 15,000 direct and indirect jobs." Those numbers come from two studies, the company said: One from a
2011 University of Chicago study
done by talking to nuclear developers and vendors, and the other from a
Boise State (Idaho) University report in 2010
. Of course, verification of these numbers are impossible since they're just projections and there are no current SMRs in operation in the U.S.
Not So Fast
Dr. Arjun Makhijuni is the President of the Institute for Energy and Environmental Research, a non-profit group that has studied nuclear energy and other scientific topics for more than 25 years. Makhijuni is skeptical of SMRs for many reasons. One is economics; he said "it's nonsense" to think you can build a fleet of SMRs without building an assembly line, and without an immediate demand for SMRs from the U.S., "it's going to cost an inordinate amount of money. "And who is to say people in the U.S. will want these, or people in China? Why would China want our reactors if they can build their own?" The issue of cheap natural gas is one that both B&W and Westinghouse admit is a vexing one; Goosen and Gale agreed that if gas prices stay where they are now, there's no way nuclear power can compete. Both expect prices to fluctuate and go back up to at least $5-6 per thousand cubic feet. Makhijuni is also quite skeptical of the safety claims made by SMR proponents. "They say it'll be safer underground, but if you have a spill or an accident it's going to be a lot harder for people to get down to (the SMR)," he argued.
Still Dr. Gail Marcus, a former senior manager at the DOE and Nuclear Energy Commission, is optimistic that SMRs will play a role in energy's future.
"There are a lot of 'if's' here with SMRs, but there also are in other technologies too, no matter what industry you're talking about," Marcus said. "Everything is a paper design at first. But I think if the economic advantages prove themselves, we'll see a major shift toward SMRs in the future."