When it Comes to Electric Cars' Future, What's Better: PV or Biofuels?
February 13, 2013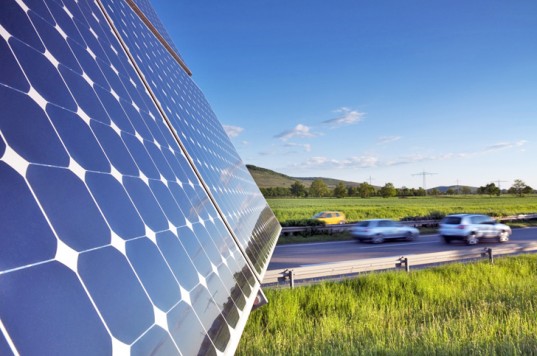 Ethanol from corn for internal combustion vehicles

Ethanol from switchgrass for internal combustion vehicles

Electricity from corn for battery-powered vehicles
Electricity from switchgrass for battery-powered vehicles
Photovoltaic electricity for battery-powered vehicles
The researchers then collected the greenhouse gas emissions of producing solar panels, and of producing an electric vehicle. They also gathered data on the carbon footprint of growing corn, and of growing switchgrass. The only slight twist Geyer said he put on the data was the decision not to use average corn yields, using maps instead, saying "we wanted to be spatially explicit." To explain how the researchers reached their conclusion, Geyer explained that for every megajoule of electricity needed for an electric vehicle, you need four megajoule of corn ethanol for the same amount of energy. With an electric power train having roughly four times the energy conversion efficiency of the power train of an internal-combustion engine, Geyer explained, you can calculate the difference using PVs and biofuels rather simply. In Delaware, Iowa, if you had 27.7 square meters of cornfield, then harvested the corn and turned into ethanol, then put that into a vehicle, you could travel 100 kilometers before running out of power. If you put in solar radiation and had that same 27.7 square meters of cornfield, and used PVs to drive an electric vehicle, you could drive 15,400 kilometers before conking out. "So clearly," Geyer said, "harvesting sunlight for transportation is the way to go." As the cost of solar technology continues to drop, the researchers believe that electric vehicles will show an advantage over biofuel combustion cars, and that subsidies that keep investing in biofuels are in essence "barking up the wrong tree." While biofuels may improve within the next five years, solar electric vehicle technology is accelerating at a fast pace, making the gap between the two all the more pronounced. I asked Geyer if he thought EV manufacturers "got" this, and would actually change or alter how they proceed. "I did see on the Nissan Leaf website that they had teamed up with a solar installer called Sun Power, but outside of that I haven't seen much else," Geyer said. "I think our data is a pretty compelling argument for PVs. It's been a bad few weeks for biofuels in the news, and not just because of the Geyer study.
Another report