The U.S. Army Keeps Going Solar, as New Installation at White Sands is Biggest Yet
February 6, 2013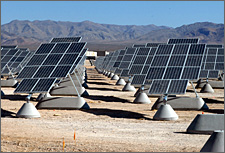 On just about every front, the United States military is moving toward becoming a more environmentally-conscious operation. We've covered that before, including
this story by Tracey Schlemetic
from last April exploring how the U.S. Marine Corps (USMC) is leading the way in renewable energy through programs like ExFOB, or Experimental Forward Operating Base, which is a base containing a collection of alternative energy technologies that can be deployed quickly and operate largely independent of fossil fuels. There are signs all over the place that the Navy, Air Force and the Army are following suit, as unlike other governmental organizations, the military can go ahead and institute new policies on energy conservation without having to deal with a Congress that can't even seem to agree on where the sun rises from. A report in late January by the Pike Research group predicts that the U.S. military will quadruple its renewable energy spending by 2025, to a whopping $1.8 billion. The military will increase its renewables' capacity from the current 80 MW to 3,200 MW in the next 12 years. The Army, Navy and Air Force have previously announced set targets of 1 gigawatt of installed renewable energy capacity by 2025, and the report adds that because of the Department of Defense's use of power purchase agreements and "enhanced use leases," some military installations should be able to pay the same amount, or less, for renewable electricity as they do for retail power from the main grid.
The Department of Defense currently spends around $20 billion per year on energy and uses $3.8 kWh of electricity, and you know that number will continue to go up as more and more military bases and sites turn to solar power, among other renewable energy options.
Into this culture of renewable energy has come the Army's most ambitious project yet: In conjunction with the U.S. Army Engineering and Support Center in Huntsville, Ala., and thanks to an Energy Savings Performance Contract, the military installation at
White Sands Missile Range in New Mexico
has just established
the largest solar power system in the U.S. Army.
The new installation, officially dedicated on Jan. 16, is a collection of solar panels that covers 42 acres of land and cost $16.5 million. The large solar installation took only six months to install, being completed last December. Some other quick facts about White Sands' new energy source:
 The solar power system will reduce CO2 emissions at White Sands by 7,400 tons annually; that's equivalent to planting 188,000 trees, or removing more than 1,500 cars from the roadways.

 The solar array capacity of the new installation is 4.115 MW.

The solar carport capacity (also part of the project): 375 kW.

The annual energy output will be 10,400,000 kWh.

The estimated annual savings thanks to the project: $930,010.

Number of trackers: 774.

Number of solar panels: 15,480.
The amount of energy used by the new solar installation is expected to be 10 percent of the total power used by the base.
To get a better handle on the project and how it came about, I spoke with Craig Collins, the White Sands Missile Range's Energy Manager. He explained that the solar project started in concert with another project at White Sands, involving a facilities energy conservation upgrade. "We started putting in more efficient lighting and motors, and adjusted our HVAC controls, that kind of thing," Collins said. "In the course of doing that, we became interested in an Energy Saving Performance Contract." Here's what an ESPC is:  Through the
U.S. Army Corps of Engineers
and the
U.S. Army Engineering and Support Center
in Huntsville, an ESPC provides energy efficient equipment resulting in lower utility consumption. Once a military site signs an ESPC, the Huntsville group brings in private party financing for energy conservation measures at Defense Department garrisons. ESCO, an Energy Savings Contractor, provides capital and expertise to make infrastructure improvements on government facilities to significantly reduce Army energy. ESCO, in exchange, gets a portion of the generated energy savings. For the White Sands project,
Siemens Government Technologies
of Arlington, Va., was selected as the ESCO, and managed the installation on the private sector side through an Energy Service Agreement. "Projects like this are important because the impact of rising energy prices on installations has resulted in an adverse increase of utility budgets spent on existing, often inefficient or outdated equipment," said Michael Norton, Huntsville Center Energy Division chief, in a press release. An ESA is an arrangement whereby a third party owns, operates and maintains the power generation system and provides electricity to the customer. This third-party ownership mechanism allowed for a significant tax grant from that reduced the project cost by $6.1 million. Siemens was the solar system designer, integrator and is the operator. Their industry team included project construction by Texas Solar Power Company of Austin, Texas, with solar modules and tracking systems by Solaria Corporation of Fremont, Calif., and inverter manufacturer SatCon Technology Corporation of Boston. The project is owned, through the Energy Services Agreement, by Bostonia Group, also of Boston. Collins told me that White Sands was previously selected as one of five military installations to eventually become "net-zero," meaning to produce as much energy as it consumes. He said the installation on the range didn't disrupt activities too much, which is easy to believe when you consider the missile range takes up an enormous 2.2 million acres, or roughly 3,200 square miles. The range occupies five New Mexico counties, and their daily noon-time population is just under 10,000 (9.308), with 1,600 more "transient" individuals passing through on a daily basis.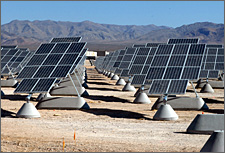 Once the installation was finished in early December, Collins said there was an immediate change noticed. "I just looked at the December bill from the local utility company, and it was about $60,000 less," he said. "We're seeing a shift from fossil-fuel production to renewable energy everywhere, and it was exciting to see it here once the installation finished." "For us it was the perfect storm," Collins said of the project. "We had Siemens right there, we had a 30 percent tax rebate that the contractor received, and we got an historic low interest rates." In addition to the 42-acre installation at White Sands, Collins said the facility's Dept. of Emergency Services Building installed a 65-kW roof-mounted solar panel, and a health and dental clinic building that has  30-kW worth of solar panels on its roof. Collins hinted that there will likely be more solar projects at White Sands, including a 1 MW project tentatively planned for 2014, and a 100 kw installation later this year. The Army is moving forward on solar installations at several other locations, Collins said. A new installation at Fort Carson, Colo., was finished in late 2011, a 2-MW, 12-acre project, and there are plans for
even bigger installations
than at White Sands at Ft. Irwin, Calif. That mammoth project, announced in 2009 and expected to be finished in 2014, will be a 500-MW, $2 billion project that will cover 14,000 acres. Finally, the Army base at Fort Bliss, Texas
will be receiving an installation
of 13.2 MW from a partnership led by solar giant SolarCity. So clearly, while energy policy gets endlessly debated in the halls of Congress, the Army is getting things done in a much more timely fashion. Wouldn't it be nice if all other areas of government moved so swiftly in this area?