Why Shouldn't We be Happy with Improvements in EPA Toxic Release Inventory?
February 1, 2013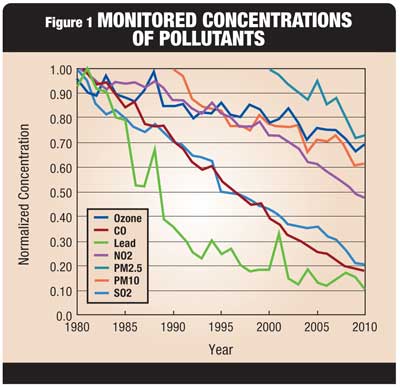 At last, some good news for a change. The sum total of toxic air releases in 2011 was 8 percent lower than those measured in 2010, according to the latest annual Toxics Release Inventory released by the U.S. Environmental Protection Agency. The air's getting cleaner, and has been for years. Decades, even. Water is too. So why aren't we celebrating? Because the land isn't getting cleaner. In fact, it's getting a lot worse. More so, the improvements in air and water quality may not be happening for the reasons you think. The EPA cited "decreases in hazardous air pollutant emissions" as the main reason for the drop, while noting that "total releases of toxic chemicals increased for the second year in a row." TRI data is collected via submissions to EPA from what EPA officials describe as "states and tribes by facilities in industry sectors such as manufacturing, metal mining, electric utilities, and commercial hazardous waste facilities." EPA Administrator Lisa P. Jackson noted that the decline follows a decade-plus long trend: "Since 1998, we have recorded a steady decline in the amount of TRI chemicals released into the air, and since 2009 alone, we have seen more than a 100 million pound decrease in TRI air pollutants entering our communities." Jackson attributed the steady decline, in part, to "the TRI program and concerted efforts by industry, regulators and public interest groups." The report also mentioned the installation of control technologies at coal fired power plants and a shift to other fuel sources as contributing to cleaner air. According to
Forbes,
Jackson subsequently announced that she would resign in February after being implicated in a personal scandal at the EPA.
More If On Land, Less If On Sea.
Unfortunately 4.09 billion pounds of toxic chemicals were disposed of or released into the air, water or land, an 8 percent increase from 2010, with the land bearing the brunt of that, as the EPA reported. Releases into surface water decreased 3 percent, but releases to land increased 19 percent since 2010, "with the latter again due primarily to the metal mining sector." For manufacturers this news might actually mean having to purchase more expensive electricity, as well as continuing to comply with more and more onerous air pollution controls -- hey, the EPA believes they work. According to the
Environmental Leader
, last October the National Economic Research Associates, on behalf of the American Coalition for Clean Coal Electricity, a non-profit partnership of companies involved in producing electricity from coal, studied the projected effects of seven EPA regulations aimed at reducing the amount of toxic land releases, primarily by the coal mining industry, finding that the regulations "would negatively impact the coal-based electricity industry and reduce U.S. employment by 1.5 million jobs over the next four years." Specifically, the report warned that "compliance costs for the electric sector could total between $198 billion to $220 billion from 2013 to 2034 and average $15 billion to $16.7 billion a year. Peak year compliance costs could total $36 billion to $44 billion." The latest TRI report will underline in the minds of many the need for just such regulatory action. All indications are that while the air will be cleaner yet again when the 2012 numbers come out, as long-term trends don't reverse themselves overnight, there will be another incremental increase of land toxic releases spurring more calls for more government regulation. The report, "Economic Implications of Recent and Anticipated EPA Regulations Affecting the Electricity Sector," looked specifically at seven regulations affecting coal-fueled electricity generation, "including Mercury and Air Toxics Standards, regional haze, national ambient air quality standards (NAAQS) for ozone" and others, but "did not include the potential effects of EPA's planned greenhouse gas regulations for existing coal-fired units." In fact, the NERA report projected coal-fired power capacity shutdowns totaling 54,000 MW to 69,000 MW, "mostly due to EPA regulations."
More Car Travel + More People + More Energy Usage = Cleaner Air.
A couple years ago the
Institute for Energy Research
noted that the air was getting cleaner, citing earlier editions of the TRI, which found that as GDP, vehicle miles traveled, population, and energy consumption all were increasing, air quality was improving "significantly" between 1990 and 2008, with six principal air pollutants falling, from 8-hour ozone's 14 percent reduction over that time to a staggering 78 percent drop in the presence of lead in the air. Government efforts to control pollution have been around for a while -- in 1285 England's King Edward I set up a royal commission to try to do something about London's abysmal air quality. In America today it can take some credit for the cleaner air. Writing for the industry journal
Power Engineering
, Robynn Andracsek states that "when measured objectively, the air actually is getting cleaner. And, if cleaner air is the goal of the Clean Air Act, then it is successful." She points out that "monitored concentrations of every pollutant measured (ozone, carbon monoxide, lead, nitrogen dioxide, and sulfur dioxide) have decreased since 1980. Particulate matter has been monitored nationally for a shorter period (since 1990 for PM10 and since 1999 for Pm2.5) but also shows a downward trend," and credits implementing stationary and mobile source regulations with the fact that "the total tons of pollution emitted from factories, power plants, and other industrial sources has been cut by almost two-thirds... in addition, from 1990 to 2005, emissions of air toxics declined by approximately 42 percent." However, correlation is not causation. Academic studies have noted that air quality was improving as quickly before government regulation as it did afterwards. In the 2001 book "The Common Law and the Environment: Rethinking the Statutory Basis for Modern Environmental Law," edited by Roger E. Meiners and Andrew P. Morriss, Indur M. Goklany shows convincingly that "air quality improvements were equally dramatic in the decades before the Clean Air Act," and that not only air pollution, but "water pollution as well as automobile and workplace safety were all improving at about the same rate in the decades before and after the creation of, respectively, the EPA, the National Highway Traffic Safety Administration, and the Occupational Safety and Health Administration." In fact, Goklany has maintained elsewhere that improvements in air quality actually slowed once the EPA took control of national air pollution policy. "Air pollution has been declining for many decades throughout the United States... long before the federal government took over air pollution regulation in the 1970s," notes
Joel Schwartz
of the American Enterprise Institute. He uses the example that Pittsburgh, "once America's smokiest city," saw a decline in such airborne particulates as dust, smoke, and soot of more than 65 percent between the the 1920s and the 1960s, before there was any federal air pollution regulation at all. And in Los Angeles, Schwartz says, "between 1956 and 1970, the number of days per year with ozone exceeding 0.15 ppm declined more than 25 percent." As Schwartz and others say, a reassessment of the rate of return for the regulatory costs might be in order, as the vast majority of problematic air pollution has been well and truly eliminated resources can be dedicated to other needs. As Schwartz says, "We have many needs and aspirations and scarce resources with which to fulfill them. When we devote resources to an exaggerated risk, we give up opportunities to address other real and substantial risks, or to pursue other improvements to our health and quality of life."