A Sustainable Supply Chain Requires Managing Risk, Automating Data
January 31, 2013
Credit: John Morgan.[/caption When it comes to managing supply chains, manufacturing businesses are doing anything but quelling demands. In fact, many are imposing increasingly strict requirements and heavily scrutinizing suppliers to ensure that all levels of satisfaction are met.
As we reported last month
Leaders want it all. These companies deliver on time and in full (OTIF) 95.7 percent of the time. They achieve greater efficiency and better customer satisfaction without driving up working capital, and they do it by treating supply chains as a strategic asset.
Top performers are investing in new tools and technologies and building out their supply chain networks to boost flexibility and responsiveness, both of which are necessary to keep up with ever-changing customer demands.
Leaders tailor their supply chains to meet the needs of various customer segments.
They let the experts handle it. Leaders outsource 50 percent of production and 60 percent of logistics to third parties that specialize in those fields, allowing the company to focus on core strategic functions, like sales, operations, and research and development (R&D).
In both mature and emerging markets, Leaders invest more heavily in differentiating supply chain capabilities, including real-time demand-and-supply planning.
The future of supply chain management will require two essential components. The first is a greater emphasis on automation and efficiency. The second is sustainability. Leaders are turning to RFID and other technologies to facilitate automation and efficiency, and they are requiring their suppliers to share their outlook and emphasis on environmental issues.
Risk Drives Sustainability
The PwC report finds that most companies are only just beginning their journey to a more sustainable supply chain. But demand for sustainable products is increasing across all sectors. As regulations tighten and investor expectations rise, most expect to increase pressure on their supply chain and conduct more detailed monitoring. Still, many of the PwC study respondents claim that efforts to build a sustainable supply chain conflict with the practice of finding best-cost solutions, particularly when those solutions are outside of the country. To have a sustainable supply chain requires managing and accounting for the impact of major environmental, social and economic factors throughout the lifecycle of a product. That means a company has to keep track of all the risks in its supply chain. The main reasons for investing in sustainable supply chain management, according to respondents, are:
To manage the risk of unintended environmental or social damage;
To manage their company's reputation and the expectations of its shareholders;
To reduce costs and realize productivity improvements, and;
To create sustainable products, thereby increasing revenues and enhancing the corporate brand.
But risks run both ways, according to The Carbon Disclosure Project's (CDP)
Supply Chain Report 2013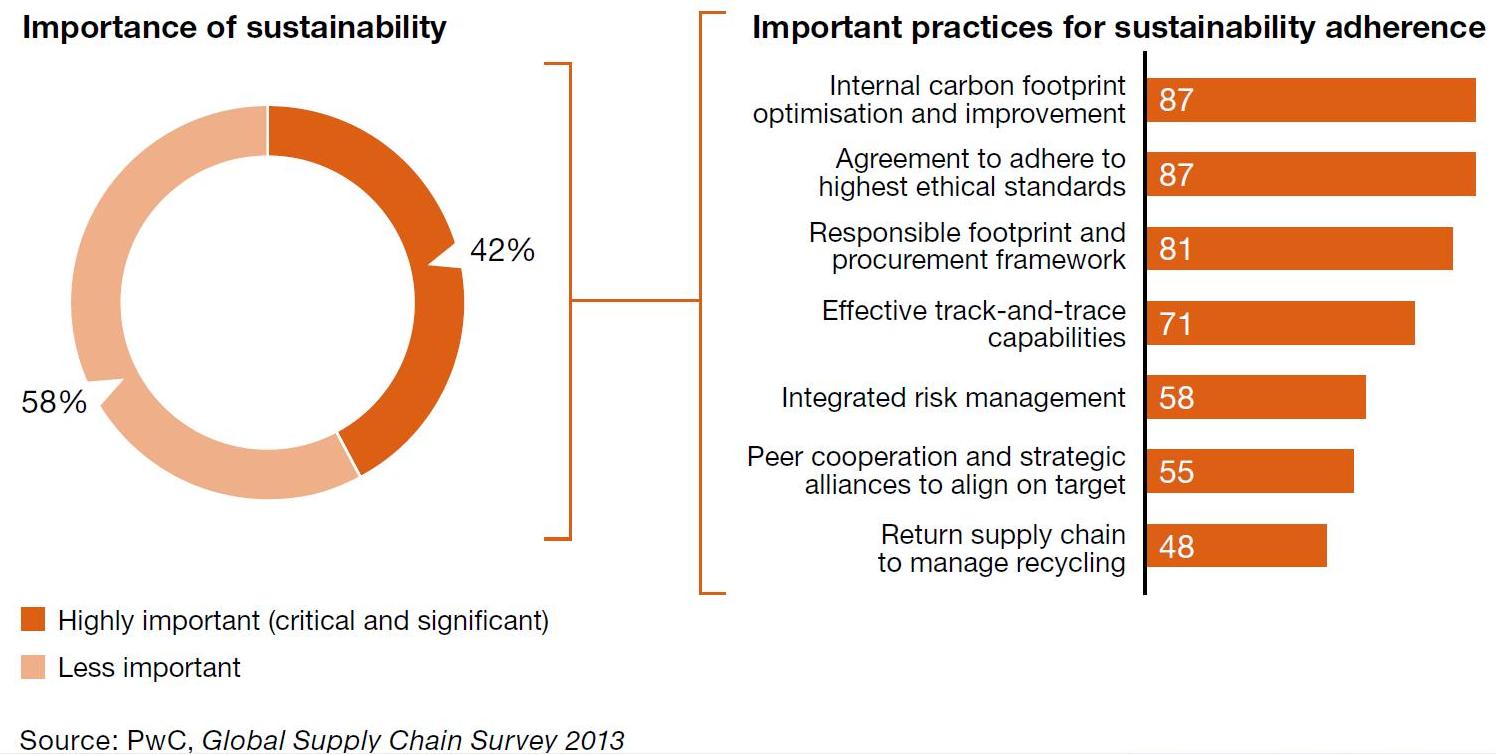 Collaboration Drives Sustainability
According to the PwC study, among those companies that rate sustainability as a high priority, 87 percent focus on optimizing their overall carbon footprint. Many are also working closely with their suppliers. The same number stresses the importance of reaching an agreement with suppliers on best practices and ethical standards. In addition, 81 percent are collaborating with their suppliers to create a responsible supply chain footprint and procurement framework. But some are going even further. Last year's CDP Supply Chain Report noted that 62 percent of CDP participating companies reward their suppliers for practicing carbon management. In the 2013 study, 34 percent of CDP members claim they include sustainability-related obligations in their procurement contracts.