Researchers Crushing Rocks in Hopes of Scrubbing and Capturing Carbon Dioxide
January 30, 2013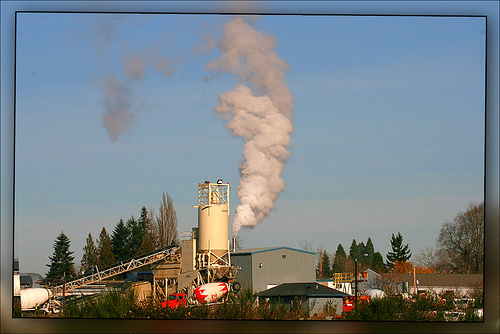 The idea of capturing carbon dioxide to prevent greenhouse gas emissions is not new; as more and more scientists have tried to figure out ways to reduce the effect of coal-fired plants spewing toxins into the environment, researchers have tried many different methods. And even if carbon dioxide could be captured, is there a way to produce revenue by selling it? Canadian college professor/researcher Guy Mercier, and his financial backers at
Carbon Management Canada (CMC)
, believes he has the answer to the carbon capture problem. It involves taking gas from a cement plant and running it through pulverizing rocks and concrete. The resulting chemical reaction is expected to capture 80 percent of the carbon dioxide from the gas stream. More specifically, Mercier will blend magnesium and calcium-rich rocks with the concrete, turn them into a powder, and place the pulverized mix into a reaction chamber attached to the emission stream from the Holcim plant, located about an hour from Montreal. Once the CO
2
-rich flue gas hits the pulverized rocks, the resulting chemical reaction produces a solid of magnesium carbonate. That solid then can be sold to wastewater operators for 
water
 treatment, and to the steel industry, where it can used during the manufacturing process,  Mercier said. The process is called carbon scrubbing, and while Mercier isn't the first one to try it, his could be the first full-scale trial; he and his team of researchers are being backed by a $250,000 grant from the government of Quebec, and $200,000 from CMC. Mercier is an environmental technology professor at the
Institut National de la Recherche Scientifique
, part of the University of Quebec. He is working with researchers from the University of Calgary and the University of Melbourne on the project. "Generally at the lab scale we have been 80 percent effective at removing the carbon so far," Mercier told me in a phone interview. "We've made a fine-tuning of the process, and as we scale up we could lose some precision. But we can find other tricks, and we will make it work, and make it profitable on a large scale." Mercier and a team of researchers began work in 2010, and used a similar carbon dioxide study in Oregon for inspiration. "This other group was doing their research 100 percent on CO
2
gas, whereas we are using the same composition used in a chimney in a cement factory," Mercier said. "We use 18 percent CO
2
. We have lower pressure and lower temperature that way." Mercier explained that most of the carbon scrubbing done up until now has been accomplished using amine compound, but that process is expensive and "there's no real value at the end. That method is the only one that's been close to being applied on a large scale." "There hasn't really been anybody doing it in the industry like we are doing," Mercier said. As far as the method and transport of rocks, Mercier said the entire process of transforming the gas through the pulverized rocks takes less than one hour. He said magnesium rocks and calcium rocks have proven to be effective, and added that magnesium silicate from Montreal has been used; Mercier's team has crushed it and then transported it to the cement plant, and used that in his process. The financial side of his process is, of course, cause for concern; like all other carbon scrubbing processes so far, Mercier's method can get quite expensive. "It is imperative for the leader of the team to do things economically, and we take great care to not have costs get out of control," he said. "It is true that in research you must be very aware of false economic studies, but our studies are very serious and we are being careful."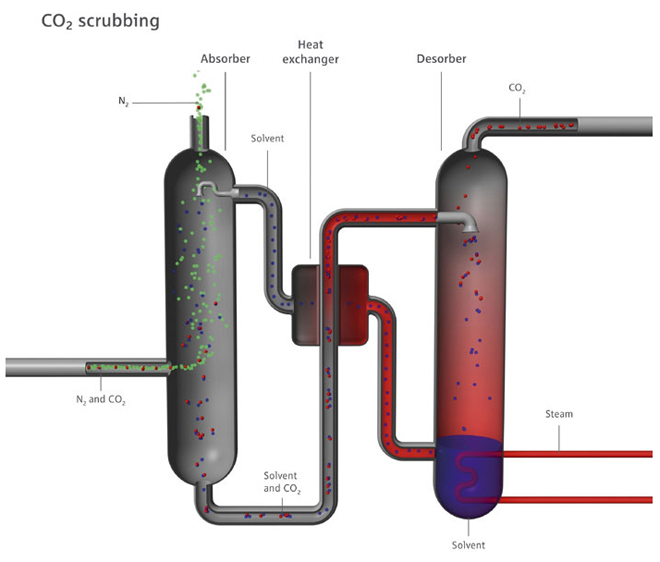 A major variable in whether this carbon capture experiment will work on a larger scale (Mercier said he hopes to be operational on a large scale by 2016) is how high the price of CO
2
gets. "In Canada now it's like $10 a ton, or $15 a ton;  if you keep it at that value you have a hard time implementing the plan," Mercier said. "But if it gets to $35 or $40 a ton, it's a lot more valuable and you will have more companies interested in scrubbing the carbon." Richard Adamson, the managing director of Carbon Management Canada, said Mercier's group demonstrated "real excellence" in their proposal. "The rock-scrubbing has tremendous potential," Adamson said. "There's a lot of rock out there that can form with CO
2
; the challenge is getting sufficient surface area. "The biggest target is sequestration of CO
2
," Adamson continued, "capturing it and binding it in a way that it's essentially locked, and in a mineral form. What's exciting about this research and other projects that are looking at mine-tailing in a similar use is that the mining industry will start becoming seen as part of the solution on the climate situation." Not everyone is onboard with the research that Mercier and Carbon Management Canada are so keen on. A senior research engineer at the Massachusetts Institute of Technology, Howard Herzog, told 
Scientific American
that "it's hard to believe this could be a major breakthrough." Julio Friedmann took it a step further. Friedmann is the chief energy technologist at
Lawrence Livermore National Laboratory
 in California, and he has no problems with the physics and chemistry of Mercier's work. He does, though, have a big problem with the economics of it. "The kinetics of the chemical reaction they're drawing on are very slow," Friedmann said. "There are two ways to get over that: Do other things to speed up the process, like heating the rocks, or make the temperature 300 degrees hotter. But that adds cost. "Or they can crush the rocks more and make more reactive surface area. But that also ends up meaning much more cost, to build a better reactor." Adamson scoffed at criticism of cost. "People who say the cost will be prohibitive, I say 'as compared to what?'"  Adamson said. "Taking CO
2
out of the stream? Not taking it out will be very expensive; not doing anything will have a major impact on climate change. If we operate from the perspective that climate change is a big issue, we have to say, 'How?' If you think this (rock scrubbing) is too prohibitive, then what else would you do?" Friedmann said that studies of carbon capture through rock scrubbing has been done for years, and there are currently much better options for carbon capture than what Mercier is doing. He pointed to a project in Saskatchewan and Montana called the Boundary Dam, which may be operational in 2015. What the Boundary Dam is doing, at a cost of $1.5 billion over seven years,  is carbon dioxide capture at a coal-fired power plant, with a generating capacity of 120 megawatts. The conglomerate of power companies and government entities operating the Boundary Dam expect to offset the project costs from the revenue from the sale of the captured carbon dioxide. The Canadian government gave the project $240 million of its costs, and the carbon capture is set to begin in 2014. "It's expensive (the Boundary Dam) but it works," Friedmann said. "The idea that we're not doing anything, that there are no real alternatives to (Mercier's) work, is just wrong."