End-of-Life Practices for Aircraft Present Challenges for Greener Aviation
January 28, 2013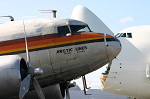 E-Leather eco-friendly seat covers. Credit: Southwest Airlines.[/caption Aircraft interiors are an important target area for sustainable refurbishment. In 2012, Southwest Airlines introduced a new aircraft interior it calls "
Evolve
Preparing a plane for repainting. Courtesy of Tejas Aero Services.[/caption Michael Mangeot, communications representative for
UPS Airlines
Aircraft recycling yard. Courtesy of Tarmac Aerosave.[/caption Aircraft manufacturer Airbus estimates that more than 200 aircraft are retired yearly around the world, and that number is growing. According to
Airbus background materials
Several years ago, as part of our fleet modernization strategy, which was accelerated by the global recession that left us with more lift than we needed, we retired our classic fleet of older 747s, 727s and DC-8s. Those aircraft were over 30 and in some cases 40 years old. A key factor in retiring them was not only their age, but their operating economics. For example, a two-engine 757 burns far less fuel to carry 15 main deck positions of cargo than a four-engine DC-8 to carry 18 positions. And a two-engine A300 was even better. As a wide body, it can carry 22 positions. So fuel burn did play a factor from a business perspective with environmental benefits.
Sustainability in aircraft manufacturing center mainly on achieving better fuel efficiency, but deciding what to do with older aircraft has environmental implications as well.