Congress Finally Approves Wind Production Tax Credit, But is the Damage Already Done?
January 16, 2013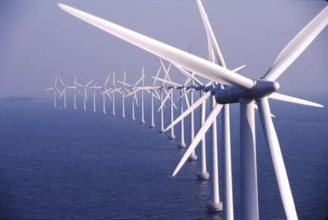 Doing things at the last minute, especially around the holidays, never seems to go very well. And I'm not talking about the ugly tie your uncle got you for Christmas because he only remembered to go shopping on Dec. 24. No, I'm talking about the U.S. Congress here, which occasionally seems to let slip until the last possible minute issues and bills that matter to millions of people, and when they finally act on them, it may just be too late. On Jan. 1, literally hours after it had been set to expire, Congress renewed the Wind Production Tax Credit, keeping alive incentives for wind energy manufacturers who employ thousands of workers, including factory workers who help build turbines, truck drivers who deliver parts and equipment, and a host of other skilled labor jobs. The new PTC passed the House and Senate (once again, only on a one-year renewal) with a couple of important changes from last year's tax credit, the biggest being that wind energy companies in the past had to have projects completed by the end of the calendar year and feeding electricity to the grid to qualify for the credit. But now the 2013 bill requires only that construction be started on wind farms and parts. In the law, wind developers can make a choice between receiving a production tax credit, which is currently 2.2 cents per kilowatt-hour for the first 10 years of production, or an investment tax credit, which is an immediate payment of 30 percent of the construction costs. So the PTC passed, albeit after the previous one expired, and a few changes were made that ought to benefit wind energy production companies in the long run. So everyone in the industry is thrilled with Congress, right? Not quite. For one thing, the renewal came so late that many projects that were ongoing in 2012 had to be shut down toward the end of the year, because companies had no assurances that the credit would be renewed, and weren't willing to commit to finishing jobs without that knowledge. For another, the precarious nature of the one-year bill has made major global manufacturers like Siemens and Vestas slow production in U.S. factories in states like Texas and Kansas, putting American workers on the unemployment line, at least for the time being. Talk to Greg Wortham,  the executive director of the 
Texas Wind Energy Clearinghouse,
about the last-minute renewal, and you can practically see the steam coming out of his ears over the phone. "It's just so absurd," Wortham began. "Here in Texas we've got schools and roads being built that wouldn't exist if not for the jobs and money and taxes brought in by the wind industry, and we can't convince our local representatives or other members of Congress to support what we're doing, or give us the same opportunity other energy sources are getting. "Explain to me how come," Wortham continued, "we have all these clean coal projects that get support, oil and gas companies have gotten incentives for 100 years, but wind has to fight and fight for one measly credit every year?" Wortham's Clearinghouse is a membership organization that represents the diverse range of stakeholders in the world's most intensive wind energy development state, serving as an information exchange for things like landowner issues, industrial development, workforce recruitment, and skills development, among other things. In speaking to wind energy companies across the country, Wortham said he heard story after story of factories being temporarily shuttered, and jobs being lost, thanks to the uncertainty of the PTC. According to the 
American Wind Energy Association
, there are 75,000 wind-energy jobs in America, and 70 percent of wind turbine production value is here in the U.S. And wind energy production is certainly growing; 2012 is expected to be a record year, with 12 gigawatts of electricity installed; in 2010 a total of 10 gigawatts were installed in the U.S. "A lot of companies told me their orders stopped in June [of 2012], and the transportation [of parts] stopped in September," Wortham said. "And expansion from a European company who I won't name was stopped for six months. Those are real people's lives that Congress was [messing] with." Wortham's outrage is certainly justified, as major multi-national corporations, and small wind energy companies alike, felt the pinch of Congress' dilly-dallying. The AWEA was a little more measured in its critique of the PTC delay; Peter Kelley, vice-president of public affairs, said the delay had "a really unfortunate effect" on many wind energy companies, citing financial concerns by many that caused them to delay or stop production for a while. "Congress has not made energy policy for the past year or two, and everyone can see wind energy is working," Kelley said. "We're the leading source of new electricity, but investors and companies have to be sure that they will continue to get the support of the U.S. Congress." Kelley said perhaps the biggest problem with the delay was the message it sends to foreign investors in wind energy. "If we don't have a more coherent, consistent energy policy, we'll lose manufacturing jobs to companies overseas," Kelley said. "Major companies don't want to have to worry about their projects getting shut down or delayed." I spoke with one of the companies whose plans were put on hold, or at least slowed down, by the delay of the new PTC credit.
E.ON Climate & Renewables North America
, headquartered in Chicago, is a major player in the U.S. wind energy market, with 18 current operating projects generating more than 2,700 megawatts of wind power. Their wind farms are spread out across Texas, Illinois, Indiana, Pennsylvania, and New York. Matt Tulis, the communications manager for E.ON, said that his company's projects were still moving forward, but that certain "long-lead" items, like mobilizing construction crews, had to be put on hold. "We're still pushing forward on the development side, as we would have done normally," Tulis said.  "We were fairly confident that there would be an extension of the tax credit, but we were aware the timing of it might be close, so we did have to slow some things down." Tulis said that in talking to colleagues in the industry and people at E.ON, there was agreement that a longer term solution "would definitely benefit us and everyone in the industry." E.ON looks at the PTC, Tulis said, as in incentive to build wind farms in rural U.S. communities, "where you don't always see a lot of investment." He said the new rule allowing projects to qualify for the credit once construction has begun will be a major benefit to E.ON, as "with the delay, we would have had a hard time getting things finished in 2013." But he characterized the PTC delay as " just another obstacle on the road." And that's what wind energy companies are counting on, that wind energy is here to stay and is an inexorable part of the U.S. energy's future. But with long-term renewal of the PTC expected to cost the U.S. Treasure $12 billion over 10 years, it may be a while before wind energy companies can exhale and make definite long-term plans.