Career Spotlight: 7 Questions with Senior Manager of Virtual Reality Kim Greenwood
December 10, 2012
"Virtual reality is a great way to create an environment that simulates the real world without all of the cost, hassle and limitations of the physical world," Kim Greenwood explains. As senior manager of virtual reality at Kimberly-Clark, the self-proclaimed computer nerd creates virtual environments as a way to research business trends and communicate with retailers.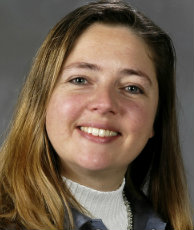 IMT Career Journal interviewed Greenwood and learned about her shift from a computer operator job to her current role that helps others see into the future.
IMT Career Journal: As senior manager of virtual reality at Kimberly-Clark, what are your job responsibilities?
Greenwood:
My main responsibilities include team management, directing the strategic development and use of virtual reality (VR) solutions at Kimberly-Clark, exploring and implementing new technologies, and forming and managing strategic alliances with key software companies. That is a mouthful that basically means that I am responsible for the delivery of VR solutions that drive business value.
IMT Career Journal: How did you initially enter the virtual reality world?
Greenwood:
I have been in love with technology since I was a kid. I loved learning how it worked, playing with it and pushing every button I could find. I did not realize that this would be a career path for me until my mom went back to college to learn to be a computer programmer. She would show me her programs and even helped me get my first part-time job as a computer operator. At that time, everything on the basic computers ran interactively, so I had to run around from computer to computer and execute programs. That grew old quickly and I got bored, so my mom taught me to program in RPG2. I caught on quickly and decided to go to a college for computer programming. Since then, I have held a variety of technology positions at various companies and have done everything from installation of networks to building e-commerce web sites. The VR capabilities at Kimberly-Clark are world-class. The knowledge, brain power and intellectual property in this team always made me envious and I wanted to be a part of it. Then two years ago I was lucky enough that they took a chance on me and now I am living the dream. I absolutely love it.
IMT Career Journal: What role has education and training played in your career path?
Greenwood:
I attended a two-year technical college and received a degree in computer programming in the late 1980s. The schooling I received was a great kick start for me because it helped me learn to think logically. About 10 years later, I went back to school and completed a bachelor's degree in computer programming. At that point, I had worked in technology for many years already, which actually made the classes easier. I am a big advocate for learning, and honestly, learn more online than any other way. I am so thankful that the web gives people the opportunity to share knowledge, collaborate on ideas and help each other out.
IMT Career Journal: What qualities or characteristics do you find are necessary to be a successful virtual reality leader?
Greenwood:
There are a few key things that I think make a difference, such as flexibility. I never know what my day will entail and I need to be able to redirect my focus and energy very quickly at times. I like it because [my days are] exciting. Be a visionary; in this job, you need to be comfortable with high-level ideas and hunches and that is the fodder that helps us innovate and bring new ideas and solutions to the table. [You need] passion for excellence. My entire team has a passion for excellence. Many times, we work with people who have no or little experience with VR solutions, and it is our job to help them see the possibilities and deliver something that is exceptional. We take that responsibility very seriously. Every person you meet has knowledge and experiences that you do not. They are your best resources. Building a network and keeping it active is golden.
IMT Career Journal: Can you give an example of a creative solution to a problem you've faced in your career?
Greenwood:
One of the things we do is help people "see what can be." We can create an unlimited number of scenarios, with any design we want without any restrictions. That is a pretty powerful business tool if you think about it. We can create these virtual environments and execute research to learn if it will be successful without ever building anything physically. We also can use virtual reality to help people see the future. If a picture is worth a 1,000 words, what is an interactive 3-D experience worth? It is a great way to help us communicate with our retailers and internally.
IMT Career Journal: What has been the biggest challenge in your career?
Greenwood:
I live for challenges and delivering things that have never been done before, so in general, I embrace challenges. With that said, the hardest thing I have ever had to do in my career is coordinate the outsourcing of one of my teams. The human element of doing this almost broke my heart. The company we outsourced to is a good company and the people who were taking over were great, but watching a team of 21 people slowly whittle down to two was heartbreaking.
IMT Career Journal: What is the most fulfilling aspect of your career?
Greenwood:
I've always wanted to work in a role where all ideas were new possibilities that needed to be vetted and work at a place where I get to bring new ideas and solutions to the business and also get to use and keep up on new technology. This role on the virtual reality team is exactly that!  I am so happy to have found a role that matches my personal preferences and that my leadership team gives me the leeway to try new things. The most fulfilling part of my career is the feeling of being empowered to bring new ideas to light and then watching them come to fruition.