Sobering Numbers Indicate a Depressed State for EVs in the U.S.
October 17, 2012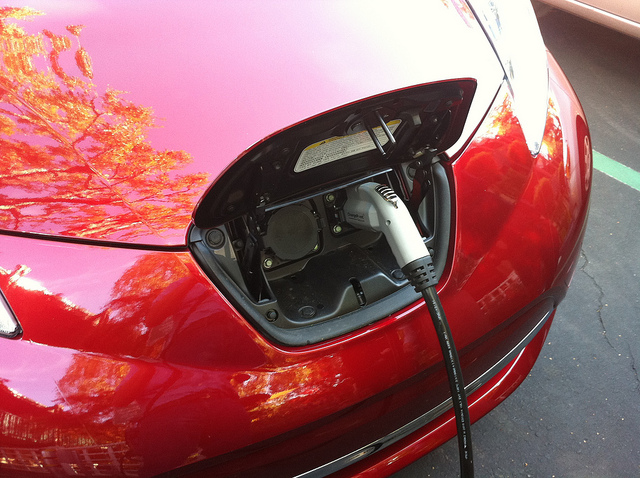 As has been usual in recent history, there's a bunch of grim news for those who believe electric vehicles are the future of American transportation. First, a study, titled "Electric Drive by '25: How California can Catalyze Mass Adoption of Electric Vehicles by 2025," sponsored by Bank of America, and co-authored by Ethan N. Elkind, a climate policy associate for UCLA School of Law's Environmental Law Center and the University of California's Berkeley School of Law, identified three problems that have slowed consumer adoption of EVs and offered three solutions. "California represents a huge portion of new car sales -- 11 percent of overall new car sales every year, and 20 percent of hybrid vehicle sales," Elkind told me for ThomasNet.com Green & Clean. Elkind, who wrote the report with research associates and business leaders from various sectors in the electric vehicle market (carmakers, battery companies, public agency officials, electricity experts, etc.), says, "It has also taken the lead legislatively, but with this paper we tried to show a few more things that can be done to help the transition more." As Elkind and his group see it, the three biggest obstacles to EVs becoming commonplace are:
Lack of accurate consumer info about electric vehicles. "People aren't aware of what electric vehicles can do, and they don't go into dealerships asking about them," Elkind says. "There's also a lot of misinformation about them -- that they're not safe, not environmentally friendly."
Initial cost driving away consumers. "We hope there will be improvements in battery research, and that could eventually bring down the cost," Elkind says. "With natural gas and solar panels, we've seen some price declines, so there will definitely be movement in this area."
Lack of charging stations available for EV owners. "This is primarily a problem for the private sector, because private companies will mostly be installing them," Elkind says.
  To overcome these obstacles, Elkind and his group came up with three methods. First, they'd like to see California and other states conquer misinformation about EVs with more pronounced marketing strategies by using current owners to help allay concerns. Second, they would like to see California incentivize EVs more; currently the state has a program that offers $2,500 in subsidies to EV purchases. And, finally, the group believes California needs to deploy more vehicle charging infrastructure. "That's a huge issue, because people's big concern is, "What happens if my battery runs out while driving?" Elkind says. "You need to be able to reassure people that there will be opportunities for them to recharge." Elkind concludes that as much as he would like states such as California to take these steps, "the private sector also will play a huge role in the development of EVs on the road." Therein lies the rub. Forget for a minute about all the problems Chevy has had with the Volt. Consider that Toyota, the number-one seller of cars in America, announced in late September that it was scrapping plans for a new all-electric car. Toyota executives said that they had misread the market and the capabilities of battery technology to meet consumer demands. "The current capabilities of electric vehicles do not meet society's needs, whether it may be the distance the cars can run, the costs or how it takes a long time to charge," said Takeshi Uchiyamada, Toyota's vice chairman. The carmaker, of course, still has its pioneering Prius hybrid vehicle, and it plans to move forward with the now-expanded Prius model line, along with other hybrid models. Then, despite a $2.4 billion grant program launched by the Obama administration designed to accelerate manufacturing and add jobs in the electric vehicle industry, growth has fallen way short. The grants were part of the federal economic stimulus package in 2009 and included $500 million for U.S.-based manufacturers of electric drive components for vehicles. Now, a look at the numbers of electric vehicles sold and the volume of battery production clearly shows an overcapacity of batteries. According to figures from consulting firm Advanced Automotive Batteries 
published in MIT's Technology Review
, the projected 2013 capacity for electric vehicle battery production was 3,900 megawatt hours (Mwh). But because of sluggish EV sales, the 2013 EV battery demand is projected to be only 330 Mwh -- quite a huge difference. Electric vehicle sales have fallen far behind estimates. Only 1,500 EVs were sold in 2011, followed by 2,500 in 2012, with 17,000 estimated for 2013. That is a big jump for next year -- and perhaps a leap of faith.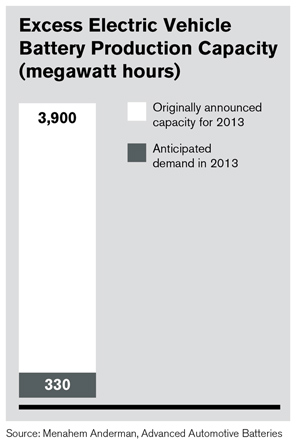 A
new report from the Congressional Budget Office (CBO)
, released in late September, stated that government support to speed up electric car purchases will cost taxpayers a whopping $7.5 billion through 2019. That will include tax credits for consumer EV purchases that will go along with $5.5 billion in grants to aid battery and EV production. The report stated that tax credits for EV purchases - which account for about one-fourth of that $7.5 billion cost - are likely to have the greatest impact on vehicle sales. But it also stated that at current vehicle and energy prices, the lifetime costs to EV owners will be higher than those for conventional car owners and hybrid vehicle owners -- even with the aid of tax credits of as much as $7,500 per vehicle. There are troubling signs for companies that make components for EVs. A hard-to-ignore reality is that stimulus-funded battery production plants have had to jettison workers due to lower-than-expected business. According to a
Washington Post
story, in Holland, Mich., LG Chem Power's battery factory - which received a $150 million grant from the Department of Energy - recently furloughed 200 employees, while another U.S. company, A123, announced it was taking a major cash infusion from Wanxiang Group, a Chinese auto parts maker, just to stay alive. A123
filed for bankruptcy
on Tuesday. Clearly, the EV market is experiencing pains. While what remains clear is that EVs' biggest selling point is its present owners, who rave about how happy they are with their cars, as demonstrated in
this recent New York Times story
, these owners make up a niche. The simple problem is there just aren't enough owners to go around and trumpet up the EV industry.