LED Lighting Manufacturers Are Part of Reshoring Efforts
August 23, 2012
As U.S. manufacturers strive to bring back "Made in America," reshoring efforts have emerged as a solution to grow jobs in the country. Some LED lighting manufacturers are among the businesses that are reshoring jobs, with company CEOs citing operating cost control and quality control as reasons for the moves. Yet while several companies move forward with reshoring initiatives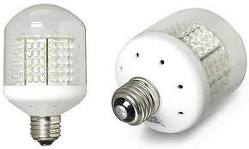 and consequently create domestic jobs, others may not be so quick in giving up the tax holidays and business development and support they receive in offshore countries. A recent supply-chain management study by the Massachusetts Institute of Technology
reveals
that a growing number of manufacturers are bringing their operations back to the United States - an initiative reflected in the LED lighting industry. Other reports note that manufacturers are reexamining their operations and relocating facilities and workers back to the U.S. to improve customer responsiveness.  A resurgence in reshoring among manufacturers is also attributed to rising shipping and transportation costs, higher worker wages in foreign countries and a re-emphasis on better quality control. As an industry, LED lighting is a driver in the post-recession economic recovery, with businesses investing in LEDs to save on energy expenses,
IBISWorld explains
. The trend may also reflect the shift in companies using more environmentally friendly products to run their businesses. A report by the U.S. Department of Energy, "
U.S. Manufacturing Strength Growing: Cautious Optimism,"
highlights several LED manufacturing companies that have prioritized reshoring efforts. One, GE Lighting Solutions, is concentrating engineering and manufacturing in its North Carolina location "to maximize production efficiency and keep costs under control." The company, which has invested $60 million to retrofit and reopen its lighting plant in Bucyrus, Ohio, with support from local, state and federal governments, boasts that such a centralized plant helps reduce its environmental footprint and will enable it to add over 100 new domestic jobs over the next several years. Another LED company with reshoring efforts is Seesmart Technologies,
which has plans
to increase product production in the U.S. and pull jobs back from China. The company aims to have 75 percent of its manufacturing in the U.S. by the end of 2013. Area Development Online
reports
that company executives say the cost difference to produce in the U.S. is "insignificant," and Seesmart CEO Ken Ames told the publication that reshoring the company will create engineering, assembly, integration, sales and warehouse distribution jobs. The DOE report also highlights the Lighting Science Group, which in 2010 became the first U.S. company to domestically manufacture 1 million LED replacement lamps in less than a year. The company, whose entire staff is at its Satellite Beach, Fla., location, is able to take advantage of its close proximity to NASA and recruit seasoned engineers and other qualified workers in light of the end of the Space Shuttle program. Despite such demonstrated efforts, other reports point out that the overall reshoring statistics are meager.
Businessweek stresses
that there are no clear figures on just how many manufacturing jobs have shifted back to the U.S., despite the fact that the Obama administration reported a gain of 495,000 sector jobs since 2010. Also, while such job creation is a positive sign for the economy, the amount of those jobs created that were sent offshore and then reshored is occurring at a slow pace,
Businessweek'
s article points out. Further, the DOE report does note that several factors make it compelling for manufacturers to remain offshore in Asian countries, including "no taxes for 10 years, recruiting and relocation support, and subsidized land and building development." Though reshoring figures may not be regularly reported, LED manufacturers report seeing a rise in business demand after reshoring their operations. Additionally, reshoring creates what some refer to as a ripple effect, as efforts to bring manufacturing back to America have created a large number of domestic jobs that include
engineering of LED products
but extend to other skill sets.