Energy Department Study Shows Hydrogen Vehicles Are Making Rapid Progress
August 20, 2012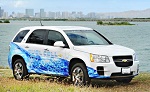 The fuel cell and hydrogen energy industry is a true American success story. Domestic fuel cells and hydrogen energy systems have achieved significant advances in power generation, portable applications, transportation, back-up and material handling. Across the nation, fuel cell and hydrogen energy technologies are creating jobs, reducing emissions and improving efficiency.
3.6-Million-Mile Hydrogen Torture Test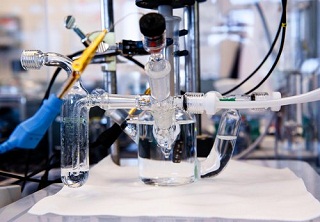 Recent discussions within the hydrogen community indicate that there will be two major thrusts of hydrogen infrastructure build-out. The first will focus on geographic coverage by the stations to ensure that early adopters will have convenient fueling within a reasonable distance from where they live or work. The second stage of the deployment will focus on fueling capacity expansion and allowing the quantity of vehicles supported by the infrastructure to rise rapidly as the OEMs accelerate their production of the vehicles.
The demonstration project operated within the geographic-coverage stage, in which, the authors wrote, "the stations will necessarily have excess capacity and appear to be underutilized." Currently, the stations are "serving six or fewer vehicles per day on average, with several stations serving between 10 and 23 cars on their busiest days." However, after the hydrogen infrastructure shifts from "coverage" to "capacity" mode, "many of these demonstration stations will quickly become saturated and will need to be upgraded or replaced to allow for increased capacity and vehicle usage."
Hydrogen and the Environment
Hydrogen is often promoted as a green-energy alternative to conventional gasoline. The
Fuel Cell and Hydrogen Energy Association
When using pure hydrogen, there are zero greenhouse gas emissions. When using other hydrocarbons as fuel, the emissions are still far less than with conventional combustion technologies (think ounces of carbon monoxide instead of pounds). In fact, fuel cell power plants are so low in emissions that some areas of the United States have formally exempted them from air permit requirements.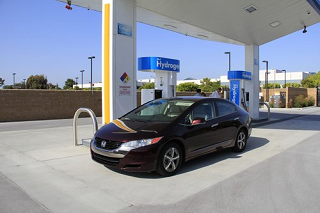 Hydrogen is most commonly generated from renewables with a device called an electrolyzer, which uses electricity to separate water into hydrogen and oxygen. By converting renewable electricity into hydrogen, the intermittent power of wind and sunlight can be stored for long periods and used in a fuel cell for power at any time, day or night. Electrolysis can also leverage the surplus generation from renewables that would otherwise be wasted. Currently, wind turbines are shut down on windy days when electricity generation outpaces demand. By simply installing electrolyzers, that surplus power could be put to use generating hydrogen.
This suggests that hydrogen fuel cells might be used as an element of a distributed power generation model. Renewables might be used at the community, neighborhood or even household level to generate energy that is then stored in hydrogen fuel cells for later use -- even the fuel cell in a homeowner's automobile might be used for this purpose.