Tech Giants, Facing Pressure for a Clean Cloud, Make it Rain with Green Data Centers
May 29, 2012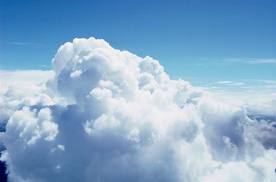 "No trees were killed in the sending of this message. However, a large number of electrons were terribly inconvenienced." It's a fun e-mail footer that shows up occasionally in place of the rather smug variation, "Consider the environment before printing this e-mail." It also pokes a little fun at the fallacy that digital content is somehow exempt from harm to the environment. Regardless of whether an e-mail may save a small fraction of resources over a piece of paper, it's important to understand that as more of modern life happens in the digital cloud, there is still an environmental cost. As we put everything† into the virtual cloud -- our music and photos, personal documents, video entertainment, dating lives, finances, education, employment, customer service, gaming, debates, group psychology, maps and navigation and even control of our home utilities and services -- the companies that service our digital needs build ever-bigger data centers that house the servers that hold our lives. Increasingly, the companies that own these giant data centers are being scrutinized by environmental groups. While many have scrambled to put the most efficient servers in place, lowering energy consumption, eco-interests like Greenpeace say it's not enough. The group has estimated that the total amount energy used by data centers across the world will have reached 2 trillion kilowatts per hour (kW/h)† by 2020. This level of power consumption will come with an environmental cost -- and especially if the United States' energy picture today, where 70 percent of its power comes from non-renewable sources that involve burning something (coal or natural gas), doesn't change. Right now, data centers consume about 2 percent of the power used worldwide, but that number is expected to rise. Here are some of the largest and most prominent players in data centers. †
Facebook
Greenpeace began an enormously public war of words with social networking giant Facebook several years ago, when the environmental group criticized the company's newest data center in Prineville, Ore., even though it was built to great green fanfare and has been certified LEED Gold. It is the company's first custom-built facility, costing $188 million, and much was made of its environmentally-friendly specifications. The data center makes extensive use of outside air to cool its racks of servers, as opposed to energy-intensive air-conditioning. In addition, the servers are specially designed to maximize both power efficiency and the natural cooling system,
reported the BBC
. Facebook also completely eliminated non-essential parts, paint, logos and stickers from equipment, which saves more than six pounds of material per server. While Facebook touted the Prineville center's green pedigree, Greenpeace pointed out that the location of the data center itself was one of its primary problems. While the center reduced its cooling needs, it still had enormous power requirements, and its Prineville home meant that it was pulling a lot of energy from local utilities tapping mostly non-renewable sources. Facebook took the criticism to heart and hit a home run on the location of its next data center. Late last year, the social networking giant announced that it is building a new data center in the northern city of Lulea, Sweden, about 60 miles shy of the Arctic Circle. Cold air is plentiful there. It will be the company's first data center located beyond U.S. borders. Once completed, the new 323,000-square-foot facility will be the first of its kind in Europe and the northernmost large data center in the world. The facility will be responsible for all of Facebook's data processing in Europe, the Middle East and Africa. But even northern Sweden does not stay at refrigeration temperatures year-round, so Facebook will still need to buy energy for its data center. In its northern Sweden location, however, the facility will be able to get the energy it needs for supplemental cooling from hydroelectric dams located on the nearby LuleŚ river,
reported the UK newspaper the Telegraph
. The energy that the facility will draw will come largely from renewable sources. Facebook's step earned Greenpeace's approval ... and hopefully a truce in the organizations' war of words. "This is a great step forward," Casey Harrell, a Greenpeace IT analyst,
told the UK newspaper the Guardian
. "With the IT sector -- one of the fastest-growing consumers of electricity in the world -- Facebook's taking leadership on renewable energy and could help determine whether we have a dirty 'cloud' or not." †
Apple
The notoriously secretive company will be setting some green data center records of its own with its new facility in Maiden, N.C. But don't expect it to be as public as Facebook with its launch. Apple, whose latest addition to the new facility is solar array equipment from SunPower Corp. and hydrogen fuel cells from Bloom Energy (the purchases were
announced on Apple's website
), will also head off past criticism from Greenpeace and other groups about the green pedigree of its data centers. The new North Carolina data center, which has been built to impressive LEED Platinum specifications, will draw about 20 megawatts of power at full capacity, said Apple. The company will generate about 60 percent of this energy on site from a combination of solar and hydrogen fuel cells. Once it is built and its power systems are completed, the facility will be both the largest private solar array and the largest non-utility fuel cell installation in the nation. The two solar farms, which will cover about 250 acres, will be among the largest in the industry, Apple CFO Peter Oppenheimer told Reuters. The facility is expected to be entirely "coal-free" by the end of 2012. A 100-acre, 20-megawatt installation near the data center will produce 42 million kilowatt-hours (kWh) of energy each year and a 100-acre site located a few miles away from the main data center will produce another 42 million kWh for a total of 84 million kWh of clean, renewable energy annually. When the bio-gas-powered 5-megawatt fuel cells are up and running, they will provide more than 40 million kWh of renewable energy annually. In all, the Maiden, N.C., facility will produce about 124 million kWh of clean, renewable energy each year. This is enough energy to power the equivalent of 10,874 homes, said Apple. †
Google
Given the sheer processing power of the world's largest search company, it's never been exempt from green criticism, and its lack of transparency over its operations doesn't help. The company is highly secretive about its data center operations, never releasing any information about how many servers it operates, but it does try to conserve power: While most companies use large power distribution units to provide backup power for their data centers, Google instead uses a 12-volt battery to back up on each server. The company says its battery method is more energy-efficient than a large uninterrupted power supply. In addition, Google says it uses servers that are stripped of all unnecessary elements, such as graphics cards and excess fans, to help conserve power. It also builds its data centers with "hot aisles" and "cold aisles" to eliminate unnecessary heating and cooling. The company also has decided to go the cool-location route. In late 2011, it announced an 11-acre data center in Dublin, Ireland, that will use the area's naturally chilly air for its cooling needs. Google bought an existing building and land and is currently retrofitting the facility. It's a little harder for environmental groups to criticize Google's green efforts, given how much the company sinks into renewable energy research and development. Google Energy LLC has invested hundreds of millions of dollars into a variety of projects, including wind power, solar energy, solar thermal and geothermal. Part of the investments is a 1.6-megawatt solar installation pilot project at the company's California headquarters. It has also put about $38.8 million into two wind farms in North Dakota and is currently cooperating with other interests to build the proposed Atlantic Wind Connection, an undersea cable off the U.S. Atlantic coast that will carry power from future offshore wind farm projects with on-shore grids. Google Energy also recently signed a deal with SolarCity, a large solar project chaired by Elon Musk, co-founder of PayPal, founder and chief architect of electric sports car company Tesla Motors and CEO and CTO of space transport company SpaceX. That project cost Google Energy $280 million. Green energy investments aside, Google's newest efforts to green its data centers have worked, at least with Greenpeace. While Greenpeace's recent "
How Clean is Your Cloud
" report had some negative things to say about Apple, Amazon and Microsoft in terms of fossil fuel burning for energy for their data centers, Google was praised for its "comprehensive energy reduction plan." †
E-tailer Is Still On Greenpeace's Hit List
In late April, Greenpeace activists climbed to the top of Amazon's new headquarters in Seattle - which conveniently stands right across from Microsoft's headquarters - and hung a banner that read, "
Amazon, Microsoft: how clean is your cloud?
" (The stunt coincided with the release of Greenpeace's clean cloud report.) † † Given the hefty percentage of the global cloud being controlled by the biggest half-dozen tech companies, environmental groups say it's everyone's business when these companies don't go as green as they could. "If we want to get to a renewable energy economy, we can't get there without leadership from these companies," Gary Cook, an IT analyst for Greenpeace,
told Wired Enterprise's Caleb Garling
. "For too long, too many of the energy decisions have been dictated by a small set of companies who are very happy with the status quo." Translation: It's your turn, Amazon and Microsoft.