Nike's Sustainability Strategy Reshapes a Global Manufacturing Network
May 14, 2012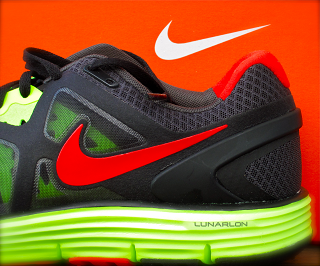 Nike recently released its annual sustainability report
outlining its newly revised environmental strategy. Of particular interest, the section on manufacturing lays out its plans for improving the environmental performance of its worldwide network of contract manufacturers. The report unveils Nike's new Manufacturing Index (MI), a factory rating system devised to help the company more effectively select and evaluate its manufacturing partners. 
(Photo: Nike shoe. Credit: puuikibeach, CC BY 2.0.)
Nike says sustainability is no longer a fringe effort in the corporate world, but "an important, well-integrated part of any forward-thinking company" and "one of the key drivers of success." Improving green performance is key to Nike's vision, because the manufacturer of footwear, apparel and sports equipment carries a high potential for environmental impact through "use of energy, water and diverse materials; the related creation of waste, greenhouse gases and other emissions; and the use and release of toxins." Nike has been working with its material vendors and manufacturing partners to reduce those impacts and has committed to a goal of "zero discharge of hazardous chemicals" by 2020. The company is now measuring and reporting greenhouse gas (GHG) emissions and waste generation by providers as part of its own impacts. Also, the company is exploring new models for sustainable business to prepare itself for "a fundamentally different operating environment" characterized by competition for scarce natural resources, high energy prices, scrutiny of the effects of GHGs, economic disparities among workers in global supply chains, demands created by growing urbanism and new middle-class consumers and government regulation.
How to Get 900 Factories in 50 Countries to Go Green
Nike is also launching the Sourcing and Manufacturing Sustainability Index (SMSI), a component of the MI that will rate contract manufacturers on a scale of red, yellow, bronze, silver and gold. This measurement tool "will place a factory's performance and sustainable manufacturing practices on equal footing and performance with the traditional measures of quality, delivery and cost," says the company.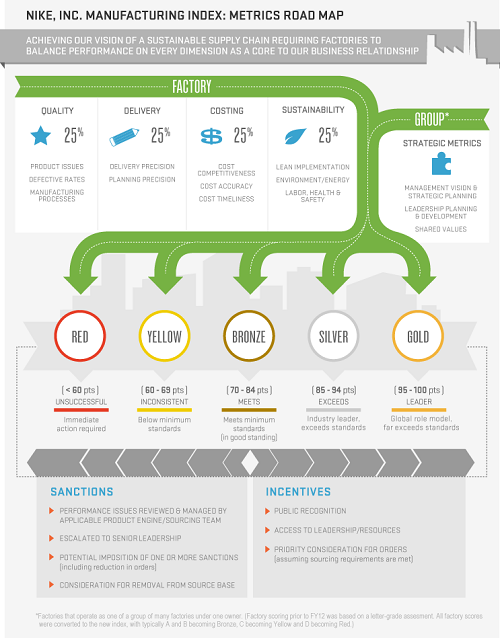 Nike employs a network of more than 900 contract factories to produce its products. Those factories employ more than a million workers in 50 countries. That creates a challenge, the company admits:
Like many global companies that outsource production, our supply chain is complex, fragmented, and often influenced by factors beyond our power and purview. That's what makes our work so challenging. We do not own these factories, so we cannot simply mandate change. Instead, we must build and influence positive change through our contracts.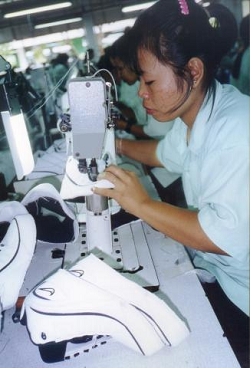 Nike had been using a softer approach -- communicate, collaborate, offer assessment, consult and train. But helping the lowest-performing factories has taken up most of the company's time and attention due to violations in areas such as work hours, overtime, and wages. Concentrating on the "problem children" has gotten in the way of engaging the factories that are already doing well. This has led Nike to adopt a new vision around its manufacturing operations. 
(Photo: Nike contract manufacturer in Thailand. Credit: Labour Behind the Label, CC BY 2.0.)
The company's new approach to its contract factories is going to focus less on compliance to standards (although that will remain important) and more on a model that rewards factories for their management practices, performance controls and commitment to continuous improvement:
This represents a fundamental shift from a risk-reduction focus -- which devotes time and attention on the lowest factory performers -- to a strategy that invests time and attention to strengthening relationships with the factories operating at the highest levels of performance. Overall, our aim is to build business partnerships characterized by long-term, trust-based, transparent interactions.
One of the steps Nike has taken is to reduce its number of contract factories by "establishing long-term relationships with fewer factories as trusted partners, rather than having short-term transactional relationships with a larger number of factories." This, the company says, will enable greater integration of sustainability in manufacturing, while some of the other benefits include "product excellence and innovation at the factory level," deeper consulting relationships with contractors and greater depth of understanding of conditions on the ground at the factories. Over the next three years, Nike plans to implement a new set of processes and tools that will help implement that new vision across its manufacturing base. The company will assess and select all factories consistently, based on their implementation of sustainable sourcing and manufacturing practices. A balanced-scorecard process will help Nike "move from enforcing minimum compliance standards to defining a model of 'good, better and best' with incentives for our contract factories." The stance will shift from "monitoring performance" to "collaborating with factories as business partners."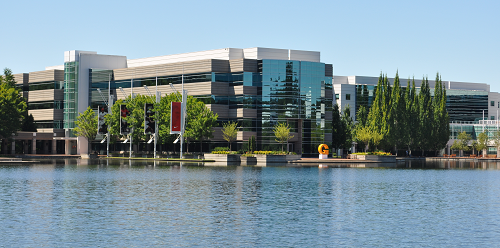 (Photo: Nike headquarters, in Beaverton, Wash. Credit: Brandon Carson, CC BY 2.0.)
Nike also has incorporated risk assessment processes into the system, recognizing that conditions around the globe affect the ability of contract manufacturers to operate sustainably. A Risk Index will help identify countries "with the highest risk and most potential for low factory performance," generating a score for each target country in four key areas: political risk, social/compliance risk, economic risk and infrastructure and climate risk. The ultimate goal will be to make better decisions when searching out new manufacturing partners and seeking locations that are likely to generate lower risk and higher quality.