Sustainability Spotlight: EPA Ranks Intel as Top Green Power Organization
May 3, 2012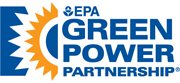 The
U.S. Environmental Protection Agency
(EPA) has released an updated list of the Top 50 Green Power Partnership organizations, and
Intel
is on top as the largest single user of green power. The company uses more than 2.5 billion kilowatt-hours (kWh) per annum of electricity derived from green power sources, including biomass, geothermal, small-hydro, solar and wind. This volume accounts for 88 percent of the company's overall electricity usage. Intel President and CEO Paul Otellini said, "Our renewable purchase is just one part of a multifaceted approach to protect the environment, and one that we hope spurs additional development and demand for renewable energy." A leading environmentally responsible retailer,
Kohl's Department Stores
, claims the number two spot on the list, purchasing 1.5 billion kWh of green-power-certified electricity from solar and wind sources annually. This represents a full 100 percent of Kohl's annual electricity usage. Coming in at number three,
Microsoft
sources 1.1 billion kWh of green power, accounting for 46 percent of its total consumption. Two more retailers,
Wal-Mart Stores
(870 million kWh/28%) and
Whole Foods Market
(800 million kWh/106%), round out the top five. "We applaud all of our Green Power Partners for their use of clean, renewable energy. For the first time, each of the Top 50 partners is using more than 100 million kilowatt-hours of green power annually," said EPA Administrator Lisa P. Jackson. "Their actions help to reduce harmful carbon pollution that threatens the health of our planet and the air we breathe, and mark another step toward a new era of clean, innovative American energy." The Green Power Partnership also updated the list of the top 100% Green Power Users, where Kohl's and Whole Foods Market landed in the top two spots. The city of Austin, the capital of Texas and the 16th largest city in the United States, finds itself in the number three spot by sourcing all of its 406 million kWh of electricity demand from green power sources. Claiming spots number four and five are
HSBC North America
(262 million kWh) and the EPA itself (240 million kWh), respectively. EPA's Green Power Partnership works with more than 1,300 organizations, over half of which are small businesses and nonprofit organizations, to voluntarily use green power. Green power resources produce electricity with significantly fewer greenhouse gas emissions. To learn more about the Top 50 list and other rankings, visit
www.epa.gov/greenpower/toplists
, and to learn more about the EPA's Green Power Partnership, visit
www.epa.gov/greenpower.