Department of Education Awards Green Schools
May 2, 2012
As we all know, school is a competitive place. So it's not surprising that when the U.S. Department of Education (DOE) announced in March 2011 it was looking to honor green schools, there was a huge level of interest -- and competition -- in the academic halls of America. More than 350 schools, ranging from elementary schools to high schools, applied in hopes of becoming the inaugural winners of the DOE's Green Ribbon Schools awards. The DOE aimed to honor schools that "exercise a comprehensive approach to creating green environments through reducing environmental impact, promoting health and ensuring a high-quality environmental and outdoor education to prepare students with the 21st century skills and sustainability concepts needed in the growing global economy." Last week the DOE announced that 78 schools have been honored as Green Ribbon Schools. The list of winning schools spans the country, from Alabama to Wisconsin to New Jersey to California. (
Click here
for the complete list.) What do these schools have in common?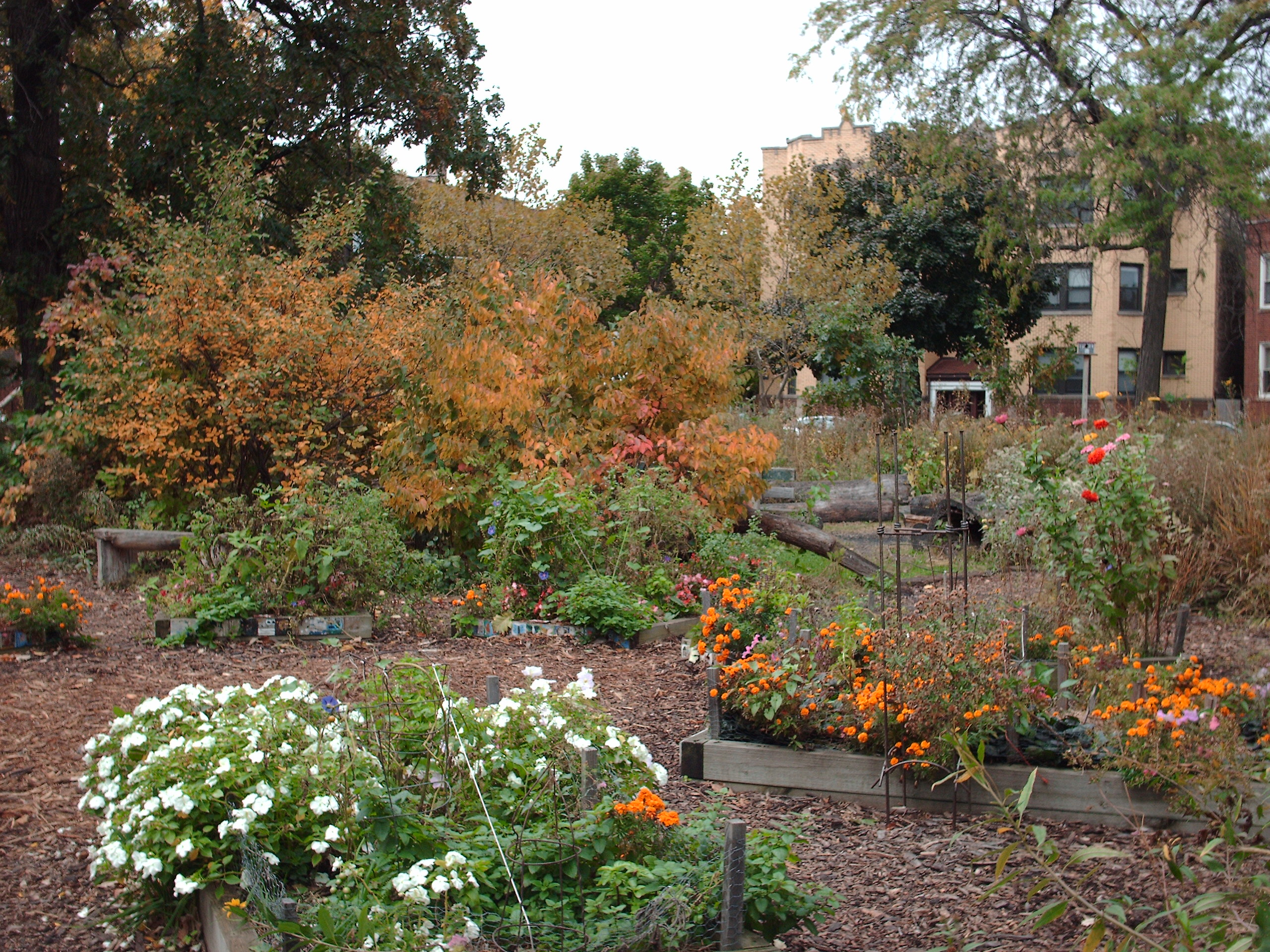 (Photo: One of the gardens at Waters Elementary School in Chicago, Ill. Waters Elementary was named one of the inaugural Green Ribbon Schools by the Department of Education. Credit: Pete Leki)
I spoke with two representatives from the DOE, who explained how the Green Ribbon Schools program got started and how it works. John McGrath is the deputy assistant secretary in the DOE's Office of Communication and Outreach, while Andrea Falken is the director of the Green Ribbon Schools program. "This really all came out of the work of four organizations, which wanted a coordinated federal policy when it came to environmental education and schools," Falken told me. "The National Wildlife Federation, the U.S. Green Building Council, the Campaign for Environmental Literacy and the Earth Day Network all got together and made a request to the Dept. of Education last March [2011]." McGrath said that prior to the Green Ribbon Schools program, schools were pretty much doing their own thing when it came to environmental education. But once the DOE established the program, it gave the education departments in each state a list of criteria that schools had to meet to be considered for an award. The three major components of the criteria are:
Environmental impact and energy efficiency, including reducing or eliminating greenhouse gas emissions and improving water quality
A healthy school environment, including high standards of nutrition and fitness and abundant quality outdoor time for both students and staff
Possessing environmental and sustainability education in the school's curriculum.
As mentioned, more than 350 schools originally submitted applications to their states' education departments. Of those 350, the states deemed 98 worthy of being sent on to Washington, D.C., for further consideration.
"The final list (of winners) is an incredible mix of rural and urban, and poor and wealthy schools," said McGrath. "We really saw that it's not simply a matter of wealthy schools or city schools doing these kinds of programs; it crosses all kinds of lines. Almost half of the 78 schools we honored served disadvantaged kids; half of the kids (in those schools) were considered to be in poverty." He added, "It was very rewarding to see how much is being done."
(Incidentally, there's no cash prize or any other monetary award for being a Green Ribbon School.)
I took a look at four schools, one each in California, Florida, Illinois and Kansas, to see exactly what they're doing so well in the area of environmental education:
1. Longfellow Elementary School, Long Beach, Calif.: Principal Laurie Murrin said her K-5 school has been teaching environmental education for as long as she can remember and that the district Longfellow is in is an Energy Star school district.
Some of the major elements of Longfellow Elementary's Green Ribbon-worthy program are a composting effort in a garden just outside the school and a recycling program with which the whole student body is involved.
"We started a recycling program three years ago in the cafeteria -- and outside as well. And we do most of our lunches outside," Murrin told me. "We have a garden where we do composting on a daily basis; we have a Senior Green Team (older students) and a Junior Green Team that takes over the responsibilities."
Murrin added that the school donates leftover cold food from the cafeteria to a local food bank and that separating garbage in the lunchroom "is something just about every student gets involved in. For us, caring about the environment has become a part of daily life."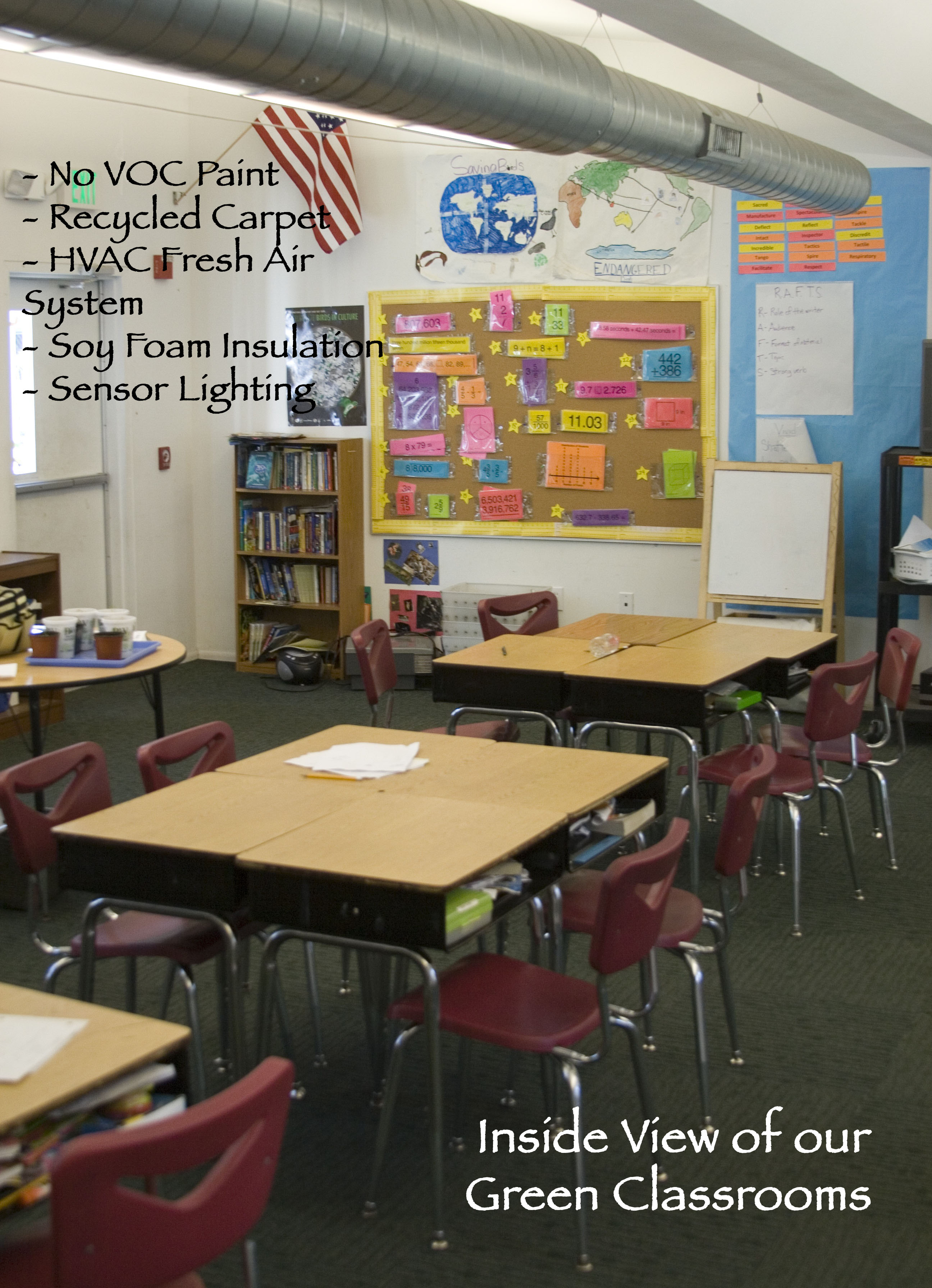 (Photo: One of the green classrooms at Learning Gate Community School in Lutz, Fla., where students learn environmental practices. Learning Gate is a Green Ribbon School winner. Courtesy Learning Gate Community School.)
2. Learning Gate Community School, Lutz, Fla.:
While the DOE didn't rank its winners, Learning Gate would certainly be in the top 10 if it did. The K-8 public school, with 800 students, was already an inaugural winner of the government's LEED award (signifying excellence in energy-reduction and efficiency policies) in 2008 and has been involved in environmental issues for years. Learning Gate Public Relations Director Michele Northrup told me that, between the kindergarteners' Waste Free Lunch program, the middle school students spearheading an electrical recycling program and the school's Seed to Soup curriculum (ensuring every student attains an age-appropriate level of environmental literacy), Learning Gate is at the forefront of the green movement. "We're in a rural community, on 27 acres, and our kids take what we're doing really seriously," Northrup said. "Recently I've had parents calling me and telling me their kids are asking for brussels sprouts and broccoli for dinner and to have a compost bin at home. It's been great." Some of the specifics of Learning Gate's approach are a challenge between grades to see which could produce the least amount of waste and garbage at lunch (as a result, the school went from having 12 garbage bags a day to half a bag) and also all 800 students spending at least 30 percent of their day participating in outdoor activities and classes.  
3. Thomas J. Waters Elementary School, Chicago:
 At Thomas J. Waters Elementary, Principal Titia Crespo told me that being honored as a Green Ribbon School was 20 years in the making. The inner-city school's leader said "the fruits of our labor are finally being recognized," She beamed about the pride felt by her students and faculty when they were told they had won. "It's wonderful confirmation for everyone," Crespo said. "Our students are tremendously immersed in the work we do." The school has done tremendously with its resources as evidenced in the video below, provided by Ecology Director Pete Leki. The school takes lunchroom leftovers and composts them in a garden, and the students grow fruits and vegetables in the garden and send them to local Chicago restaurants. Crespo also said that through the Waters Ecology Program, students take class trips that involve learning about the environment; one recent voyage took them to a forest preserve. Another had students go down and take test samples from a nearby river. http://www.youtube.com/watch?v=a-cQuFT0cUk   4. 
Eisenhower High School, Goddard, Kan.:
The good folks at Eisenhower HS have taken environmental education to a new level: There's now an ecology "major" at the school, said ecology teacher Denise Scribner. "They can take [ecology] instead of physics once they have fulfilled other science requirements," Scribner said of Eisenhower HS students. "Ecology is not just a class for our students; it's become a passion." At Eisenhower, which only opened in 2011, guest speakers from the community are often brought in to talk to students about hazardous waste, energy conservation and other environmental topics. The students also get hands-on experience by "burning prairies," which Scribner said was a native practice in Kansas that removes old growth, puts nutrients back into the soil and allows growth of native grasses. Students at Eisenhower HS also take diet and nutrition classes regularly and use recycled materials to create geometric mobiles in math classes. Finally, the school has created a native grass run-off repairing area, which acts as a habitat for wildlife in the area. So that's a small snapshot of four schools that are doing it right. All 78 schools that were honored should take a bow for doing outstanding work to educate students about the value of preserving the environment.