New Army Lab Brings Innovation to Detroit, the Battlefield and Beyond
April 25, 2012
Detroit had long been known for fantastic automotive innovation. Since Henry Ford and his Model T, the Motor City was the home of the Big 3 carmakers, and through most of the 20th century Detroit led the way with new and creative ideas in the auto industry. That image of Detroit has faded, as Japanese carmakers took over and helped sink General Motors, Ford and Chrysler, until they needed a government bailout to rescue them. Yet American car quality and ingenuity is on its way back, and so is Detroit. Which is why it seems only fitting that last week the U.S. Army announced it was adding another layer to its already highly-developed Tank Automotive Research, Development and Engineering Center (TARDEC). The brand new facility, containing eight laboratories in one, is called the Ground Systems Power and Energy Laboratory, or GSPEL. GSPEL is a 30,000-square-foot facility where the focus will be on creating and maintaining high-tech green-energy vehicles, as well as helping to provide unprecedented ground vehicle testing and evaluation capabilities for the Army and its partners. "GSPEL gives the Army overarching, full-spectrum testing and evaluation capability," TARDEC Interim Director Jennifer Hitchcock said in a statement. "The GSPEL's unique facilities will allow the Army's new Ground Systems Power and Energy to drive innovation for tomorrow's energy solutions." Research at the new facility will be conducted on electrical systems, heating and cooling, fuel cells, hybrid powertrains, advanced batteries and even air filters as the Army takes another step into the future. There were all kinds of dignitaries at last week's opening of the $30 million facility ($15 million of which came from the 2009 federal stimulus), including both U.S. senators from the state of Michigan, Debbie Stabenow and Carl Levin, and clearly this could be a big new addition to Army research. A few more facts about GSPEL before I turn it over to two of the experts at TARDEC, who spoke to me by phone after the opening:
 The GSPEL lab has eight separate facilities, and the centerpiece of it (the Power and Energy Vehicle Environmental Lab (PEVEL) features one of the world's largest environmental chambers. The lab's dynamometer and environmental chamber combination allows full mission profile testing of every ground vehicle platform in the military inventory in any environmental condition (more on this cool feature in a minute). The PEVEL enables testing at temperatures from -60 degrees Fahrenheit to 160 degrees Fahrenheit, in relative humidity levels from zero to 95 percent and with winds up to 60 miles per hour.
 Inside the facility, advanced testing and research for the Army's technology such as fuel cell, air filters, energy storage and hybrid electric components will take place.
 The 30,000-square-foot facility houses, in addition to PEVEL, an Air Filtration Lab, Calorimeter Lab, Thermal Management Lab, Power Lab, Fuel Cell Lab, Hybrid Electric Components Lab, and an Energy Storage Lab.
One of the major focuses of the GSPEL lab will be getting military vehicles to be more fuel-efficient. The military uses 90 percent of the energy consumed by the federal government, which accounts for about 2 percent of all U.S. energy consumption.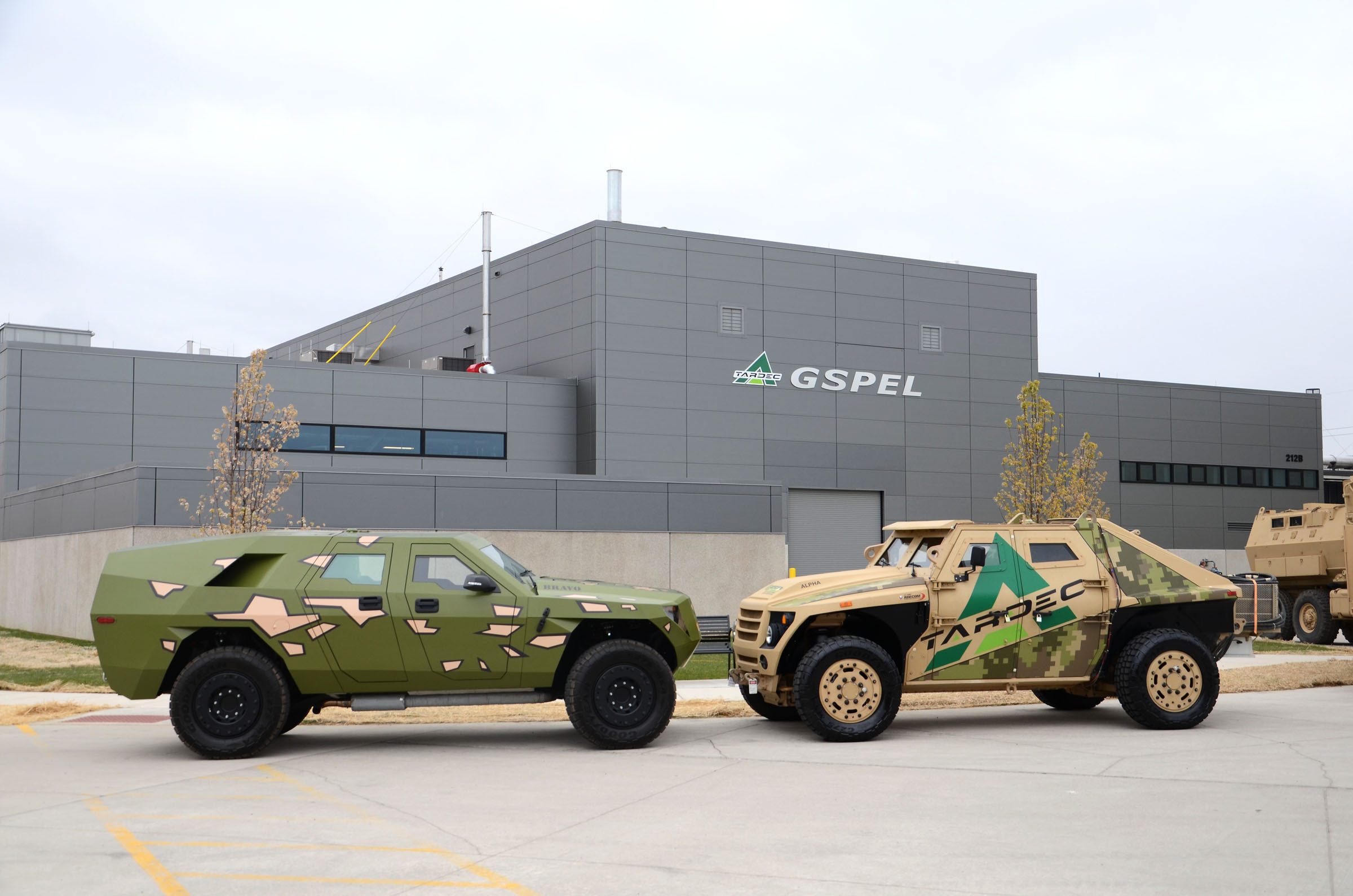 (Photo: A look from the outside at a brand-new Army research facility just outside of Detroit, Michigan. The GSPEL (Ground Systems Power and Energy Lab) is a 30,000-square-foot facility and cost approximately $30 million to build.
Photo courtesy of John Wray, BRTRC.com)
At the lab's grand opening, Hitchcock told reporters that vehicles got heavier in recent times to help protect soldiers from enemy attack. "They use more fuel," she said in an interview. "We need to find a balance between mobility and survivability. How can we save fuel on the battlefield?" To get a better sense of what the Army engineers involved with GSPEL feel about all this innovation, I interviewed two of them. Retired Col. Chuck Coutteau is the acting executive director of Research and Technology Integration for TARDEC, and Mike Reid is a lab director and the Ground Vehicle Power and Mobility team leader. "GSPEL is a very versatile tool that's been created here," according to Reid. "We're going to have all of our labs working together and trying to optimize performance of our power plants, improve integration and, most important, understand those performances in real simulated environments. "We have newer capabilities that we just didn't have before," Reid continued. I asked Coutteau for some real-world application examples of what can be done now with GSPEL in the fold. With the directness you'd expect from a military man, he quickly pointed to the vehicle testing capabilities. "We can now do mission-profile testing," Coutteau said. "It's like an automotive drive cycle; this lab allows us to test, in real-world situations, any temperature or setting we want. We can run a test (that would apply to) Afghanistan 365 days a year. "And if there's a problem, we're in a setting where we can understand the root cause of these problems, get them tweaked and re-engage them," Coutteau continued. "So if soldiers run into an issue and have a problem in Afghanistan, we can replicate that." Another feature Reid and Coutteau are excited about is the fuel cell lab. As Reid explained it, GSPEL will soon be getting fuel cell reformer technology that will allow the Army to have a totally silent launch. JP-8 fuel, which is the military fuel, will be able to be "re-formed." This will allow the military to fill up helicopters and tanks from the same supply, something that hadn't been possible before. Other features of GSPEL that can soon have very important real-world implications include the Auxiliary Power Unit (APU), which is a way to produce energy without running the main engine. The APU can provide silent power for electronics when a tank is in a position of surveillance. "We're looking to make the Abrams tank more fuel efficient," Coutteau said of one particular Army vehicle. "It spends a lot of time in a holding pattern. It operates at a tactical idle, which is because it's a turbine. But in some cases, based on the operation, we reduce in a day, a 5,000-gallon tanker. "So over the course of many days, that's several tankers fewer that we're using," said Coutteau. "Those fuel tankers take up a lot of energy, so we're reducing our energy consumption right there." These APUs can also be used commercially by long-haul truckers to power their cabs overnight. Reid and Coutteau spoke about some of the other possible benefits of GSPEL, such as now having space to bring in the TARDEC's robotics team to work at GSPEL, putting them in close collaboration with the other engineers and lab workers. They also said that the lab will employ 125 civilian workers right now, many coming from outside the military. "When there was a downturn in the economy a few years ago, it was easier to bring people in who were highly qualified, because they wanted the work," said Coutteau. "We've got people here, including some from the automotive industry, who wanted to be here and are excited about what we're doing." What people like Coutteau, Reid and their colleagues at GSPEL hope to do is to make America's wars a little more efficient, a little easier and, hopefully, cost a lot less money. Just as the auto industry is learning in Detroit, greener can sometimes really mean better. Finally, here's a video of what the inside of the GSPEL lab looks like: http://www.youtube.com/watch?v=L-n4E_x1FMs