As the Fracking Debate Continues, a Town in Upstate New York Tries to Bring Jobs to its Citizens
April 18, 2012
Whenever a major environmental issue becomes a hot-button issue in a town, county, state or in the federal government, there are certain push-pull debates that are going to happen. For example, one side is usually arguing that, say, fracking will endanger a natural habitat or will damage the quality of life for Small Town USA's residents. Meanwhile, the other side, often the "Big Business" side, will argue that -- to continue the hypothetical -- fracking is all about the future, is going to be a money-maker and is vital for Small Town USA's interests. And almost always, in every place a new environmental procedure or issue comes up, one four-letter word stands above the rest in importance: Jobs. "Jobs" is a magic-bullet kind of word, which is very difficult to dispute. Whenever a company or industry talks about how what it wants will help a community, it throws that word around and people's eyes light up. Because I hold this as a truism, a couple of events conspired last week to make me dig a little deeper into the issue of jobs, and how sometimes they "compete" for attention with environmental concerns in a place. While getting my usual flurry of e-mail from environmental groups railing against the controversial prospect of "fracking," or hydraulic fracturing, among oil and natural gas companies, I came across an e-mail talking about a jobs fair in Binghamton, N.Y. This jobs fair was specifically billed as the inaugural "Broome County Natural Gas Career & Education Expo." Once you get past the mouthful-of-a-title, this event, held over four hours at Broome Community College in Binghamton, promised to introduce potential workers to 46 companies who were recruiting potential employees for the burgeoning hydraulic fracturing industry.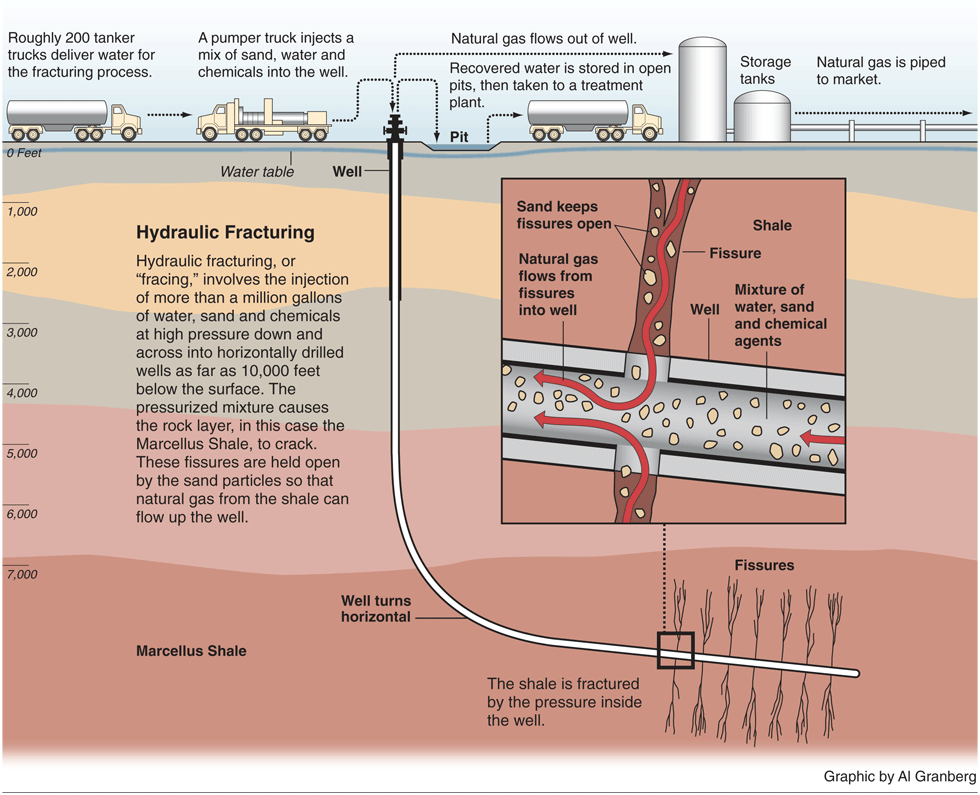 I wondered that since this is exactly the kind of event you would expect natural gas and oil companies to hold up as an example of them being job creators, what exactly happened at the event? So I called up the organizers and had them take me through it. First, though, a little background on what hydraulic fracturing actually is. My Green & Clean colleague Tracey Schelmetic
wrote an excellent story
about fracking last summer, and if you're interested in the subject, I highly recommend checking it out. From Tracey's story, a succinct explanation of fracking:
By way of background, hydraulic fractures are created when natural gas or oil miners need deeper and more widespread access to deposits located inside deep underground (some 5,000 to 20,000 feet) rock formations like shale, or deep coal beds. Workers drill a wellbore into the rock and then pump fracturing fluid into the wellbore, deep enough and hard enough to generate pressure that will crack the formation rock, helping to release and extract natural gas or oil deposits that were formerly unreachable. After the crack is opened, a solid material in granular form - sand is common - is used as a "proppant" to keep the fissure open after the fracking fluid is gone.
The controversial part of the practice comes when companies that engage in
fracking pump fluid into the fracture.
This fluid is usually a mix of terrible chemicals that includes known carcinogens and toxins that can cause serious illness in those exposed to it. In addition, fracking reportedly could pose dangers to an area's water supply. So, as you can imagine, a horde of environmental groups and concerned citizens have come to oppose fracking wherever a natural gas company has decided it wants to drill. In fact, there was a major protest of fracking held last summer -- in Binghamton, N.Y. Which brings me back to the job fair, and to Binghamton. Broome County, the county in which the city lies, currently has an unemployment rate of 9.6 percent, according to Terry Stark, director of Broome-Tioga Workforce, a local organization. Broome County is also just over the border from Pennsylvania, where natural gas drilling and fracking has been legal for the past five years. Hydraulic fracturing from the Marcellus Shale region has led to thousands of wells and, according to a study from Penn State Extension and Penn College, an average of 12 full-time jobs for each gas well opened. In New York, legislators and the Department of Environmental Conservation are considering allowing hydraulic fracturing in the state. And when it's legal, those gas and oil companies are going to need workers in New York. They're going to need just the kind of people who were at the job fair in Binghamton. "Our whole intent with this was to educate folks, and give them the opportunity to learn about this industry and how they might fit in," said Steve Herz, a Broome County legislator and an organizer of the event. "We've got a lot of people out of work, and here were 46 companies coming to town to tell them about jobs and careers that might be available to them." A major partner of the jobs fair was Broome Community College, which is interested in the hydraulic fracturing industry developments partly due to trying to get its students employment after graduation. Janet Hertzog, the director of workforce development for the school, told me that the college has received a grant from the U.S. Department of Labor to start a ShaleNet certification program. "The curriculum has been designed by the natural gas industry, along with us and several other colleges in West Virginia, Ohio and Pennsylvania," Hertzog said. "It's going to be a program made up of 133 hours of training, running three weeks straight. We train people for general labor positions on well pads." Hertzog said she, like Herz and many others thinking about Broome County's high unemployment rate, is hoping that fracking gets approved in New York soon. "You're talking about a lot of different types of jobs being opened, not just working on a well pad," Hertzog said. "There'll be all kinds of environmental jobs, people checking for quality; hotels, restaurants could be booming, too." The career fair was broken up into three different segments, Herz explained. There were two seminars held first, with one seminar focused on careers that are available in the natural gas industry, featuring speakers like Robert Williams of Barnes Williams Environmental Services and Gregory Sovas from SRM Environmental Consulting, along with water resource engineers Chad Gorman and Brody Webster from Cabot Oil & Gas. Another seminar focused on production, with speakers talking about such issues as positioning equipment, software and supplies in construction, and a speaker talking about the quality of the pay and the security of new jobs in the natural gas industry. Beyond the seminars, the fair also had representatives of 46 companies, and available to answer questions and give out applications to potential employees. "There were a lot of companies there that I think many of us had never heard of the industry they were in," Herz said. "Like one company that installs GPS units on vehicles, trucks that are hauling waste. They were looking for people who can install GPS units. That's not something that you would necessarily associate with natural gas [jobs], but they were there and they were hiring." In talking to Herz for a while, I got the sense that the political side of the fracking debate didn't really interest him. He's a local legislator who cares deeply about his community and the high rate of unemployment leads him to look for answers anywhere he can find them. He sees Pennsylvania and Ohio putting people to work in fracking jobs, and he wants the same opportunities for those in his state. It's hard to argue that he's wrong for wanting job opportunities for the people of Broome County. The argument is simply this: Is allowing the fracking industry into New York going to create enough jobs to offset the potential damage to the lives of the people working those jobs?