With a Gov't Loan, SolarReserve Bets Big on Storing Solar Thermal Energy
April 4, 2012
It's a pretty astounding figure, when you consider it from any angle: $737 million. That's more money than was offered up in last week's biggest-ever Mega Millions jackpot, and more money than the gross domestic product of a few good-sized nations (the GDP of the nation of Antigua is about 760 million, for example). It's almost three quarters of a billion dollars. By any measure, it's a staggering amount of money for any entity to loan another entity. But last September, that's the amount that the United States government loaned a fairly new California-based company, called SolarReserve, to begin to build what may be the nation's first solar thermal energy plant. "I have to always make clear to people that it's not a grant, that it's a loan," SolarReserve CEO Kevin B. Smith told me in a recent interview. "And it has to be paid back by us with interest, so it's actually going to be a money-maker for the U.S. government." What was all this money for? Well, to put it simply, SolarReserve and another company, BrightSource, are each trying to create solar thermal energy. What is that? Well, they're trying to build plants that will store energy from the sun. In other words, they're trying to create electricity by using the sun's heat to boil water. SolarReserve took that $737 million from the U.S. Department of Energy, then had to raise
another $
260 million on its own in private investment, and began constructing the Crescent Dunes Solar Energy Project, in a little town called Tonopah, Nevada. Using thousands of mirrors and a whole lot of molten salt, SolarReserve has already signed a 25-year contract with a state company called NV Energy to produce power for it. The plant broke ground in September 2011, and the first usable electricity from the project is scheduled to be ready by 2013. (BrightSource, also based in California, is trying to build three plants in California that aren't scheduled to be ready until 2016 or 2017. BrightSource does currently have a small power plant in Coalinga, Calif., that produces 13 megawatts of electricity, with a 327-foot tower.) "Yes, $1 billion is a lot of money for investment, but when you think of it in terms of the world energy market, and the future expenses that will be incurred, this is a solid financial investment," Smith said. "This is absolutely something that will make a big difference." Now, before I explain how this works (OK, before Smith explains how this all works, and it would help to watch the little instructional video I got from SolarReserve's website, below), there's one thing that you're probably wondering about regarding the cost: SolarReserve is
not
Solyndra, the solar panel company that was loaned $535 million by the government, then went bankrupt last year. Understandably, Smith is a little touchy about the comparison. "They made solar panels, a very specific kind of solar panels, and they were in a totally different business than we are," Smith said. "But a lot of people made that [association] with us when we were raising money, as did some in the press, so it made things difficult for a while." OK, here's how solar thermal energy works: To make natural electricity when the sun goes down, you need to store energy somehow, somewhere. So what SolarReserve is doing is building an enormous tower, and putting 17,500 mirrors  in the tower, and trying to direct the sun toward a point. . .and, OK, I'll let Smith take over from here:
These towers are surrounded by mirrors that are the size of a billboard; the mirrors are 100 meters long; they're made up of individual mirrors, and they're on a backing plate. The mirrors look like regular mirrors, like you'd have in your house or in the bathroom. They have dual access tracking, and they point the sun's energy toward the tower. We're focusing the sun's energy on a point, at the top of this tall tower. The tower is 540 feet tall; and on the top of the tower we have a heat exchanger that has a fluid that runs through it; this fluid is heated by the sun hitting the mirrors, and the mirrors move to point the sun's energy to the top of the towers.
Smith further explains:
The heat exchanger is 100 feet tall, and it's on top of the tower.The fluid that we utilize (in the heat exchanger) is basically molten salt; it's started out at the cold salt temperature, 500 degrees Fahrenheit. It then gets heated up to 1,000 degrees Fahrenheit. Molten salt is still a liquid at that temperature, and it runs down the tower into a large storage tank. And now we have a big energy source.
  http://youtu.be/73SNIuZ333s   Smith added that the solar thermal plant will be operational all the time. "We use the energy every day, it's just when the energy company wants us to use it is when it'll be used," Smith said. "When we want to generate electricity, we look a little more like a power plant. We take the salt, run it through another heat exchanger on the ground, and we generate steam, and that steam goes through a conventional steam turbine. "The utility companies," Smith continued, "their instruction to us is to run 12 noon until 11 p.m. at night." Over at BrightSource, the technical details of the plants they are building vary only slightly. BrightSource, whose representatives didn't respond to my requests for an interview, will heat water that can be used immediately as steam or to heat salt for storage.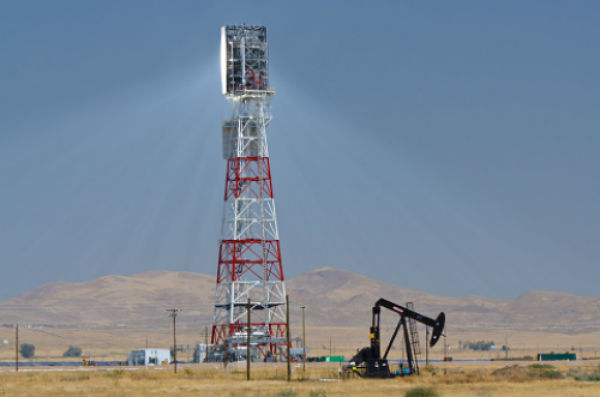 (Photo credit: This is a picture of BrightSource Energy's tower at its solar thermal plant in Coalinga, Calif.  This small plant produces 13 megawatts of electricity, with a 327-foot tower. The company is building three more plants, all larger, in California, which are due to open in 2016 or 2017.)
  "The equipment that makes electricity from steam is the most expensive part of a solar thermal system, but if it is connected to storage technology, it can run almost twice as many hours as a plant without storage," the
New York Times
reported in January. "That means the unit cost of electricity drops." The project being undertaken by SolarReserve is a massive one on a scale of more than just financial details. Smith said that currently the 2-1/2 year construction project on 1,500 acres of land in Tonopah (a city about halfway between Las Vegas and Reno) is using about 75 workers, but at the peak of construction there'll be 600 workers working round the clock. At completion, Smith estimates, the Crescent Dunes plant will use 1.5 million man hours of construction work. And while the plants by these two companies are new, the technology that will allow solar thermal to work aren't new. There are currently plants in Spain and South Africa, among other locations. Of course, the billion-dollar question in all this is: Will it work? More to the point, will it make a difference? There are two areas Smith argues for that says it will. The first is environmental security as it relates to national security. "We're going to see, maybe not too long from now, $300-$500 for a barrel of oil," Smith said. "The price is going to keep going up, so photovoltaic energy like we're talking about is going to be huge in securing costs." The other argument is an environmental one: storing energy without environmental hazards like fossil fuels being burned is a huge plus for air quality. Personally, I think it'll be fascinating to see if solar thermal energy can make the kind of difference Smith says. If he's right, and energy costs plummet and solar thermal energy is the future, one day that $737 million loan may look like a wonderful bargain.