Five Years after Being Destroyed by Tornado, Greensburg, Kan. Rebuilds -- Greener and Better
March 14, 2012
The great writer Ernest Hemingway once said that all true stories end in death. Well, this is a true story that
begins
with death. It has to begin with death, because if not, then there would have been no rebirth. And the rebirth is where the real story happens. This is the tale of Greensburg, Kan., a tiny town in the prairies of Kansas. It's fairly out in the middle of nowhere, and up until May 2007, it went along peacefully and anonymously like so many small towns across America do. It became famous because on May 4, 2007, at 9:45 p.m., an EF-5 tornado came through and destroyed 95 percent of Greensburg. Entire buildings were lifted off the ground; businesses were destroyed; homes turned to a pile of bricks and dust. Eleven people died. In a town of 1,400, that's awfully significant. For days afterwards, reports on the news made Greensburg look like a bombed-out World War II village, it looked so bleak. Maybe you haven't thought about Greensburg since that time; it showed up like a blip on America's national consciousness for a terrible reason, stayed in the news for a little while, then drifted away. But what happened in Greensburg is hugely important. And as I watched the devastating tornadoes two weeks ago that took out entire towns in Indiana and Kentucky, I found myself wondering about that little city in Kansas, and whatever became of it. It turns out, Greensburg's story has a pretty good ending. In the past five years, thanks to help from the federal government, a few very determined outside-the-box thinkers in city government, and some very creative and persuasive local businessmen, Greensburg has completely remade itself, in a very 21st-century way. Concepts like green energy, solar power, wind power and sustainability have taken hold and helped this city thrive and grow. There's a new hospital that's bursting with sustainable energy. A new schoolhouse. A brand new John Deere building that's as modern as it gets. The list goes on and on. Oh, it's not at all like it used to be, and the population hasn't all come back (the population of 1,400 that were there in May 2007 is now down to about 900 residents), and getting here was a pretty big struggle. But take a look at the photos below to see what can happen when a town is open to new ideas. Five years after its worst tragedy, Greensburg has become a model for places like Joplin, Mo. and others, to show that it really does get better, and you can survive a tornado like this. "When we first started talking to people about rebuilding and going green, nine out of 10 people came right back to us with, 'I'm no tree hugger!'" according to Daniel Wallach, a Kansas businessman and one of the major driving forces in Greensburg's return. "And now look at us. It's just incredible."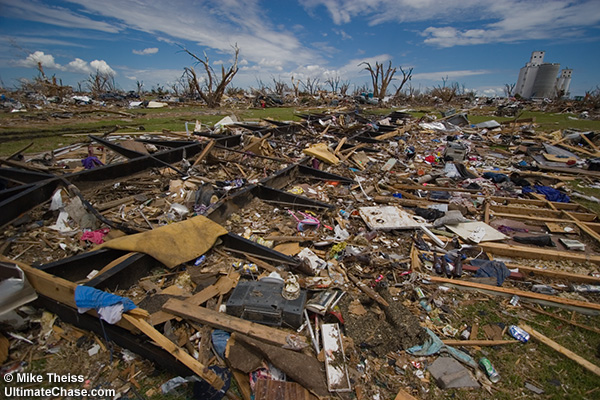 (
Photo
:
The devastation that hit Greensburg, a tiny town in Kansas, in May 2007, when an EF-5 tornado struck the city and destroyed 95 percent of it.)
  To start to tell the story of Greensburg's resurgence, let a few people who were there at its lowest point tell you what it was like. "It was horrible, and no one here had ever seen anything like it," said Kelly Estes, the owner of BTI Equipment, one of the largest businesses in Greensburg. "You look around and see everything destroyed, and it just was so devastating. The next few days, people were walking around like they were in a daze." "Only thing we had left was each other," said Bob Dixson, who would become mayor of Greensburg one year after the storm. "You see everything wiped out, and you just pull together." In the days and weeks after the storm, with the much-maligned Federal Emergency Management Team in town and offering aid, there were a few discussions about how best to rebuild Greensburg. But at the time, not many people wanted to hear it. "With every disaster, there's an opportunity for change, and to do things differently," Estes said. "But boy, it was so hard to convince people to try. It was just horrible, at first." Estes and Wallach, an entrepreneur who had previously run a non-profit, both thought it was a golden opportunity for Greensburg to become a sustainable living community. They both believe strongly that green energy is the future, and that with Greensburg almost completely wiped out, now was a time to rebuild a different way. The men  had a few allies in local government, like John Janssen, who was the City Council president when the storm hit, and later became mayor. Then in early 2008, the Department of Energy and the National Renewable Energy Laboratory (NREL) came to Greensburg to help plan the city's future.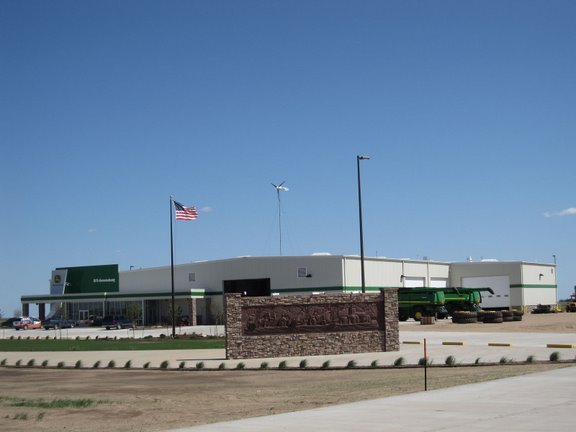 (Photo: The new BTI John Deere building, opened in 2009, that features tubular daylighting devices that bring natural light into the showroom. City leaders credit this as one of the major turning points in the town's recovery. Photo courtesy of Greensburggreentown.org)
  "I would say it was a slow growth of interest in what we were doing at first, and for a while," said Lynn Billman, a senior energy analyst and project lead for the Greensburg recovery. "There was a lot of pressure on people like (John Janssen) to just rebuild and not try anything new." But thanks to some lobbying efforts, people slowly came around to the concepts of sustainable communities. "I think we struck a chord with people by reminding them that their ancestors lived off the land, using the wind and the sun," Wallach said. "We reminded people that we're tribal, and we're very social animals. We were able to help people to re-frame how they thought about it, in a way. "We had to fight through the political junk and have it (the rebuild) relate to people authentically," Wallach continued. Thanks to $80 million from FEMA and a $2.5 million commitment from NREL, Greensburg began to rebuild. Wallach founded a non-profit called Greensburg Greentown, and put up a website so people could see the progress Greensburg was making. As buildings started to go up, attention started to come to Greensburg. The Discovery Channel came and began filming for two years, making a documentary about how the town was recovering. Celebrities like Leonardo DiCaprio showed up to lend a hand (and moral support).
"We became a living laboratory, and with NREL's expertise and guidance, we were able to make sure the planning process was done right," Mayor Dixson said.
Among the impressive accomplishments of the rebuild are new homes that average 40 percent less energy use than code, as well as the city of Greensburg's Kiowa County Memorial Hospital - the first LEED Platinum critical access hospital in the U.S.
New and renovated highly efficient commercial buildings, including:
USD 422 Greensburg K-12 School, a LEED Platinum building built to be 60% more energy efficient than standard code and generate electricity with an on-site wind turbine;
Kiowa County Courthouse, renovated with sustainable and energy-saving technologies while maintaining the structure's original design; and
A 12.5-megawatt wind farm, the Greensburg Wind Farm, that produces enough energy to power the entire town and beyond.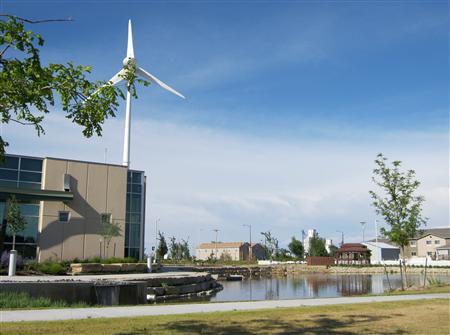 (Photo: This is the new Kiowa County Memorial Hospital in Greensburg, one of the new energy-efficient buildings erected after the 2007 tornado. Source: Greensburggreentown.org.)
  While all of those accomplishments were great, what a few interviewees said really convinced locals that things would be all right was when the
new John Deere/BTI building
opened up in 2009. "John Deere is a cultural icon in Middle America, and when the Estes brothers were able to persuade John Deere to get involved, that became a very big deal," Wallach said. "It took us six months to get [John Deere] on board, and it took a great effort from a lot of people, not just me," Estes said. "It really became something we all took pride in."
Greensburg is a shining example of what can happen with teamwork, particularly in a community that is open to change. It's probably the "greenest" city in Kansas now, and even once-reluctant townspeople seem to have come around to the idea of renewable energy, according to Wallach and Estes. More plans are in the works to bring Greensburg back even further, the mayor said. Dixson talks of a new movie theater and performing arts center on Main Street, and a Big Well Museum and Gift Shop (before the tornado, the town's claim to fame was having the world's largest hand-built well.) Asked to give advice to some of the devastated towns in the recent tornadoes this spring, the people of the Greensburg rebuild kept it simple: "Every decision that relates to making your community more sustainable is the right one," Wallach said. "Don't make life decisions rapidly," Dixon said. "Know your community, and know your assets." "When people from outside your community come and offer their help and expertise, listen to them," Estes said. "Open your minds and your hearts, and you may be surprised and amazed at what can happen." It worked for Greensburg. It can work anywhere. Out of the ashes and rubble, a beautiful new village can sometimes arise.