Businesses Increasingly Struggle With Environmental "Megaforces"
February 23, 2012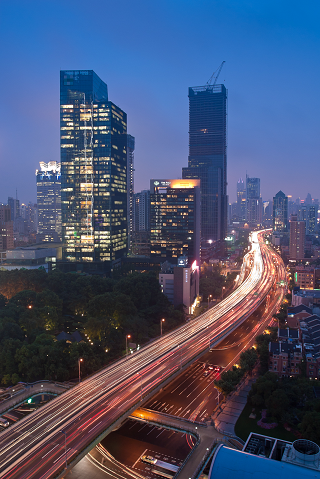 A new report from  professional-services firm KPMG says that businesses are operating in an increasingly complex and interconnected environment. The report, titled
Expect the Unexpected: Building Business Value in a Changing World
, identifies 10 "megaforces" at work in the world, forces that all center on crucial environmental and energy problems of our time. These megaforces present both challenges and opportunities, according to the report's introduction by KPMG Chairman Michael Andrew and Yvo de Boer, adviser for climate change and sustainability.
(Photo: Shanghai, China. Credit: Robert S. Donovan, CC BY 2.0.)
As these megaforces continue to exert their influence, the report's authors write:
The resources on which businesses rely will become more difficult to access and more costly. There will be increasing strain on infrastructure and natural systems as patterns of economic growth and wealth change. Physical assets and supply chains will be affected by the unpredictable results of a warming world. And businesses will be confronted with an ever more complex web of legislation and fiscal instruments.
Andrew and de Boer say that globalization and economic growth in emerging markets has created an expanding global middle class, with its attendant resource-intensive lifestyle. They write that "the central challenge of our age" will be "decoupling human progress from resource use and environmental decline," but that this challenge "will also be one of the biggest sources of future success for business." Businesses are increasingly being held accountable to the public for their environmental impacts, or "externalities" in the parlance of economics. "A new generation of 'digital natives' have become far more active and discriminating consumers -- companies need to be seen to do the right thing and are under growing pressure to be more transparent and accountable about what they do and why,"
Expect the Unexpected
states. While more large companies are adopting sustainability programs, KPMG says businesses still have "a long way to go" in accounting for externalities:
In 2008, the world's 3,000 largest public companies by market capitalization were estimated to be causing US$2.15 trillion of environmental damage, equivalent to 7 percent of their combined revenues and 50 percent of their combined earnings... Some 60 percent of these negative impacts were concentrated in the electricity, oil and gas, industrial metals and mining, food production and construction and materials sectors.
KPMG's 10 Sustainability Megaforces
The authors stress that the 10 sustainability megaforces outlined in the report "do not function in isolation from each other in predictable ways," but "act as a complex and unpredictable system, feeding, amplifying, or ameliorating the effects of others." Following are the 10 megaforces, along with KPMG's take on how each one impacts the business environment:
Climate Change
Climate change presents risks in six key areas: physical, regulatory, reputation, competitive, social, and litigation. Physical risks refer to very direct impacts from temperature rise, such as contamination and shortage of water, lower agricultural yields, malnutrition, disease, and effects from extreme weather. "Predictions of annual output losses from climate change range between one percent per year, if strong and early action is taken, to at least five percent a year if governments fail to act," the report states. Risks are greatest for developing countries and the companies that operate in them.
Energy and Fuel
According to the report, markets for fossil fuels are expected to become more volatile and unpredictable, meaning that all companies "will find it difficult to plan for and manage energy costs, especially those related to fossil fuel use." Companies can lower their exposure through energy efficiency measures and orientation toward alternative and renewable energy sources. 
(Photo: Coal power plant. Credit: Wayne Silver, CC BY 2.0.)
Material Resource Scarcity
Given the scale of development worldwide, demand for material resources is expected to continue growing radically. For 2030,  "it is predicted that some 83 billion tons of minerals, metals and biomass will be extracted from the earth: 55 percent more than in 2010," according to the report. This increased pace will accelerate competition for material resources. Businesses need to prepare for that competitive environment by making processes more flexible -- for example, by seeking out substitute materials, through recycling, and by better waste reduction and recovery.
Water Scarcity
The report's authors point out that availability of fresh water "bears potential for crisis and conflict, since water lies at the heart of everything that is important for human life: food, sanitation, energy, production of goods, transport and the biosphere." Businesses that have to operate in areas where water is scarce "will have to share access to limited or dwindling water resources with municipalities through detailed water management plans and efficiency requirements, and are likely to be subject to regulations that aim to ensure adequate supply for local populations." This presents a threat to growth and expansion. "Companies that use water more efficiently or eliminate water use entirely through closed-loop processes and water recycling can save money and resources and reduce business risks," KPMG advises.
Population Growth
A moderate-growth scenario predicts that world population will grow by 20 percent from 2011 to 2032, reaching 8.4 billion, with developing countries growing the fastest. Population growth can be expected to present "supply challenges and price volatility" for businesses and to "place intense pressures on ecosystems and the supply of natural resources such as food, water, energy and materials." This population-growth megaforce promises to create both challenges and interesting opportunities for businesses. "A lack of employment opportunities for growing young populations in developing nations could result in social unrest and instability," KPMG warns. "While this is a threat for business, there are also opportunities to create commerce and jobs, and to innovate to address the needs of growing populations for agriculture, sanitation, education, technology, finance, and healthcare."
(Photo: Street in Varkala, India. Credit: Henrik Jagels, CC BY 2.0.)
Wealth
Defining the "middle class" as "those with purchasing power of between US$10 and US$100 per capita per day," this segment is expected to grow 172 percent from 2010 to 2030. The challenge for business is determining how to sell to that market "at a time when resources will become scarcer and more price-volatile."
Urbanization
"In 2009, for the first time ever, more people lived in cities than in the countryside," Andrew and de Boer write. "By 2030, all developing regions including Asia and Africa are expected to have the majority of their citizens living in urban areas, and virtually all population growth over the next 30 years is predicted to be in the cities." This trend calls for "vast improvements in infrastructure," pointing to opportunities in construction, utilities, transport, health care, communications, and other industries.
Food Security
KPMG thinks that food prices globally could rise by 70 percent to 90 percent, or even higher, by 2030. Demand will grow fastest in developing countries with their expanding middle-class markets. Businesses in food and agriculture will confront problems related to food production and distribution under resource and water constraints.
Ecosystem Decline
In discussing ecosystem decline, the KPMG report draws a connection between businesses and the "ecosystem services" they implicitly depend on:
As global ecosystems show increasing signs of breakdown and stress, more companies are realizing how dependent their operations are on the critical services these ecosystems provide. The decline in biodiversity and ecosystems is making natural resources scarcer, more expensive and less diverse - increasing the costs of water and escalating the damage caused by invasive species to sectors including agriculture, fishing, food and beverages, pharmaceuticals, and tourism.
Deforestation
The world's forests provide crucial resources directly for businesses in such areas as timber and pulp and paper. Such companies "are vulnerable to potential future regulation and market-based mechanisms such as Payments for Ecosystem Services (PES), which incentivize farmers and landowners to manage land for an ecological purpose." Companies are more likely in the future to find themselves held accountable to governments and to the public for their use of forests and forest-related products. Forests are an important carbon sink. The Earth's biosphere sinks about 25 percent of carbon dioxide that gets produced, demonstrating an important connection between climate change and companies' treatment of forests.
Decoupling Economic Growth From Environmental Destruction
In reviewing the KPMG
Expect the Unexpected
report, I see some useful connections to other research by the United Nations Environment Programme (UNEP) and consulting firm McKinsey & Company. In May 2011, UNEP's International Resource Panel (IRP) released a report called
Decoupling Natural Resource Use and Environmental Impacts From Economic Growth
. The IRP group contends that current levels of global resource extraction and environmental damage are unsustainable, and the group's  study suggests that the world economy needs to be "decoupled" from these dangerous trends. The IRP argues that economic growth and environmental destruction don't have to go hand in hand. The right mix of technologies, innovation, policies, and market signals can head off calamity. (For a review of the IRP report, see my previous article
Decoupling: Can Humanity Prosper Without Plundering and Poisoning the Planet?
) The concept of "decoupling" enters into the KPMG report as well -- that is, the idea that economic progress does not have to correlate with environmental damage and unsustainable depletion of natural resources. During the past 20 years, the world economy has consumed resources and produced carbon dioxide "at a rate 50 percent faster that the Earth can sustain," KPMG contends:
If we are already "living beyond our means" but at the same time 3 billion people need to rise out of poverty, then the central challenge of our age must be to decouple human progress from resource use and environmental deterioration. This challenge creates significant opportunities for business, partly within their own operations. But the real prize comes through helping others to "decouple." Examples include renewable energy, which enables the production of low-carbon energy, drip irrigation technologies that help farmers to produce more crops using less water, electric vehicles that facilitate low-emissions motoring, and software that helps everything from aircraft to buildings to work more efficiently.
Building a World for an Expanding Middle Class
The KPMG report also reflects some of the same concerns I encountered in reviewing the November 2011 report
Resource Revolution: Meeting the world's energy, materials, food, and water needs
, from management consulting firm McKinsey & Company. As pointed out above in connection with the "Wealth" megaforce, KPMG projects that the world's middle class will grow 172 percent from 2010 to 2030. Similarly, McKinsey expects that the middle class will grow by 3 billion people by 2030, from only 1.8 billion today. Those new middle-class consumers are going to create a huge demand for resources even as material resources and energy become severely constrained. As usual, challenges come hand-in-hand with opportunities. "Population growth, and a growing middle class will mean significant increase in the number of potential consumers and producers driving the market for consumer goods, global connectivity and access to technology, as well as providing human resources for the workforce," according to KPMG. McKinsey offers some examples of the kinds of demand we can expect to see globally:
By 2030, the global car fleet is expected to roughly double to 1.7 billion. In India, estimates see calorie intake per person rising by 20 percent during this period, while per capita meat consumption in China could increase by 40 percent to 75 kilograms (165 pounds) a year... Demand for urban infrastructure is expected to soar. Every year, China is adding floor space totaling 2.5 times the entire residential and commercial square footage of the city of Chicago. India could potentially add floor space equal to another Chicago each year to meet the needs of its urban citizens. Past MGI research has predicted that 136 new cities will enter the top 600 by their contribution to global output by 2025. All of these will be in developing economies, and the vast majority -- 100 new cities -- in China.

(Photo: Mining. Credit: Martin Röll, CC-BY 3.0)
McKinsey's report outlines 15 opportunities to improve resource productivity and meet that demand. Many of these mirror the 10 megaforces proposed by KPMG in its own study, focusing on areas such as water and food security, energy, and ecosystem degradation. (For a review of the McKinsey
Resource Revolution
study, see my previous article
McKinsey's 'Resource Revolution': Coping With a Resource Crunch on a Crowded Planet
.) KPMG stresses that the megaforces it identifies are complex and interrelated. Their effects are difficult to predict. This calls on companies to develop new capabilities that will allow for course corrections when necessary. "The next few decades will be marked by rising complexity, uncertainty, volatility, and an accelerating pace of change. The future is set to become increasingly less predictable and full of surprises," KPMG states. "Successfully navigating this turbulent future will require businesses to develop anticipatory awareness, adaptive capacities, and resilient strategies and structures."