Should Electric Vehicle Owners in Arizona Pay a Tax to Help with Road Repairs?
February 16, 2012
It seems like a commonsense solution to Steve Farley. A Democratic state legislator from the state of Arizona, Mr. Farley has served for six years as a representative from Tucson, and he has seen the incremental growth in the use of electric vehicles in his state. He has also looked around at the decaying roads in Arizona, with potholes the size of manhole covers that just aren't getting fixed very quickly, and done a little math in his head. Road repairs are paid for through gas taxes in the Grand Canyon state. More and more, citizens of Arizona are buying electric vehicles, which of course don't run on gas, or hybrids, which use much less gas than the average vehicle does. And Arizona's gas tax is hardly draconian. According to the website Taxfoundation.org, residents there pay only 19 cents a gallon, the 41st most expensive tax of the 50 states. It also hasn't been raised since the early 1990s.
"As we shift to alternative fuels and high-mileage cars, we're going to need money for those roadways," Farley told me in a recent phone interview he conducted between votes in the legislature. "And we're going to need that money soon."
So, with roads crumbling and more and more electric vehicles likely to be free of those taxes in the future, Farley decided to introduce a bill in the state legislature. The bill,
called HB 2257
, would impose a tax of 1˘ per mile driven, starting with the 2014 model year. That amount could go up in future years as the state's finances change. Farley's bill isn't unique; he said he based it on a similar bill passed in Oregon last year, which requires electric vehicle drivers to pay a tax of 1.43˘ per mile. A similar law proposed in the Washington state legislature takes a different tack, requiring electric car owners to pay an annual $100 registration fee, to make up for the gas tax.
"For many years I've been concerned that as we use less gas, we could run into problems with our roads," Farley said. "We have a revenue collection system that's tied to gasoline as the main source, so we're losing the ability to build the roads we depend on, with less gas being used. "There's a relatively small base of EV's right now," Farley continued, "so I see it as an opportunity to see if this can be a way to build revenue to repair our roads."
Farley said his bill is waiting to be heard in the Energy Natural Resources Committee of the Arizona state legislature, but he's hoping to get a full hearing on it in the next week or two. He said he's spoken to many electric vehicle owners about his bill and has gotten their full support. "I know people who own EV's and they understand that we need the money," said Farley, who added that last year $1.4 billion of gas tax money was used to fix roads in the state. "Right now, not having to pay for roadways is a new loophole. These people never expected to get it for free when they used gas; now it's simply a matter of investing the money you're saving."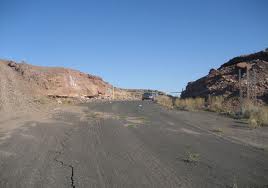 (The state of Arizona, like just about every other state, has plenty of roads in desperate need of repair, which is part of the reason Rep. Steve Farley (D-Tucson) is proposing a tax on electric vehicles. This stretch of road is on Arizona state road 89T. Photo source: aaroads.com) 
Farley even noted that with electric cars still quite a bit more expensive than most gas-powered cars, things have turned around in the age-old rich/poor debate. "In a way," Farley said, "the people who can't afford electric cars are now the ones who are paying for the roadways; the poor people are subsidizing the rich people." So is Farley right, and do electric vehicle owners feel OK about paying this tax? Jim Stack is the president of the Electric Auto Association's Phoenix chapter, a group that has 80 local members. "It's no problem at all for us, because we know it's what has to be done," Stack said to me in a recent phone interview. "We don't like having to pay the subsidies that go to oil, which is part of the reason some of us got electric cars. But it has to be fair; if we're not paying the gas tax, they need money to fix the roads, and we're happy to pay it." Stack estimated that since electricity is 1/4 the cost of gas, the minimal amount of tax Farley's bill proposes wouldn't damage the wallets of EV owners that much. "We want to help the environment and pay our fair share," Stack said. "People used to get Hummers for half price, and those things aren't that good for the environment. We want to pay our fair share." Stack, who said he's the proud owner of a Nissan LEAF electric vehicle, believes Arizona is doing a lot more than many states to reduce electric consumption. He pointed to the Arizona Public Service Company (APS), a major utility in the state, encouraging electric car owners to charge their vehicles at night when usage is lower. "They have you pay two cents a kilowatt, which is a special rate, and you just plug your car in and charge it overnight and it's a lot cheaper," Stack said. Of course, Farley's bill doesn't have unanimous support in the business and environmental community. Alana Chavez-Langdon is the vice president of government relations and regulatory affairs at ECOtality Inc, a San Francisco-based home and commercial charging station company. Chavez-Langdon, whose office is based in Phoenix, said she's not against the concept, just the timing of the bill. "I think there's probably a little more thought that needs to go into the administration of what's being proposed," Chavez-Langdon said. "The undertaking of such a program is going to cost more than the actual implementation." Chavez-Langdon said that the actual number of electric vehicles in Arizona, according to The EV Project, was about 275, and that she doesn't think the level of penetration of EV's makes it necessary to pass Farley's bill right now. "I don't see anywhere in this bill that a study will be done, or a pilot program," Chavez-Langdon said. "I think implementing a program that's partial to one class of vehicles might not be the right thing to do. "With less gas tax coming in," she added, "there's a need for replacements for the gas tax, and one that won't tax one vehicle over another." Another voice of dissent comes from Diane Brown, the executive director of Arizona Public Interest Research Group. She told the
Arizona Daily Star
recently that "any policy accounting for electric vehicles should be incentivizing, not discouraging." Brown's point is well-taken; when you're trying to convince consumers to purchase electric vehicles, which in many cases are more expensive than gas-powered cars, it might not be wise to punish them with additional taxes. Still, Farley's bill certainly would help raise money to fix roads and infrastructure in Arizona, so you would think it would have an excellent chance of passing the legislature.