INFOGRAPHIC: The Politics of Climate Change
February 15, 2012
While the majority of Americans believe there is solid evidence that our planet is warming, fewer currently view it as a serious issue than just five years ago. What's more, as presidential candidates take the stage to declare their beliefs - or lack thereof - on climate change, they echo the sentiments of their respective political parties, which are increasingly more divided.
American Public Viewpoints
A recent
Pew Research Center survey
of 2,001 adults indicates that in 2011, 63 percent of Americans saw evidence of global warming, and while that number increased from 59 percent in 2010, the overall consensus dropped from 77 percent in 2006. Yet the bigger issue for environmentalists is that although most Americans cite global warming as a very or somewhat serious problem, the fact is that fewer people today - 38 percent - view global warming as a very serious matter, in contrast to 43 percent in 2006.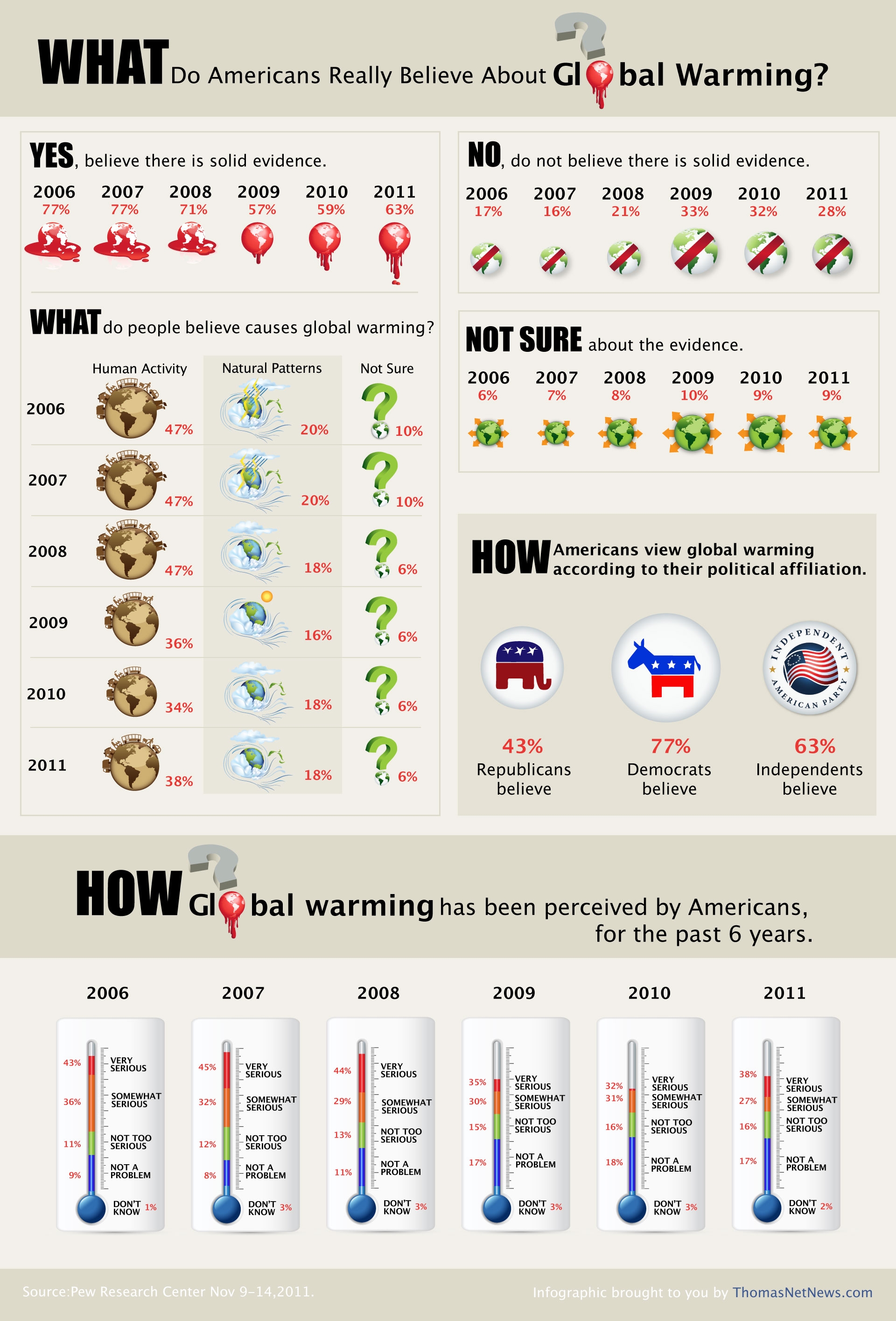 What's responsible for this eco-trend? While 38 percent pointed the finger at human activity (burning fossil fuels, for instance) as the leading cause of global warming last year, this viewpoint has also shifted downward since the 2006-2008 period, when 47 percent believed that human activity was the culprit. Only 6 percent claim that they don't know why global warming is occurring.
Education and age make a major difference when it comes to beliefs behind the warming trend. Most college grads, 68 percent, "say there is solid evidence of rising temperatures, up 10 points from 2009," according to Pew. A majority of those 65 and older (61 percent) hold the same opinion.
As Pew's findings highlight, there is a growing divide on the environment/climate change found within political parties, something that helps define the American public, and something that also continues to stir debate as presidential campaigning ensues.
The Great Partisan Divide
What are the politics of global warming? Here are on-record summations of the viewpoints of current Republican presidential hopefuls: "There is no such thing as global warming..." -Republican presidential hopeful Rick Santorum in an interview with Glenn Beck last year. "You know, the greatest hoax I think that has been around in many, many years if not hundreds of years has been this hoax on the environment and global warming..." -Republican presidential candidate Ron Paul in a 2009 interview. "I believe we don't know..." -Republican presidential candidate Newt Gingrich, responding to whether global warming is man-made. Such opinions have sparked debate, but do such party beliefs reflect American public viewpoints? Yes, according to the Pew Survey, which indicates an increasing a partisan divide on global warming: 77 percent of Democrats cited solid evidence of global warming, versus only 43 percent of Republicans. Independents are somewhere in between with 63 percent who trust that there is solid evidence. Party beliefs behind the warming trend vary. Human activity is to blame, according to 51 percent of Democrats, 40 percent of Independents and just 19 percent of Republicans. Despite the low percentage among Republicans, the survey also points notes that since 2009, there has been a sharp increase in both moderate and liberal Republicans and Independents who say there is solid evidence of global warming versus conservative Republicans, whose viewpoints indicate only a minor increase in the same belief. The biggest findings are reflected in the party gap, Pew highlights: "The gap between conservative Republicans and the party's moderates and liberals has increased from nine percentage points in 2009 to 32 points in the new survey." The other viewpoint taken into account was Tea Party Republicans versus non-Tea Party Republicans.  "Among all Republicans and Republican-leaning independents who agree with the Tea Party, 30 percent say there is solid evidence of global warming and 11 percent say it is mostly caused by human activity," according to the survey findings. "A majority (56 percent) of Republicans and GOP leaners who do not agree with the Tea Party see solid evidence of global warming, and 28 percent say it is mostly caused by human activity."
The NASA Findings
Regardless of what the American public or partisan parties believe, the science behind the trends is telling. As reported just last month, NASA found 2011 to be the ninth warmest year on record since 1880. The report stems from the agency's Goddard Institute for Space Studies (GISS), which monitors global surface temperatures on an ongoing basis, according to
NASA
. The shift is indicated in a NASA animation of temperature data spanning from 1880 to last year, found
here
. "We know the planet is absorbing more energy than it is emitting," said GISS Director James E. Hansen. "So we are continuing to see a trend toward higher temperatures. Even with the cooling effects of a strong La Nina influence and low solar activity for the past several years, 2011 was one of the 10 warmest years on record." What this means for the public remains to be seen. "It's always dangerous to make predictions about El Nino, but it's safe to say we'll see one in the next three years," according to Hansen, who forecasts record-breaking global average temperature in the next two to three years.