The Flourishing Green Construction Market
February 14, 2012
Green building has grown from just 2 percent of the U.S. single-family residential construction market in 2005 to 17 percent in 2011. Not only that, green residential is slated to increase to as much as 38 percent of the market by 2016. That's the conclusion of a study by McGraw-Hill Construction (MHC) set for release in April 2012.
A two-page fact sheet
 from the information services provider offers a preview of a more extensive report,
New and Remodeled Green Homes: Transforming the Residential Marketplace
, which will appear on April 29 as part of the company's
SmartMarket Report
series. In the past,  McGraw-Hill 
has defined a "green building"
 as "one built to LEED standards, an equivalent green building certification program, or one that incorporates numerous green building elements across five category areas: energy efficiency, water efficiency, resource efficiency, responsible site management, and improved indoor air quality."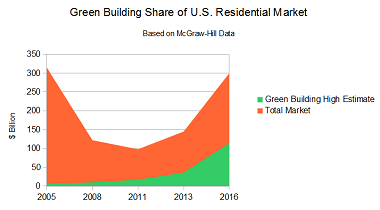 In evaluating the McGraw-Hill figures, we must keep in mind that the single-family residential construction market dropped precipitously from $315 billion in 2005 down to $98 billion in 2011. So the jump from 2 percent to 17 percent of the market is not quite as extraordinary in real numbers as you might think. We're not talking about an eight-fold increase in business volume, in other words, just an increase in relative market share. The green portion of the market did rise considerably -- almost tripling from $6 billion to $17 billion -- which, admittedly, is impressive. And even more impressive is the estimated 29 percent to 38 percent market share projected for 2016, which would translate into an $87 billion to $114 billion opportunity for green builders -- if McGraw-Hill is correct in its projection that the overall residential building market will rebound to $300 billion by then. Builders report that "higher quality" and "increases in energy costs" are the chief drivers increasing green building activity. The biggest obstacles reported are "higher perceived first cost" and "lack of consumer education," says the report. Sixty-one percent of homebuilders report that customers are willing to pay more for green construction; that figure climbs to 66 percent for remodelers. Remodelers say customers will pay an average of 5 percent more for green; homebuilders report they will pay 3 percent more. McGraw-Hill suggests that:
A willingness to pay for green may be due to the lower bills that several green features can bring to homeowners. Also, as green becomes equated with quality, homeowners and buyers may view green homes as a better long-term investment.
The report finds that 50 percent of homebuilders expect to be building green on more than 60 percent of their projects by 2016. The Leadership in Energy and Environmental Design (
LEED)
program, a certification program operated by the U.S. Green Building Council (USGBC), is the best-known North American green-building rating system. LEED ratings are based on multiple building characteristics, including site selection and development, water efficiency, energy, emissions, materials and resources, indoor environmental quality, location and linkage to the community, and innovation in design.
Commercial Green: Motivated by Cost Savings
Green building is also seeing an upsurge in the U.S. construction market overall. The
Green Building Market and Impact Report 2011
 from GreenBiz Group says LEED-certified buildings accounted for over 20 percent of new floor area built in 2011. LEED-registered floor area in the U.S. is now about 35 percent, and about 20 percent overseas. Certifications grew in the U.S. by 1.5 percent over 2010, and by 7 percent internationally. Since LEED started in 2000, says the report, the system has seen 9 billion square feet registered, 3 billion of that outside the U.S. GreenBiz says that the new LEED 2009 rating system has led the building industry to give increasing focus to issues around sites and energy. In the area of sites and land, LEED buildings show a trend toward greater location efficiency. The report says:
Compared with [2010], 2011's estimates for vehicle miles traveled (VMT) are significantly higher than last year's. There are two principal reasons for this: new US Transportation Department data showing that commuting is about 25 percent higher than previously thought, plus the larger proportion of certified projects located in location-efficient areas. By 2030, we estimate that nearly 70 billion vehicle miles traveled will be reduced each year due to more location-efficient LEED projects, resulting in over 3 billion gallons of gasoline savings each year, and the elimination of tons of lung clogging emissions.
The report notes an improvement in energy efficiency in LEED-certified buildings, as well as an increase in on-site renewable energy production and renewable energy purchases. LEED buildings show average energy savings of 24 percent to 32 percent, average on-site electricity generation of 1.4 percent to 3 percent, and average renewable electricity purchases of 19 percent to 25 percent. Another report from McGraw-Hill,
Green Outlook 2011: Green Trends Driving Growth
, outlines the key drivers for green construction, particularly in the commercial sector. A 2009 survey found that 73 percent of corporate respondents cited increased energy costs as the motivation for green building. Green projects save an average of 13.6 percent on operating costs for new buildings and 8.5 percent for retrofits and renovations. Eighty-nine percent of commercial building owners report that energy use is a motive behind green retrofits. Ninety-six percent of tenants say energy savings are a motive for doing green upgrades to rented space. Eighty percent of architects and engineers say increases in energy costs are driving an expansion in their green building business. McGraw-Hill says the focus on energy savings makes sense. Buildings are heavy users of energy, and in this area, return on investment (ROI) is low-hanging fruit:
Energy saving technologies are readily available and incentivized for use by governments and utilities. Energy consumption and reductions are also relatively easy to benchmark, measure, and track over time, making the savings from a new green building or green renovation project easily estimated. Further, the paybacks for some of these technologies are relatively short, particularly for investments in regions of the U.S. with higher than average energy prices.
Commercial building owners also report that green buildings bring in higher rents, faster letting, greater occupancy rates, and higher resale value.
The Dark Side of Green
However, not all observers are so sanguine about the McGraw-Hill research on residential green construction, or about the general state of green building in the U.S. Architect Lloyd Alter, writing for
Treehugger
, takes issue with McGraw-Hill's definition of "green building" ("built to LEED standards, an equivalent green building certification program, or one that incorporates numerous green building elements across five category areas: energy efficiency, water efficiency, resource efficiency, responsible site management, and improved indoor air quality.") "The trouble is, that is a lousy definition, because it may be a greener house, but unless we know where it is, it isn't necessarily sustainable," Alter writes. "In the last few years study after study after study has shown that where you build matters more than what you build, and this definition, and the McGraw-Hill research as presented, completely ignores that fact." Alter is referring here to the cost and pollution associated with transportation fuels -- the people living in a green home in the middle of nowhere could very well burn all of their energy savings in transportation fuels. Alter also warns that McGraw-Hill's rosy projections for the U.S. construction market ignore the profound problems around housing in the country:
There are 20 million empty houses in America. LEED or anyone else can certify all the houses they want and call them green, but until the country deals with the fundamental problems of housing, the empty houses and the displaced former occupants of them, I am not certain that you can call any new house green, we just don't need them. A $315 billion market was not sustainable, and a return to a $300 billion market is a fantasy.
Alter also believes that what passes for green construction really amounts to simply adding costly gimmicks to the same old ineffective home designs: "The housing industry really isn't interested in change; they like adding stuff and selling extras, on single family lots in suburban sprawl, like KB Homes does when they put a solar panel on top in California and Florida and call it green." He refers to a
2008 article by Nic Darling
 of
Postgreen Homes
, who rather indelicately referred to green construction as practiced by most production builders as "polishing a turd." Darling wrote:
Most of the builders and developers reporting high premiums for pursuing LEED are still trying to build the exact same home they have always built. They are simply adding features to make that same house energy efficient, healthy, and sustainable. This addition gets expensive. Rather than redesign the house that has been successful for them in the past, they add solar panels, geothermal systems, high end interior fixtures, extra insulation and other green features. The house gets greener. It gets certified, but it also increases significantly in cost. Since the features are add-ons and extras, the price rises as each one is tacked on.
Darling thinks that these extra costs can be avoided through better design practices: "One must start the home design process with affordability and sustainability factored into every decision."