A small company in Michigan gets very famous after the State of the Union
February 1, 2012
Like millions of other interested Americans, I watched President Barack Obama's 2012 State of the Union on television on January 24. Obama talked about the things politicians usually talked about (more jobs, ending wars, protecting our military, etcetera), but a little more than halfway through the hour-long speech, he told a story that caught my eye. "What's true for natural gas is true for clean energy. In three years, our partnership with the private sector has already positioned America to be the world's leading manufacturer of high-tech batteries. Because of federal investments, renewable energy use has nearly doubled. And thousands of Americans have jobs because of it. When Bryan Ritterby was laid off from his job making furniture, he said he worried that at 55, no one would give him a second chance. But he found work at Energetx, a wind turbine manufacturer in Michigan. Before the recession, the factory only made luxury yachts. Today, it's hiring workers like Bryan, who said, "I'm proud to be working in the industry of the future." Our experience with shale gas shows us that the payoffs on these public investments don't always come right away. Some technologies don't pan out; some companies fail. But I will not walk away from the promise of clean energy. I will not walk away from workers like Bryan. I will not cede the wind or solar or battery industry to China or Germany because we refuse to make the same commitment here. We have subsidized oil companies for a century. That's long enough. It's time to end the taxpayer giveaways to an industry that's rarely been more profitable, and double-down on a clean energy industry that's never been more promising.  Pass clean energy tax credits and create these jobs.  " Besides talking in generalities, Obama intrigued me with his story about Bryan Ritterby, and Energetx, a small company in Holland, Mich. Like just about everyone else listening, I was surprised to hear about this obscure outfit. Almost as surprised was Chris Idema, a Business Development Associate with Energetx. A few days earlier, Idema told me, he'd gotten a phone call from a White House speechwriter, asking questions about the company and its employees.
"So I told them about our wind turbine manufacturing operation, and about some of our employees," Idema said, adding that Energetx has 41 full-time workers. "And I mentioned Bryan to them, and about how he'd come to work here several months ago, and that he was typical of some of our other employees. "But then I didn't hear from them again, so I didn't know if anything would come of it."
Idema said that when Obama mentioned the company in the speech, "my phone immediately started blowing up, with family and friends calling. "It was thrilling, humbling, and exciting," he said.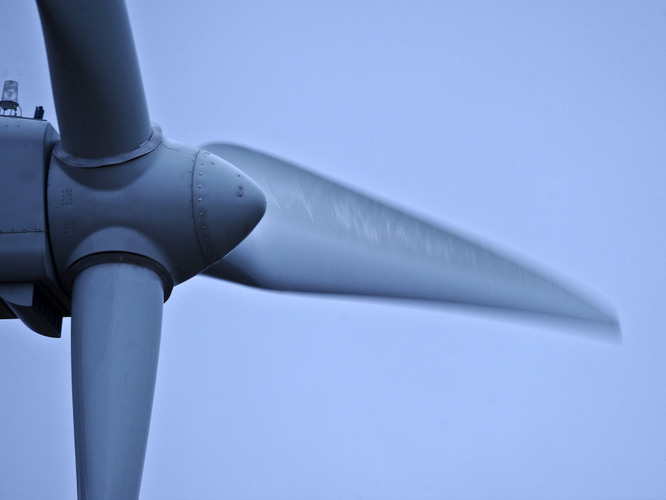 (
Photo credit: A wind turbine manufactured by Energetx, a small Michigan company mentioned by President Obama in the State of the Union address.
) So what, exactly, is Energetx, and why were they worth singling out in such a nationally-televised speech? First, Idema told me, the company had been founded in 2008, as a spin-off company from Tiara Yachts, a luxury-boat enterprise that was going through difficult times and by 2008 had had to lay off nearly half its workforce,
according to this story
from National Public Radio in 2011. So what Tiara Yachts did was spin itself off into the new company, Energetx, and tried to get in on the growing wind-turbine business. As I've written about a few times on this site, wind turbine manufacturing is exploding across the U.S., as wind power begins to be taken more and more seriously as an alternative energy, and as a way to bring down rising electricity costs. Many of the Tiara Yacht employees suddenly began making products for Energetx. "The manufacturing processes of yachts and wind turbines are fairly similar," Idema told me. "The thought was, we have a lot of experience in manufacturing, and at that time we were getting in when we thought we weren't going to have a ton of competition in this new market." Energetx has contracts for its wind turbine blades, and sells them to wind turbine suppliers.
Idema, who has worked at the company for just under two years, said Energetx has been heartened by the improvements in wind turbines. He also said the company is looking to add "a lot" more employees in the coming year.
"We feel like it's one of the more proven technologies out there, and the technology continues to improve all the time," he said. "There are a lot of good things that come along with it."
Idema said workers like Bryan get "re-trained" through an 80-hour composite technician program, which Energetx offers through a partnership with a local community college in the area.
Now there is more to the story when it comes to Energetx, as there always is with "feel-good" stories. According to an
Associated Press report published last week
, a Michigan state board announced a 27.3 million tax credit over 15 years to encourage Energetx to expand its business. According to the story, the money is tied to the creation of about 1,000 jobs at Energetx, and won't be awarded in cases where jobs don't materialize.
The AP story goes on to say that Energetx received a $3.5 million state award for "energy excellence" in 2010, which was expected to be matched by the U.S. Dept. of Energy.
The story adds that the company is far short of its ultimate job target now,  but it expects to hire roughly 100 more this year, mostly in composite manufacturing.
Now ... companies get tax breaks from the government, both federal and local, all the time. Particularly companies that are involved in green energy, and that create jobs, and employ 55-year-old men like Bryan Ritterby, who gain a new lease on life when they find a new career.
So I think the comparison made in the story by Donald Grimes, a senior research specialist at University of Michigan, of Energetx to Solyndra, the highly-famous boondoggle that filed for bankruptcy protection after getting $528 million in federal money, is a bit unfair and premature.
Energetx is not Solyndra. Energetx may go on to be a wonderful company that produces the best wind turbines in the world. Or, they may not succeed as much as Chris Idema and others think they will.
The point I'm trying to make is that without risk, and without trying, progress is pretty close to impossible. And Energetx is one company that is trying to make the future better through alternative energy.
Of course, now that they've been shouted out by the President of the United States during the State of the Union, there's no doubt that people will be keeping an eye on Energetx.
"We know that getting mentioned like this is going to give us a lot of attention, and we think it's only for the better," Idema said. "We're very excited about the company."