How a Walmart Brainchild Is Helping 80 Companies Reduce Their Environmental Impacts
December 26, 2011
An industry organization called
The Sustainability Consortium (TSC)
, initiated by Walmart in 2009, recently released a new set of "Category Sustainability Profiles," analyses of the environmental impacts of products in 10 important consumer product categories such as coffee, toilet tissue, televisions, laptop computers, and yogurt.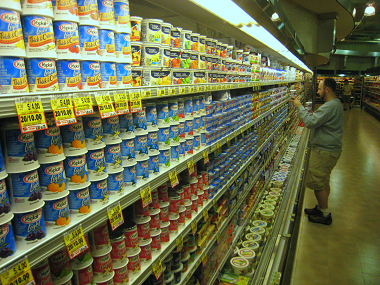 Helen van Hoeven of the World Wildlife Fund and a board member of the Consortium says that these profiles allow companies to "identify and prioritize the largest impacts in the life cycle of a product. This information allows retailers, manufacturers, and suppliers to focus their efforts on innovating and improving on products and their supply chains where it matters most." (Photo: Delicious and a good deal -- but what are its life cycle impacts? Credit:
John M
, 
CC BY-SA 2.0
.) According to
the organization's announcement Nov. 1, 2011
, they are researching an additional 50 product categories and plan to release Category Sustainability Profiles for those very soon. TSC's 80 members include Walmart, Bayer, Best Buy, Clorox, Coca-Cola, Dell, Dow, General Mills, Kellogg's, L'Oréal, Panasonic, Pepsico, P&G, Samsung, Tesco, Tyson, Unilever, 3M, Campbell's, HP, Johnson & Johnson, Kroger, and Safeway.
Speaking to Joel Makower of GreenBiz in August 2011
, TSC's executive director, Bonnie Nixon, describes the organization this way:
We're a very diverse group of stakeholders, grounded in the science. We're collaborating to design and implement transparent, credible, reputable, and scalable science-based measurement and reporting systems, for not just the users of consumer products, but also for the producers of consumer products.
Walmart's Sustainability Push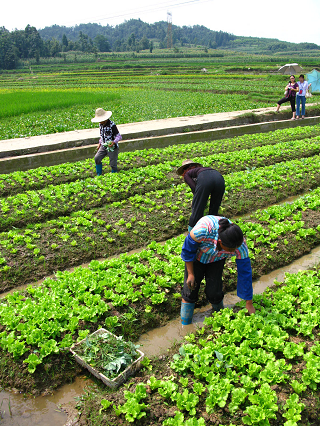 These developments represent an important step in the improvement of supply-chain environmental accountability for companies. Walmart is known as a pioneer in this field. Traditionally, the company was notorious among its suppliers for applying continuous pressure on them to squeeze out greater efficiencies and reduce costs to help the company maintain its traditional "Always Low Prices" marketing strategy (Photo: Walmart says it plans to provide training in sustainable farming practices to a million farmers and farm workers. Credit:
Walmart Stores,
CC BY 2.0
.) Walmart also was known for its efforts in recycling and reduction of waste -- these activities just made good business sense. But in 2005, something changed at Walmart.
In a speech he delivered Oct. 24, 2005
, Walmart's then-CEO Lee Scott announced a set of groundbreaking goals for the company:
Our environmental goals at Wal-Mart are simple and straightforward: 1. To be supplied 100 percent by renewable energy. 2. To create zero waste. 3. To sell products that sustain our resources and environment.
Scott told his audience,
As one of the largest companies in the world, with an expanding global presence, environmental problems are

our

problems. The supply of natural products -- fish, food, water --- can only be sustained if the ecosystems that provide them are sustained and protected. There are not two worlds out there, a Walmart world and some other world... Our Associates, customers and suppliers occupy the same towns, our children go to the same schools, and we all breathe the same air. These challenges threaten all of us in the broader sense, but they also represent threats to the continued success of our business.
The company's new goal to develop sustainable products naturally led the company to focus on its supply chain. And its traditional influence over its suppliers gave it considerable leverage. Scott hinted at how it was going to be working on its supply chain, mentioning its seafood suppliers:
For example, in the area of seafood, we will certify all shrimp farms supplying Walmart in the U.S. according to environmental and socio-economic best practice standards through third party accreditation. It's better for our customers, it's better for the world, and it's better for our company.
The Sustainability Consortium got its start in 2009, when
Walmart announced
that it would be developing a new sustainable product index to "establish a single source of data for evaluating the sustainability of products." To develop that index, the company would be providing initial funding for a consortium of universities, suppliers, retailers, government organizations, and NGOs "to develop a global database of information on the lifecycle of products -- from raw materials to disposal."
Life Cycle Management: A Key Tool for Corporate Sustainability
TSC's initial Category Sustainability Profiles, says the Nov. 1, 2011, announcement, are Beef, Coffee, Cotton Towels, Yogurt, Fashion Dolls, Laptops, Laundry Detergent, Televisions, Toilet Tissues, and Wheat Cereal. Discussing how the profiles might help companies improve the life cycle impacts of their products, the announcement uses the example of laundry soap:
The Category Sustainability Profile for laundry detergents tells retailers and manufacturers that by incentivizing the correct use of cold-water detergent, they can have the biggest impact on the sustainability of laundering, enabling consumers to use cold-water settings on laundry machines.
The Consortium develops its profiles using a knowledge base of published research on the life cycle environmental and social impacts of products and by consulting with subject-matter experts in academia, business, government, and non-governmental organizations (NGOs). Joby Carlson, knowledge base manager for the group says that,
From that, we begin to understand the most well supported environmental and societal issues related to a product category. We also reveal relevant and actionable best practices or product attributes that organizations can implement to address these priority issues. What is most exciting about this effort are the opportunities for better design and business model innovation.
The newly-developed life-cycle-based Sustainability Profiles make up an important piece of the Sustainability Measurement and Reporting Standards the Consortium is developing. Explaining the standards,
the organization says that
Sustainability Measurement and Reporting Standards (SMRS's) ... will define, for a particular product type, what product manufacturers should measure, how to measure it, and how to report it to a common database. This reporting will be facilitated by IT tools and standards that make this viable in real supply chains, and by research concerning how buyers, merchants, and end-consumers make decisions about sustainable products. Once the product-level sustainability information is in a common database, then manufacturers, retailers, and third-party certification and index owners will be able to use these data for a variety of purposes, all aimed at driving communication of and improvement in product sustainability.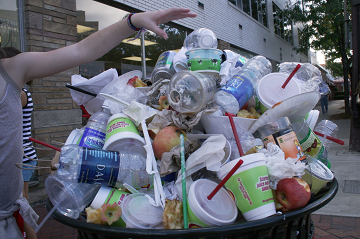 Life cycle management (LCM) is a process used by businesses to continuously analyze and improve the sustainability of products and supply chains. A key characteristic of LCM,
according to a report from the United Nations Environment Programme (UNEP)
 "is that this approach requires companies to move away from just looking at their own operations and to look at what is happening in their value chain (upstream and downstream operations that are outside the company's direct control)."  (Photo: What happens when they've finished with the product? Credit:
woodleywonderworks
,
CC BY 2.0
.) Life cycle assessment (LCA), one of the key tools of LCM, is described by UNEP as "a compilation and evaluation of the inputs, outputs and other interventions and the current or potential environmental aspects and impacts ... throughout a product's life cycle -- from raw material acquisition through production, use, end-of-life treatment, recycling and final disposal." LCA helps a company identify ways to measure and improve the environmental performance of a product throughout its life cycle, and to report that performance to company stakeholders, regulatory agencies, and consumers. Kevin Dooley, a professor of supply chain management at Arizona State University, serves as one of TSC's academic directors. A few days after the Consortium's announcement,
Dooley told The Atlantic
, that product life cycle management is the innovation that will have the single most significant impact on corporate sustainability efforts:
Most people are largely unaware of the life cycle of the products they purchase, and their environmental and social impacts. They worry about the packaging and whether it's recyclable, which is good, but are unaware of the effects related to the product's supply chain, from raw material extraction to manufacturing to distribution and retailing... I think life cycle approaches will bring about great strides in product and supply chain innovation as this approach becomes more widely adopted. While we have had efforts to reduce certain impacts in particular life cycle stages, this more holistic approach will help us grapple with the more complex problems that await us.
TSC's Bonnie Nixon told
GreenBiz
that a science-based approach to product sustainability will help companies find the path to business models that are both environmentally sound and financially viable. She told the publication,
I think companies need to ask, "How do we redesign products? How do we take full responsibility for the impacts that we're having? How do we accurately assign value to the social and environmental benefits that we receive today for our planet?" I don't think to date that we've fully taken responsibility for the impacts of our production and consumption patterns. What we're doing at the Consortium is designing a consensus-based accounting system that essentially enables companies to internalize the societal and the environmental externalities.