With DOE grants, four labs try to help win the race toward fuel cell vehicles in our future
December 21, 2011
Electric cars get all the attention when it comes to vehicles of the future. And it's understandable why, since we've been hearing about electric cars being the "wave of the future" for so long. But the kind of electric car you and I generally think of, (i.e., a car run on batteries that doesn't need to use gasoline at all) is not the only electric car that's being worked on by scientists and laboratories across America. There are brilliant minds at work on fuel cell vehicles, which would use hydrogen, and hydrogen storage tanks, to make cars run twice as efficiently as they would using combustion engines. Using fuel cells directly means the vehicle is still technically an electric car, but electrons will be stored and the electricity used on the battery will be much less. But getting hydrogen storage tanks in a usable form for vehicles, and getting hydrogen to the car, is still an issue being dealt with. The Department of Energy knows that fuel cell vehicles, and specifically labs that are working on cheaper, better hydrogen storage tanks, is an important area of research. That's why the DOE just doled out $7 million in grants to four projects that are working on hydrogen storage tanks, and fuel cell vehicles in general.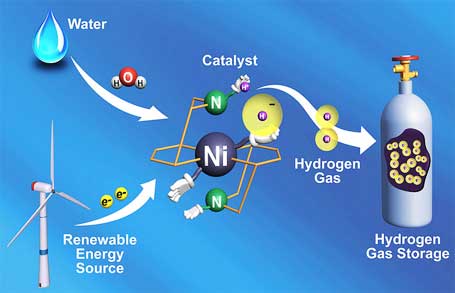 (A diagram of fast hydrogen gas being converted into storage. Source: www.futurecars.com) The Pacific Northwest National laboratory in Richland, Wash., the Lawrence Berkeley National Laboratory in Berkeley, Calif., the University of Oregon in Eugene, Ore., and HRL Laboratories in Malibu, Calif. all received federal funding for their various projects. "These projects were selected based on meeting stringent technical criteria and potential to meet DOE targets," said Bill Gibbons, the deputy press secretary of the Department of Energy.  "I think these projects will address various aspects of the technical barriers for the different types of materials and systems (of H2 storage)." Jamie Holladay, Pacific Northwest National Laboratory (PNNL) senior engineer and energy storage Team Lead, said he thinks the fuel-cell technology using hydrogen storage tanks is getting closer to being a reality on the mass market.
"I don't think this is a long far-off technology," Holladay said. "I think we'll start seeing more and more of these fuel-cell vehicles in the next 10 years." Let's take a look at each project and see what research is being done by each team:
1. PNNL: Holladay and the team at PNNL (with approximately 4,800 staff members working at the lab) have been given $2.1 million to use a "coordinated approach to reduce the costs associated with compressed hydrogen storage systems," according to the DOE.  The project will focus on improving carbon fiber composite materials and the design and manufacture of hydrogen storage tanks. Holladay said that in collaboration with Ford Motor Company, Lincoln Composites, Toray Carbon Fibers America, Inc. and AOC Inc., the grant will enable PNNL to "really build on our fuel cell program. It's really exciting to be able to do this."
According to Holladay, the first project they're looking at, using carbon fiber tanks for hydrogen storage, has applications beyond fuel cells. They're applicable for natural gas tanks, and developing lower-weight tanks.
"We like to deal with hard problems that will make a national impact," Holladay said. "All of this that we're doing will hopefully move fuel-cell vehicles more toward commercialization."
There are currently demonstrations of fuel-cell vehicles on the road in California, with Honda and General Motors testing the technology.
What Holladay said has hindered further advancement has been the hydrogen-cell infrastructure.
"You need a source of hydrogen to run on, which is why we're looking at putting up hydrogen-cell fuel stations," Holladay said. "It's still a fairly new technology so they are still working out the kinks; getting the hydrogen to the cars, and then storing the hydrogen in the car."
One major initiative the grant will help with is PNNL trying to decrease the cost of the hydrogen storage tanks. PNNL's team is looking to reduce the cost of the hydrogen tank in the vehicles by 50 percent, from 15 dollars per kilowatt hour, to six dollars per kilowatt hour.
How can they do that? Holladay said they're modeling a carbon fiber thank to figure out exactly where they need to put the more expensive components of the tank. In other words, PNNL wants to be smarter about where they put the more expensive components, and put the high-cost ones where they're actually needed, and "substitute in the lower-cost areas parts that can still give us the proper performance," Holladay said.
"We're also looking to store hydrogen using a material, in chemical form, that we could heat up and react, and release the hydrogen, and feed it to the fuel cell," Holladay said. "The advantage of that is that we don't have to use the tanks in that situation."
2. Berkeley National Lab:
Moving to California, the team at the Berkeley Lab is trying to, according to scientist Jeff Long, "create a new solid adsorbent that could be used to fill a compressed hydrogen gas fuel tank and boost the capacity of hydrogen that can be stored in the tank at a given pressure."
Long said in an emailed response to my questions that the $2.1 million his team is getting "is essential to the project. Without this funding, we would not be able to carry out the research."
The Berkeley team will also develop and test metal-organic framework materials that have surfaces with high-charge density, as well as materials with optimal pore dimensions that could enable hydrogen storage at near-ambient temperatures. GM is also working with Berkeley Lab on this project, with specialized equipment that Long says they will use to test the high-pressure hydrogen adsorption properties of the new materials.
3. University of Oregon
The school known for Phil Knight's Nike generosity and an outstanding football team will be getting $2 million to work in a similar vein as PNNL is. According to Assistant Professor of Chemistry Shih-Yuan Liu, the Oregon team "to increase storage density and mitigate the risks associated with storage and transport of high pressure gas, we are investigating liquid-based chemical hydrogen storage materials that have the potential to be reversibly regenerated with molecular hydrogen under mild conditions."
In an email, Liu added that "the current work will develop new materials for hydrogen storage that have the potential to meet DOE targets for motive and non-motive applications. This will be done by the development of a new class of compounds containing the elements carbon, boron, nitrogen and hydrogen focusing on liquid compounds with high hydrogen capacity and good recyclability."
4. HRL Laboratories
Finally, the team at HRL Labs in Malibu, Calif. will be getting a grant of $1.2 million to investigate an innovative approach to hydrogen storage using engineered liquids that can efficiently absorb and release hydrogen gas. HRL will try to develop composite materials capable of dissolving up to 50 times greater quantities of hydrogen than in the bulk liquid, with the goal of enabling a high density, compact hydrogen storage option.
Four teams, all working toward the same goal. Fuel cell vehicles may be a big part of the future, and that future will get here quicker if the quartet of labs working on the project make breakthroughs they're hoping for.
Holladay, from PNNL, said it's a mistake to think of fuel-cell vehicles as a competitor to electric cars. Instead, they're more like companion parts.
"If you're doing city driving, stopping and starting, then maybe electric vehicles is the way to go for you," he said. "If you drive longer and want to stop and re-charge, you'll want the fuel cell vehicles."