Sustainability Spotlight: College Students Awarded Grants to Design Sustainable Technologies
November 3, 2011
The
U.S. EPA
has named 45 teams of college and university students across the country as recipients of
People, Prosperity and the Planet
(P3) Phase I grants for the 2011-2012 school year.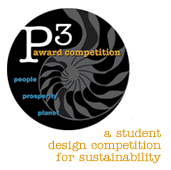 Grants of $15,000 are given to the participating student teams to work on projects in a range of categories including water, energy, agriculture, materials and chemicals. At the end of eight months of work, the teams will bring their designs to the 8th Annual National Sustainable Design Expo in Washington, D.C. around Earth Day 2012, where the projects will be judged and several teams will be selected for additional grants of up to $90,000 to improve their designs, implement them in the field, or move them to the marketplace. These grant recipients represent the next generation of scientists and engineers - the ones who will bring innovation to the industrial marketplace while helping to solve global environmental issues. Many unique projects representing a broad range of technologies were chosen, among them are:
Butte College's
Sustainable Community Development Institute will be investigating
Rice Hulls as Alternative Building (RHAB) Project
, while
University of Oklahoma
will be
Comparing the Sustainability of a Compressed Earth Block House to a Conventionally Framed House Built to National Green Building Standards.
Brigham Young University
will be exploring
Power Harvesting System For More Efficient, Cleaner Burning Cookstoves
, and
Gonzaga University
will be looking into
Integrating Improved Sustainable Technologies into the Heart of the Home - The Kitchen.
Sustainable Design Paradigm for Smart Performance Textiles and Apparel
is the subject at 
Colorado State University
, while
University of Delaware
is embarking on a project titled
Twenty-mile clothing: localized production of apparel and accessories from agriculture-based materials.
Oregon State University
will be
Developing Sustainable Alternatives to Plastic Mulch
Princeton University
will be addressing an energy issue with
Wind Energy for Haiti: A Rapidly Deployable Renewable Energy System
while
Purdue University
will be working towards
Bringing Clean Water to Haiti
.
University of Texas at Austin
will be exploring
Use of Vermicomposting to Reduce Solid Waste Accumulations, Alleviate Flooding and Further Sustainable Development in Slum Settlements in Santo Domingo, Dominican Republic.
Many other projects cover biotechnology and the creation of biofuels, and water and wastewater treatment projects are also well represented. For a full list of the schools and project titles, visit
www.epa.gov/ncer/p3/current/index.html