The answer is blowing in the wind: Kansas schools building their own wind turbines
November 2, 2011
It was two years ago, when he was a sophomore at Eudora High School in Eudora, Kan., that Brock Miller first heard about the idea. He was always interested in engineering while growing up in this suburb 35 miles outside of Kansas City, but he never had thought much about wind power (what kid really does?) Then a match teacher at the school named Scott Keltner was talking to Miller one day about the possibility of Eudora High installing its own wind turbine. "I thought it sounded cool but I had no idea the amount of work that went into it," Miller said with a chuckle. "Two years ago I thought it might be pretty simple." As anyone who's ever worked at a public school knows, no construction project is ever simple and quick. But thanks to the support of the small Eudora community (population: 4,307), a grant from the U.S. Department of Agriculture's Rural Development Kansas program, and guidance through the whole process by Kansas State University's Wind Application Center, Eudora is now the proud owner of a wind turbine on school grounds. The project, spearheaded by Keltner and others, is one of four turbines installed, or about to be installed, at Kansas high schools this year thanks to the K-State program and the USDA's $5,000 grant. The other schools involved were Jefferson West High School, in Meriden, Kan., Halstead High School in Halstead, Kan., and Claflin High School in Claflin, Kan. "These turbines are really a product of the schools and their communities working together," said Ruth Douglas Miller, an associate professor of electrical engineering at Kansas State. "They're about 2.4 kilowatts and they're sized to meet the energy needs of about 1/3 the size of a typical house."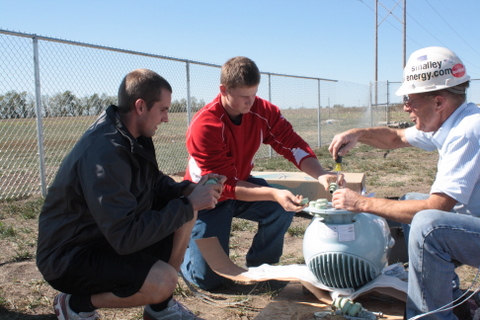 (photo courtesy of Eudora Reporter) Before getting into the details of the Eudora project, a few facts about wind turbines, from the website
www.nationalwind.com
: ** A utility-scale wind turbine (much larger than the ones the schools built) averages approximately two megawatts of capacity, meaning one wind turbine is rated to supply enough energy to power 500-600 average-sized homes. ** Wind turbines cost approximately $2 million per megawatt to install. ** Wind turbines are typically 263 feet tall at the hub height (the center of the rotating blade). The blades themselves add another 100 feet, making a total approximate height of 363 feet. ** The life span of a wind turbine built today is between 20-30 years. The major benefits of wind turbines include a major reduction in the amount of pollution produced by this form of energy (turbines produce on pollution), a potentially large reduction in electricity costs for a business or farm, and a simpler way to conserve the planet. Many nations across the globe, including the U.S., have been looking more and more to use wind turbines and wind energy to offset rising costs. There's also the fact that wind turbine construction can create plenty of jobs in a U.S. economy that is still hurting, three years into a recession. Kansas, in particular, Douglas Miller said, is a prime candidate for wind turbines. "We're ranked No. 2 in wind energy potential in the nation, and we're really starting to see growth in industrial scale energy," Douglas Miller said. "That growth can lead to new businesses. We're finding among the schools here that the big interest in the K-12 area is workforce development; this is a new career path available to kids." At Eudora, Keltner said the process of getting a turbine installed first had to go through his administration at the high school, and then the city council. "There was the curiosity factor of doing something new that appealed to people, but there were a lot of hurdles we had to go through with the city council and the city planning commission." One part of the project Keltner and his team weren't worried about was where to put the turbine; there was a huge open area near the school's football field that was able to be used. While Keltner and the involved students were researching the feasibility of building a turbine and going through the red tape with the city of Eudora, he consulted with other schools about their turbines, and learned more about the costs of installing one. He said that finally, after a year of searching for a start-up funding source for the project (the school district gave the go-ahead, but said it had no money to fund the turbine), Eudora found a charitable organization willing to put up $3,000. Then Keltner and Eudora submitted a proposal to the USDA and Douglas Miller's Wind Powering America's Wind for Schools program, and were accepted. Work began on the project in early September, Keltner said, and Brock Miller, the Eudora student, said he and his friends on the project (about 30 students in all helped, out of about 400 at the school) were excited to see the progress. "Once we got the electricians and professional engineers in here it was really great to be able to help them out and learn a lot about how (a turbine) is built," Miller said. The Eudora turbine was completed on Oct. 13, and was unveiled before the school's soccer game that night. The next night the Eudora football team had a home game and even more city residents got to see the turbine up close.
**Here's a cool time-lapse video of the Eudora High School wind turbine installation, from beginning to end:
"The experience of doing this, and seeing so many people in town come out to help, was really remarkable," Keltner said. "Obviously we know that this turbine isn't going to have a huge effect on bringing costs down at the school right away, but it will certainly help and give us a chance to show what our community can do." Douglas Miller, a strong proponent of wind power, said she still thinks there's quite a bit of doubt about its effectiveness from some quarters, particularly from nuclear and electric power proponents, and fossil and coal industry supporters.
"I wish we were past the skepticism; wind energy is on a scale with any other form of energy, and if a power company needs a new way to go, wind power is the way to go," Douglas Miller said. "Economics is a significant bottom line. Unfortunately, there are lobbies that don't get it; that wind will never get it; the fossil lobbies, and the coal lobbies.
"People have to realize, that even if wind turbines and wind energy don't completely bring down energy costs, necessarily, they will stabilize costs for the future. "It's a point that I think more and more people are starting to realize." Certainly the students of Eudora High School understand it now, after putting the latest "new addition" onto their school.