Electronics Recycling - 'Niche Streaming' Fuels a Growing Green Industry
October 24, 2011
A recent report from research firm IDC, "
Inside the U.S. Electronics Recycling Industry
," says that e-cycling companies are bringing in revenues of over $5 billion and employing more than 30,000 workers. In 2010, recyclers treated about 3.5 million tons of electronics out of the 6 million tons available for recovery.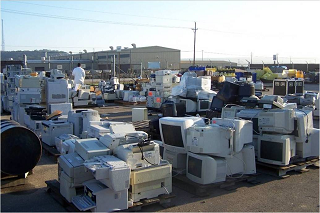 IDC undertook the study under sponsorship from the Recycling Research Foundation (RRF), a non-profit affiliated with the Institute of Scrap Recycling Industries (ISRI). (Photo: Electronics recycling program at Fort Hood army post, Texas. Credit:
U.S. Army Environmental Command
,
CC BY 2.0
.) The growth highlighted in the study points to the business value of what I call "niche streaming" -- carving out a viable business from a fraction of the solid waste stream. Although this trend is good news for business and jobs, advocates for health and safety and the environment continue to point out the dark lining of the silver e-cycling cloud -- the international trade in toxic waste.
Turning E-Waste Into Resources
The United Nations Environment Programme (UNEP), in its report, "
Recycling -- From E-waste to Resources
," estimates that global e-waste amounts to about 40 million tons per year -- "e-waste" being the non-politically-correct term for "used electronics." UNEP says that, although environmental concerns about e-waste are more than justified, "the enormous resource impact of electrical and electronic equipment (EEE) is widely overlooked." Electronic devices "can contain up to 60 different elements," the report says. Unfortunately, the majority of these resources are lost due to deficiencies in collection efforts and recycling technologies, along with illegal dumping. The U.S. Environmental Protection Agency's (EPA) May 2011 report, "
Electronics Waste Management in the United States Through 2009
," says that in 2009 "2.37 million tons of electronic products were ready for end-of-life management" and that 25 percent of that volume was collected for recycling. At first, this EPA estimate seemed to me at odds with the IDC report. However, when I asked Eric Harris, associate counsel and director of government and international affairs for ISRI, about this apparent discrepancy, he told me:
A point of clarification that may help is that the EPA numbers are predominately derived from electronics entering into municipal solid waste facilities, which is almost exclusively residential and household electronics. EPA numbers do not account for all of the electronics being recycled from commercial or businesses because these materials are not sent to municipal solid waste facilities and are therefore not tracked. The strength of the IDC report is that it accounts for both sectors, residential and commercial.
Even though electronics make up only one to two percent of the municipal solid waste (MSW) stream, EPA points out that used electronics are of particular concern because of the "rapid growth and change in this product sector, leading to a constant stream of new product offerings and a wide array of used products needing appropriate management." Electronics products embody considerable energy and resources that can be profitably recovered, the agency says.
E-Cycling: Growing Business, Green Jobs
The IDC report provides a useful profile of the electronics recycling industry, which emerges as a growing sector dominated by small firms. IDC estimates that between 600 and 1,000 companies are active in the electronics recycling business. (Chart courtesy of Institute of Scrap Recycling Industries.)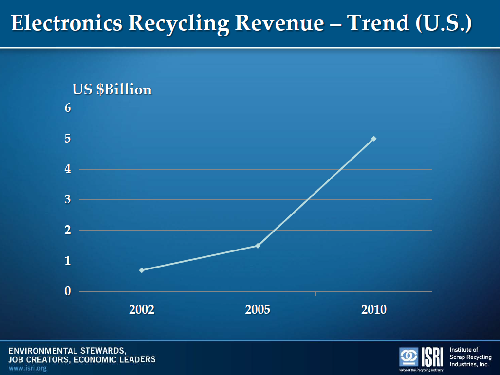 IDC believes the industry employs between 23,616 on the low end and 39,359 on the high end, which averages to 31,487. About half of the firms responding to the survey (50.5 percent) have only one to ten employees. 14.6 percent have more than 100 employees. One company reported 550 employees, the highest among respondents. The report identifies an opportunity for improving the rate of electronics recycling in the residential market. The author of the report, David Daoud, IDC's research director, writes that
[Residential] represents a market share of less than 26 percent of what recyclers receive, yet the consumer market is the largest in terms of electronics purchases... Therefore, improving household collection and access to the recycling infrastructure is critical in any future recycling strategy debated by stakeholders. An increase in consumers/household contribution will not only contribute in greater environmental protection, but it would inevitably spur economic growth and job creation with an expanded industry.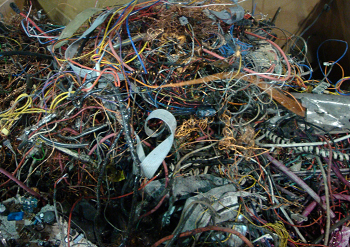 Ultimately about 70 percent of collected electronics go for commodity-grade scrap such as precious metals from circuit boards, steel, aluminum, copper, glass, and plastic. Smaller percentages get diverted for parts or refurbishing. 2.1 percent of electronic waste goes into disposal -- waste to energy, landfill, or incineration. (Photo: Wire recovered from computers at an electronics recycling facility. Credit:
Dean Jarvey
,
CC BY 2.0
.)
The Value of Certification Programs for Recyclers
The IDC report finds that upstream customers are concerned about the legitimacy and practices of recycling companies. Six original equipment manufacturers (OEMs) responded to the survey, and five of the six "consider downstream diligence as their top priority when selecting a recycling partner." Daoud writes that
Corporate end users ... seek protection against data security issues and liability-related risks such as negative impacts related to environmental pollution and unsafe worker conditions. The fear of making the wrong decision from an environmental and compliance standpoint is widespread, hence the need to ensure that recyclers are well prepared to handle growing volumes of used and end-of-life electronics equipment in a responsible manner.
This concern is leading many upstream customers to require certification of their recycling partners. ISRI, the industry group associated with the IDC study, has developed a certification program, R2/RIOS, which issues a certification called
Certified Electronics Recycler
. To gain R2/RIOS certification as an electronics recycler, a company has to implement a management system to carry out the program's requirements and submit to a series of audits by program staff. The Basel Action Network (BAN) operates an independent electronics recycling certification program called
e-Stewards
. BAN is a non-profit focused on information and advocacy about international toxic trade. e-Stewards certification, developed to be implemented worldwide, requires an environmental management program designed to protect worker safety and health. It prohibits disposal of toxic materials in landfills and incinerators, the use of prison labor for recycling toxic electronics, and the export of hazardous waste from developed to developing countries. While not mentioning R2/RIOS by name,
a description of the e-Stewards Initiative
 on the organization's web site seems to imply a criticism of the industry program:
While the engagement and support of leading recycling companies and industry experts helps ensure that the Standard remains practical and economically viable, the ultimate litmus test for every aspect of the Standard is the environmental and health goals that drive the need to have a standard in the first place. The other major e-recycling standard in the United States is a much looser set of guidelines written to a large extent by the very industry that is at the core of the existing crisis.
Toxic Trade Still a Concern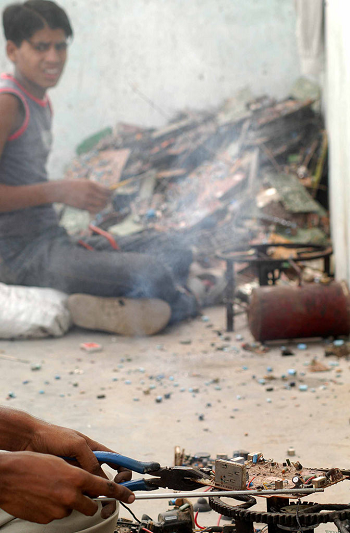 In July 2011, the U.S. Federal Government's Interagency Task Force on Electronics Stewardship released its "
National Strategy for Electronics Stewardship
." The plan outlines how the government will use its power and resources for "for improving the design of electronic products and enhancing our management of used or discarded electronics." (Photo: Melting computer motherboards in a recycling yard in Delhi, India. Dated 2002 -- I'm sure they've refined their methods since then. Credit:
Greenpeace India
,
CC BY-ND 2.0
.) The group's recommendations come in four key areas:
Building incentives and research capabilities for design of greener electronics
Making sure that the Federal Government "leads by example" in its own purchasing and end-of-life practices for electronics
Improving the management and handling of used electronics in the U.S.
Reducing the harm caused by U.S. exports of e-waste, especially to developing countries
The Electronics TakeBack Coalition, an advocacy group focused on green design and responsible recycling in the electronics industry,
criticizes the Federal task force
, complaining that the report's set of recommendations
...basically holds open the export door, using the faulty notion that we can make sure it's sent to "environmentally responsible" recyclers in developing countries. This is an industry plagued by cheating (even in this country), cutting corners, and quick profits without concern for long term impacts. It's hard enough to tell the high road companies from the cheaters even in this country. How exactly will the EPA or any other agency determine that a facility in China or India is handling e-waste safely - not just on the day of an audit, but all year long?
So do you think "niche streaming" businesses like electronics recycling are a promising source of green jobs for the future? Are toxic dumping and health and safety still legitimate concerns in e-cycling, or are current industry efforts sufficient? Please feel free to carry on a thoughtful dialogue in the comment space below.