So, How Is the Solar Industry Really Doing?
October 3, 2011
How is solar really doing as an industry? Is it contributing to energy supply in the U.S. and globally? Does it have a promising future, or is it a bubble industry inflated by government subsidies and bandwagon investors? Let's examine some recent reports that can give us some insight into these questions.
The Solar Business in the U.S.
The European Photovoltaic Industry Association (EPIA), in its
Global Market Outlook for Photovoltaics Until 2015
(September 2011) says that the U.S. had about 2.5 gigawatts (GW) installed PV solar capacity in 2010. The following chart from EPIA data shows the potential for growth in the U.S., depending on to what extent government policy comes into play.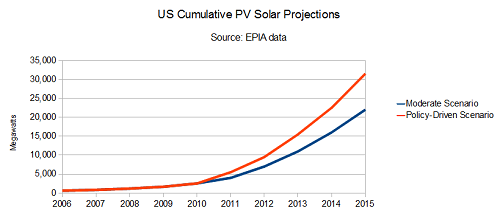 EPIA says 60 percent of U.S. PV solar installations are in California. In such western states, solar irradiation is high. Electric rates there are high as well, so EPIA believes that in those markets "PV will become competitive relatively rapidly." The U.S.
Solar Energy Industries Association (SEIA) says
that the U.S. market share of worldwide solar installations has hovered between five and seven percent since 2005. According to the Solar Foundation's
National Solar Jobs Census 2010
, solar employers in the U.S. numbered 16,703 in 2010. Over half of those employers were in the Western U.S. Twenty percent were in the Northeast/Mid-Atlantic region. Most U.S. solar companies are involved in installation, about 65 percent. About 50 percent are in wholesale trade, about 25 percent in manufacturing. On the installation side of the industry, 92.1 percent of solar firms install photovoltaic (PV) systems, 50.6 percent install water-heating systems, and 21.9 percent install space-heating systems. Solar manufacturers tend to be more diversified, only 64.6 percent making PV systems. SEIA says in its
U.S. Solar Energy Trade Assessment 2011
 that, although the U.S. solar industry imports goods such as PV equipment, polysilicon, and PV feedstock, the industry is in fact a net exporter. The country imports $3.75 billion and exports $5.63 billion, for net exports of $1.88 billion. U.S. solar installations for 2010 had a total market value of $5.96 billion.
Solar in the Overall U.S. Energy Picture
For the Solar Foundation's 2010 census, the organization surveyed utilities that are active in solar energy. Even in those utilities, solar still makes up a small percentage of their generation profile. Nearly 70 percent said solar was less than one percent of their generation; 11.4 percent said solar was between one and two percent of their energy profile; 10.1 percent of those utilities said solar made up more than 5 percent of their generation. Over 90 percent expected their solar capacity to increase in 2011. Solar should continue to gain market share as it becomes cost-competitive with conventional energy sources. The Department of Energy (DOE) chart shown here from the agency's
solar energy technologies program
projects that the cost of PV energy will continue to decline and gain in market penetration over the next two decades, becoming fully competitive for utility generation between 2015 and 2020.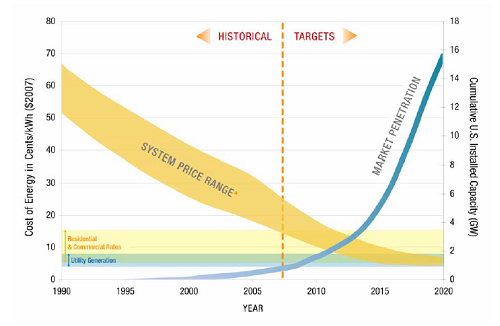 Solar on the World Scene
The EPIA
Market Outlook
report says that over the past decade the PV market "has experienced unprecedented growth." Globally, PV now has an installed capacity of about 40 GW and is growing at about 40 percent annually. The world now produces about 50 terawatt-hours (TWh) of PV solar electricity yearly. The industry has reached over one million installations worldwide, including small residential projects. EPIA stresses that
Much of the progress in recent years has been very heterogeneous, varying from country to country, due to several factors, the most important being different national regulations and incentive schemes as well as varying availability of financing facilities.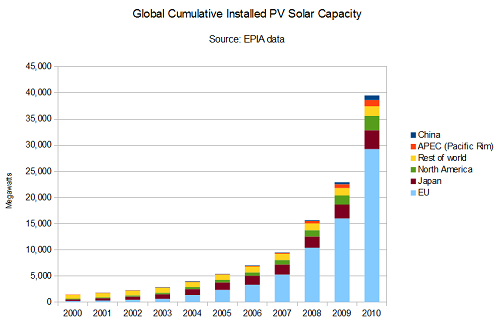 Europe accounts for most of the world installed PV capacity at 30 GW, or 75 percent of the world total, with the German (56 percent of the market) and Italian (18 percent) markets leading. The organization's report says,
Japan and the USA almost reached the gigawatt mark with 990 and 900 megawatts (MW) respectively, installed last year. France reached over 700 MW, while Spain regained some ground by installing 370 MW after two years of strongly adverse conditions. Belgium connected more than 420 MW of PV capacity to the grid in 2010. The entire European Union installed slightly more than 13 GW of PV capacity in 2010 while the rest of the world accounted for over 3 GW.
EPIA projects that solar electrical generation will continue to grow, but public policy is an important determiner of how fast that growth takes place. Under a baseline business-as-usual scenario, solar PV could fulfill four percent of EU electricity demand by 2020. But under policy-driven accelerated scenarios, the share could reach six percent or even 12 percent, the organization believes. The report says that the greatest potential for solar growth on the world scene is in the "Sunbelt" countries around the equator. The authors write that
In these countries, PV can already compete with diesel generators for peak power generation without policy support. Driven by local and global energy demand, the fastest PV growth is expected to continue in China and India, followed by South-East Asia, Latin America and the MENA countries. The PV potential of the Sunbelt countries could range from 60 to 250 GW by 2020, and from 260 to 1,100 GW in 2030, representing 27 percent to 58 percent of the forecast global installed PV capacity by then.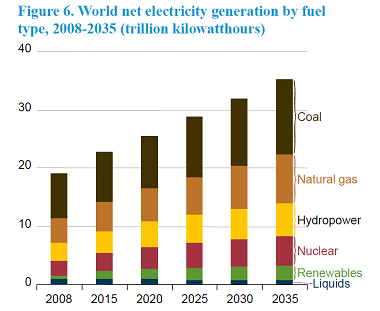 In spite of the growth and promise of solar, according to U.S. Energy Information Administration (EIA), the reality is that renewables will likely remain a relatively small percentage of world energy supplies for the next few decades. The chart shown here from the agency's
International Energy Outlook 2011
 gives an idea of the projected role of renewables in the global electricity picture through 2035. Solar makes up a very small percentage of total renewable sources. While EIA expects solar capacity to grow faster that any other renewable source, solar is still expected to generate only 191 billion kilowatt hours worldwide by 2035, only 2.3 percent of all renewable electricity sources.
"Green Jobs" in Solar
The solar industry is creating jobs in the U.S. According to the Solar Foundation's 
National Solar Jobs Census 2011
, the U.S. solar industry now employs 100,237 Americans, a 6.8 percent growth since August 2010. This compares to growth of only 0.7 percent in the overall economy, and a loss of 2 percent of jobs in fossil-fuel generation. The chart below based on data from the 2010 report shows how jobs break down in the U.S. solar industry. Interestingly, solar employers report that they have difficulty hiring qualified workers. Between 60 and 70 percent of solar installation companies report difficulty hiring employees such as installers, technicians, sales reps, estimators, engineers and designers, managers and foremen, and electricians with solar experience. Manufacturing companies seem to have less difficulty hiring qualified people.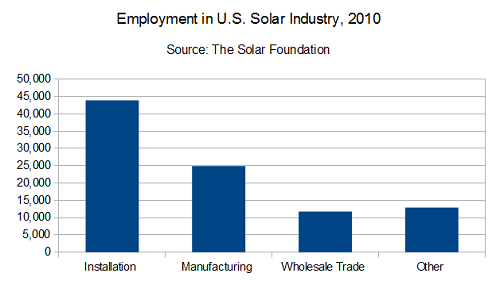 Reliance of Solar on Government Incentives
EPIA's
Global Market Outlook
report says that at some point in each country the cost of generating electricity with PV solar will reach "grid parity," meaning basically that PV electricity will be viable in the market and will be worth its costs. In the meantime, acknowledges the report, "the market is still driven by incentives ... PV market deployment still depends on the political framework of each country." In the U.S., many of the states have adopted renewable portfolio standards that require electric utilities to generate certain percentages of their power from renewable sources. This is driving adoption of solar and other renewables in the U.S.
According to Solarbuzz
, governments provide funding for solar projects through tax credits or rate-based subsidies. Governments offer financing support for solar purchasers and work with banks to support lending to solar-industry businesses. They also fund research and development in solar technologies. Government support of renewable sources such as solar receives criticism from conservative political voices. For example, the
Heritage Foundation urges
 that
The federal government must stop picking winners and losers in the energy sector. Subsidies create complacency within the industry and reduce the incentive to innovate. In most cases, subsidies either transfer part of the cost for a market-viable investment to the public or divert direct investment away from more efficient projects. They distort the market and cost the many for the benefit of the few. Freeing energy industries from all government subsidies would allow companies to rely on innovation and efficiency, not taxpayer handouts, to remain competitive and allow competition among all energy sources, including renewables.