Sustainability Spotlight: NREL is Tops in Technology Transfer and Improves Its Sustainability Practices
September 22, 2011
Transforming cutting-edge technologies developed by scientists and engineers at government labs into commercial application in the marketplace is an ongoing effort that has the potential for great success.
NREL
projects involving use of silicon ink in PV cells, electrochromic window technology, and the development of black silicon for creating high energy solar cells have been granted awards for excellences by the Federal Laboratory Consortium for Technology Transfer's Mid-Continent Region.   Under the Photovoltaic Technology Incubator program, NREL scientists teamed with
Innovalight, Inc.
, to adapt Silicon Ink, a liquid form of silicon, and develop its use in solar cells.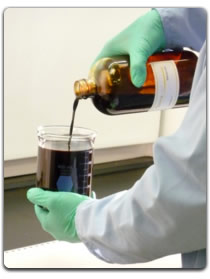 This new product is expected to boost the efficiency of solar cells by 6 percent and make them less expensive to manufacture by as much as 20 percent. Five of the world's leading solar cell producers have signed licenses to use Silicon Ink in their production lines.   NREL's electrochromic window technology was developed to make windows reflect sunlight, thereby reducing heat gain and keeping buildings cooler. Entrepreneur Loren Burnett has formed a company called
US e-Chromic
, LLC, in Boulder, Colo., to further advance the technology, and also became a participant in the DOE's America's Next Top Energy Innovator program.   NREL's "black silicon" nanocatalytic wet-chemical etch technique is a one-step process for creating high-efficiency solar cells based on an anti-reflection approach that significantly reduces manufacturing costs. NREL estimates that its method can reduce processing costs by 4 to 8 percent, resulting in overall savings in solar cell manufacturing of 1 to 3 percent.   While all this important renewable energy and energy efficiency research is going on, NREL also has its eyes and ears on its own sustainable practices, which has earned them a 2011 Platinum-level Award from the Federal Electronics Challenge, recognizing NREL's efforts to help the federal government improve its sustainable practices.   NREL achieved the award by tracking lifecycle data for electronic equipment, retiring old CRT monitors and replacing them with LCDs, ensuring the environmentally friendly disposal of electronics, and reviewing and revising NREL's policies to make the lab's information technology environment more energy efficient. A case study on the new Research Support Facility's desktop computing and data center policies revealed, among other things, a 75 percent decline in overall power consumption at the user's desktop.   For more information on NREL, visit their website at
www.nrel.gov