Bunnies, Bluebirds, and Butterflies - A Wildlife Habitat in Your Backyard?
August 8, 2011
A couple of weeks ago, I was riding through a residential neighborhood here in Raleigh, N.C., when a small sign in someone's front yard caught my attention. I pulled over to take a look.
National Wildlife Federation
(NWF) and said that the property "provides the four basic habitat elements needed for wildlife to thrive: food, water, cover, and places to raise young." More than anything, what impressed me was that, while this was a lovely, well-tended yard, it was very small. The house was an ordinary three-bedroom, two-story home in the kind of densely-settled housing development that has proliferated all over the Raleigh area during the past decade. Nothing about the neighborhood would have led me to expect a wildlife habitat in someone's tiny yard on a tenth-of-an-acre lot with a 40-foot frontage. Previously called Backyard Wildlife Habitat, the NWF's
Certified Wildlife Habitat
program was started in 1973. An article in
National Wildlife
says that the program has recognized 140,000 habitats in backyards, schools, parks, businesses, and government facilities, representing more than 70,000 acres of wildlife-friendly space. ("Welcoming Travelers and Wildlife," Doreen Cubie,
National Wildlife
, Feb./March 2011)
Creating Islands of Habitat
John Magee, owner of
GreenWorks Landscaping
 of Chantilly, Va., is one of the professional landscapers recommended by NWF to homeowners who want help developing a certified wildlife-friendly yard. When I spoke with Magee recently, I told him how I learned about the federation's program -- just by driving through a neighborhood and noticing someone's yard.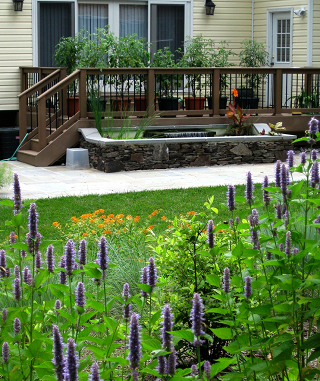 "That's exactly what they want," Magee told me. "They want people to notice it and stop and say, 'Hey, that's really pretty." (Photo: Native plant landscape in Vienna, Virginia. Courtesy of
John Magee
.) Although Magee is in the landscaping business, he reassured me that developing your own wildlife habitat need not involve a larger-scale project such as he would take on. "It doesn't really matter what size property you have," he says. "You might look at your little townhouse garden and think, 'Oh, my garden could never qualify.' But nothing could be further from the truth. You just have to have the four basic elements." The
NWF's Garden for Wildlife web site
outlines the four elements Magee mentioned: 1. Provide food for wildlife -- Native food sources such as berries, nectar, foliage, pollen, or feeders for birds or small animals (even squirrels are mentioned -- sigh). 2. Supply water for wildlife -- An existing stream or pond is a possibility, but a birdbath or puddling area could serve also. 3. Create cover for wildlife -- Ground cover, plants, shrubs, rock piles, bramble patches, or even dead trees. 4. Give wildlife a place to raise their young -- Habitat features that support species' entire lifecycles -- mature trees, host plants, thickets, a meadow area, pond, or even a nesting box. "You can get those things on any size property," Magee said. He stresses that you needn't think in terms of larger animals. "It doesn't have to be cougars and bears." I felt reassured. Bunnies and butterflies are perfectly fine goals. "I've got a hummingbird feeder on my back porch that about 20 hummingbirds frequent," he said.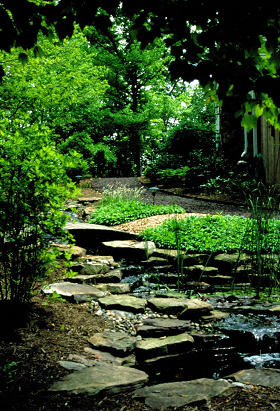 "One defining principle for me as a landscaper," Magee said, "is getting people to use native plants in their landscape -- that contributes to habitat. That's kind of where I start." Local wildlife are adapted to traditional native species, and invasive non-native plants can disrupt animals' normal lifecycles. (Photo: Native plant garden in Great Falls, Virginia. Courtesy of
John Magee
.) But do all of these small isolated efforts in backyards really have a significant impact in the big picture? Magee thinks so. "Even as habitat becomes more and more disrupted by development," he says, "we're creating more and more little islands of habitat. Wildlife can move and migrate from one to another of them. Areas that used to be forest are now subdivisions, but as we create more islands it makes things easier for wildlife. We can reconnect things more back the way they probably should be." If you're interested in seeing some of the native plant gardens Magee has created, see
his Flickr collection
,
this video on YouTube
, and
his photo gallery on Facebook
.
"Our Meadow Is Our Front Yard"
Lake Lou of Lowell, Massachusetts, has published
a set of photos of his Certified Wildlife Habitat on his Flickr stream
. He and his wife live in a Victorian house on a modest 5,500-square-foot lot. But as Magee stressed to me, much can be done even in a small space. Lou tells me:
We have to create everything on a smaller scale. Our "meadow" is our front yard that is all cosmos and a weeping cherry. Our forest is a line of evergreens that we planted as a green fence. Our newest addition, a pond -- is just four feet by two, but the number of birds we get has multiplied enormously! When we moved into this house two years ago, it was just grass lawn front and back, one small weeping tree and two shrubs. Even with just a few thousand square feet ... we have fit in a dozen birdhouses, ladybug houses, bird baths and fountains, a tiny pond, brush pile, rock wall, meadow of cosmos, all sorts of berry bushes, fruit trees, nectar and seed flower gardens, evergreens and bushes wildlife can take shelter in and nest in, a big sunflower patch that the goldfinches go crazy for, as well as tons of feeders -- each with different foods that attract different sorts of birds -- different types of seeds, nuts, berries, jelly...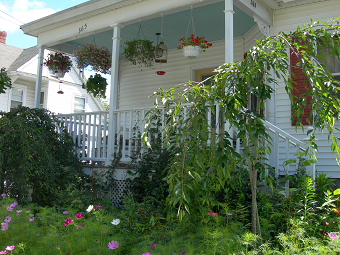 Lou says he and his wife "are very glad that we can offer this little bit of space back to them -- after so much of their habitats are being destroyed. It's really the least we could do." Besides, having wildlife so close is enormously gratifying (Photo: Certified Wildlife Habitat, Lowell, Massachusetts. Courtesy of
Lake Lou
.):
It is such a wonderful experience to watch all the goings-on in the garden -- at any time, it is so filled with birds, butterflies, squirrels, chipmunks -- all the little critters. You build it and they will flock to it!
Gardeners and the Future of Biodiversity
Quoted in
an article for National Wildlife
, Doug Tallamy, professor at the University of Delaware and chair of the school's Entomology and Wildlife Ecology department, says that backyard gardeners can play a role in building biodiversity and salvaging fragmented and disrupted wildlife habitat. Tallamy believes that "unless we restore native plants to our suburban ecosystems, the future of biodiversity in the United States is dim." Improvement is possible, though:
First and foremost, it is not yet too late to save most of the plants and animals that sustain the ecosystems on which we ourselves depend. Second, restoring native plants to most human-dominated landscapes is relatively easy to do. Gardening has taken on a role that transcends the needs of the gardener. Like it or not, gardeners have become important layers in the management of our nation's wildlife. It is now in the power of individual gardeners to do something that we all dream of doing: to 'make a difference.' In this case, the 'difference' will be to the future of biodiversity, to the native plants and animals of North America and the ecosystems that sustain them.
Tallamy disagrees with the idea that humans and wildlife cannot live successfully side by side:
Evidence suggests that the opposite is true. Most species could live quite nicely with humans if their most basic ecological needs were met. Yes, some species such as the cougar, gray wolf, and ivory-billed woodpecker are just too reclusive to become our fellows. But countless others could live sustainably with us if we would just design our living spaces to accommodate them.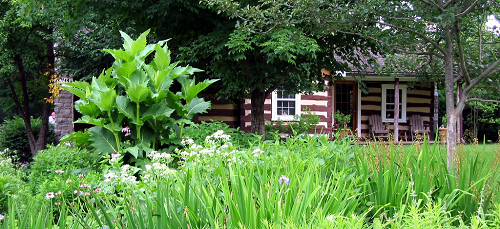 (Photo: Native plant garden in Front Royal, Virginia. Courtesy of
John Magee
.)
Intriguingly, the green and tan sign declared the owner's yard to be a "Certified Wildlife Habitat." The sign was issued by the