Friendly Competition - Vancouver's Bid to Become the World's Greenest City
July 25, 2011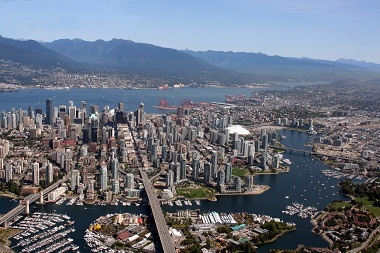 The Canadian city of Vancouver, B.C., is making a bid to become the world's "greenest city" by 2020. On July 14, 2011, the Vancouver City Council voted to approve a
Greenest City Action Plan
that aspires to make Vancouver "a source of inspiration, optimism, and hope," to demonstrate to the world "that concerted efforts can turn back the tide of ecological damage that humans have inflicted on the natural world," and to do all that in a way "that capitalizes on the tremendous economic opportunities presented by the global shift to a cleaner, leaner economy." (All photos and images in this story courtesy of the City of Vancouver.) Reading the news reports about Vancouver's efforts to become the greenest city, the first question that occurred to me was, "Greenest in what contest?" I found one answer by examining the
Siemens Green City Index
, a research project conducted for Siemens by the Economist Intelligence Unit (EIU). According to the study's
U.S. and Canada index
, San Francisco, at the top of the list, rates a score of 83.80, with Vancouver trailing as number two with 81.30. So, at least when it comes to that ranking, Vancouver might be striving for "Greener than Frisco." The U.S.-Canada report, released on July 5, 2011, only days before the Vancouver City Council decision, says that the Green City rankings were determined by comparing 27 cities according to 31 indicators in nine categories. The nine categories are carbon dioxide (CO2), energy, land use, buildings, transport, water, waste, air, and environmental governance. The EIU spotlights Vancouver's high ranking on the index in spite of its being a lower-income city. Although they do relatively well on the index, wealthier U.S. cities such as New York, Seattle, and Boston lag behind Vancouver in overall ranking. The report's authors explain that
There are differences in environmental priorities between U.S. and Canadian cities. Canadians are more aligned with Europeans when it comes to carbon emissions and energy use. They are more willing than Americans to invest in emissions reductions and energy efficiency... If wealth is taken into account, however, all of the Canadian cities punch well above their weight. Despite an average per capita GDP $7,000 lower than the average of the 22 US cities in the Index, Canadian cities rank nine to ten places higher than they would be expected to given their lower income.
One of Vancouver's strongest categories in the Green City rankings is carbon dioxide, at 91.4 points. The Economist researchers write that
The city emits just 4.2 metric tons of CO

2

per person, well below the Index average of 14.5 metric tons. Measured against economic output, Vancouver emits just an estimated 111 metric tons of CO

2

per $1 million of GDP, compared with the Index average of 296 metric tons. The city's low emissions are a result of policies geared at green energy promotion and the dominance of hydropower in Vancouver's energy grid.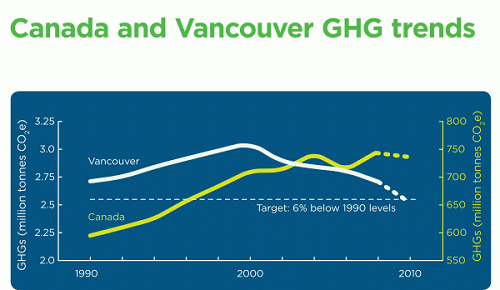 Vancouver earned a 95.1 rating in the Air category for its low emissions rates, and a 91.1 in Environmental Governance -- the report cites the city's "Greenest City" program as a factor in its high score for governance.
Friendly Competition: A Good Thing?
David Cadman
, one of two Vancouver City Councillors who sat on the Greenest City task force, thinks a little friendly competition around the "Green City" designation can do a lot of good in transitioning the world into a more environmentally-sustainable place. Cadman tells me that "simply being a green city in one place like Vancouver isn't enough. We have to take this plan and challenge a whole lot of cities to beat us, to move this challenge out beyond Vancouver to the rest of the world." Rather than following the categories and indicators of the Siemens study or some other ranking, Vancouver developed its own set of metrics, organized according to 10 long-term goals (quoted here from "
Vancouver 2020: A Bright Green Future; An Action Plan for Becoming the World's Greenest City by 2020
") :
| | | |
| --- | --- | --- |
| Objective | Goal | 2020 Targets |
| 1. [Becoming the world's] Green Economy Capital | Secure Vancouver's international reputation as a mecca of green enterprise | Create 20,000 new green jobs |
| 2. Climate Leadership | Eliminate Vancouver's dependence on fossil fuels | Reduce greenhouse gas emissions 33 percent from 2007 levels |
| 3. Green Buildings | Lead the world in green building design and construction | All new construction carbon neutral; improve efficiency of existing buildings by 20 per cent |
| 4. Green Mobility | Make walking, cycling, and public transit preferred transportation options | Make the majority of trips (over 50 per cent) on foot, bicycle, and public transit |
| 5. Zero Waste | Create zero waste | Reduce solid waste per capita going to landfill or incinerator by 40 per cent |
| 6. Easy Access To Nature | Provide incomparable access to green spaces, including the world's most spectacular urban forest | Every person lives within a five-minute walk of a park, beach, greenway, or other natural space; plant 150,000 additional trees in the city |
| 7. Lighter Footprint | Achieve a one-planet ecological footprint | Reduce per capita ecological footprint by 33 per cent |
| 8. Clean Water | Enjoy the best drinking water of any major city in the world | Always meet or beat the strongest of B.C., Canada, and World Health Organization drinking water standards; reduce per capita water consumption by 33 per cent |
| 9. Clean Air | Breathe the cleanest air of any major city in the world | Always meet or beat World Health Organization air quality guidelines, which are stronger than Canadian guidelines |
| 10. Local Food | Become a global leader in urban food systems | Reduce the carbon footprint of our food by 33 per cent |
Cities as Hotbeds of Green Innovation
Cadman believes cities are well-suited to serve as sources of environmental innovation. Whereas "national governments don't seem to be able to get their act together" to move forward on green initiatives, he tells me, "local governments are transforming the world around them."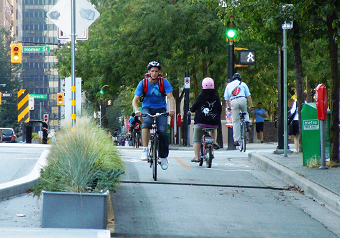 Besides his position on the Vancouver City Council, Cadman serves as international president of
ICLEI - Local Governments for Sustainability
(previously known as the International Council for Local Environmental Initiatives). ICLEI is an association of 1,220 local governments committed to sustainable development, operating in 70 countries. In reality, Cadman says, the organization works with about 6,000 cities, not all of which are part of the formal membership; so its reach is wide and gives Cadman a perspective on the sustainability efforts of cities across the globe. As an example of innovation in cities, Cadman tells me that a group of cities began about 10 years ago developing a process for ecological procurement that became successful without any help from any national governments. Now, he says, "the EU has come to us and said, 'Hot damn, this thing is working! Come help us apply these processes as green procurement rules in the EU.' Cities are showing national and international governments how things can be done. Trailblazers -- that's what cities are." A
report by the United Nations Environmental Programme
(UNEP) acknowledges that city populations tend to be wealthier than rural populations and thus tend to consume relatively higher levels of resources. However, the authors of the report point to one important potential of cities:
At the same time, cities concentrate large numbers of people into small places, and they also concentrate the knowledge, financial, social and institutional resources required for sustainability-oriented innovations. This captures the dilemma of cities for sustainability: they drive the global unsustainable use of resources, but they are also where the greatest potential exists for sustainability-oriented innovations.
Cities, the report asserts, have both the motivation and the intellectual capital to foster innovations in such areas as "sustainable transportation, reduced dependence on fossil fuels, increased dependence on locally grown food and localized supply of (recycled) water, compact urban form and much higher densities, integrated living and working neighborhoods, zero waste systems, cleaner production, and responsible ecologically sustainable consumption."
Future Life in the World's Greenest City
How will Vancouver be different in 2020, once it has become the world's "greenest city"? Cadman says,
By the time peak oil hits and gas prices skyrocket, it'll be a more compact city. More people will walk and cycle and take public transportation, and buildings will be more efficient. We're going to have a different style of living -- more healthy, more wholesome, and less onerous in terms of our footprint on the planet. The most exciting thing about this is the way young people are taking to it. They like the idea of growing their own food. They're happy getting around on their bike or skateboard or walking or on public transportation. It's a generation of kids who get it, who know we can't continue to live as if there were four planets. There's only one.