El Hierro -- How an Island Can Serve as a Model for Renewable Energy
July 18, 2011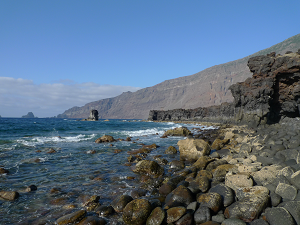 Smart Technologies Integrate Wind and Hydro Power
Gorona del Viento El Hierro
... the island will no longer require its annual consumption of 6,000 tonnes of diesel (40,000 barrels of imported oil), and it will reduce its emissions of CO2 into the atmosphere by 18,700 tonnes every year.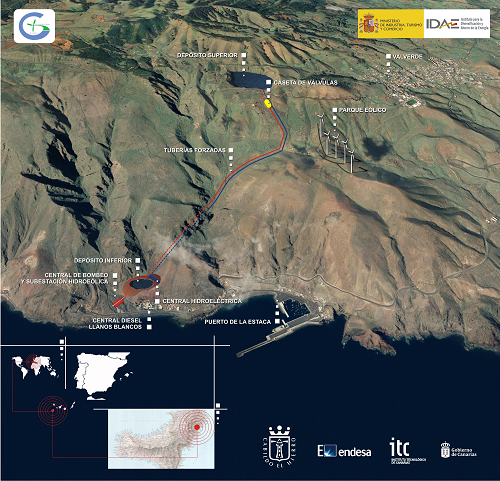 An important challenge for ABB was the installation of Automatic Generation Control (AGC), which maintains stable plant frequency and voltage by sharing active and reactive power demand in the generators and tie-lines. This is done in a way that allows the working points of the generator sets to operate with as much margin as possible, so that the plant can withstand bigger disturbances.
A distributed control system (DCS) "will control the four hydropower turbines, the pumped storage process, the new interconnection substation and the existing substation, and communicate with the new wind farm." Describing how things work from a system perspective, ABB says,
By communicating with the wind farm, the ABB control solution will automatically start releasing water from the upper reservoir to generate power at the hydroelectric plant whenever the wind power generated is insufficient to meet demand. Conversely, excess wind power will be used to pump water to the upper reservoir, for use when wind power is low.
According to Andrés Cala, writing for the New York Times
Islands: Important Test Cases for Renewable Energy
Despite ABB's headline and other write-ups I found on the El Hierro project (e.g., "The world's first renewable energy island"), El Hierro is not the first island to position itself as all-renewable. For example, the Danish island of Samsø, with a population of 4,000, began the conversion to all-renewables in 1998, and now generates all of its electricity from wind power and 75 percent of its heat from solar and biomass. (See Wind-Works' article "
Samsø: Denmark's Renewable Energy Island
Islands can play a very important role as pioneers of the energy revolution... We think we are pioneering part of this coming energy revolution in the sense that islands are aiming at energy self-sufficiency. The model of having an island with a hundred percent -- or a high percentage of renewable energy penetration -- can be replicated in lots of islands worldwide... The island as a whole can serve as an experiment not only for this particular energy combination, but also for other types of energy-related issues like mobility, like efficient transport solutions... Examples like El Hierro will prove technologically that this is possible.
Peter Sweatman, CEO of investment-consulting firm Climate Strategy, tells Cala of the
New York Times
that
El Hierro is an emblematic project. It's really a role model for other islands, and for non-islands it's a test case to fully develop the potential for pump storage.
Eduard Sala de Vedruna, research director for the Europe Wind Energy Advisory Group of IHS Emerging Energy Research (IHS EER), also believes El Hierro is an important test case. He tells Cala,
It's very positive to the power industry to have a renewable energy storage system running. El Hierro is going to be replicable in other islands first and as the system improves its application will expand to other systems. Many clichés about renewable energy will be broken once this is proven, as costs fall and large-scale application increases.