Sustainability Spotlight: Energy-Efficient Building Designs Recognized by EPA
May 26, 2011
In 2011, the ENERGY STAR Challenge launched a friendly competition among teams comprised of
American Institute of Architects
chapters in three U.S. regions.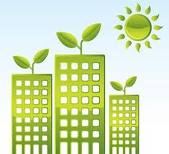 Intended to encourage members to submit projects that achieve ENERGY STAR status, their efforts have proved successful, and a total of 79 commercial building design projects achieved
Designed to Earn the ENERGY STAR
certification in the past year. Designing commercial building projects to achieve the ENERGY STAR helps architects and their clients save money while saving energy and avoiding carbon emissions. According to the EPA, commercial buildings account for 18% of the nation's energy use and cost their owners more than $100 billion annually in energy costs. On average, 30% of the energy used in commercial buildings is wasted. With many existing buildings undergoing renovations and new buildings going up every day, architects are the first line of defense when it comes to improving building efficiency. The Designed to Earn the ENERGY STAR certification identifies projects that achieve EPA criteria for superior energy efficiency. When built, they are expected to operate in the top 25 percent of similar buildings. To achieve Designed to Earn the ENERGY STAR status, eligible design projects must achieve a score of 75 or better on a scale of 1 to 100 in
Target Finder
-EPA's online energy performance scale that compares estimated energy use of projects to the energy use of similar existing buildings. This tool helps design teams set aggressive, realistic energy targets and then receive a score for the project's estimated energy use. Thirty-seven architecture firms took the Challenge between June 2010 and April 2011, and qualified 79 projects with a total of 6.5 million square feet. The Big Easy Central region won by submitting 40 projects, lead by the firm Fanning/Howey Associates with the most projects from the state of Ohio. No slackers, the East Coast team submitted 20 projects and the Wild West submitted 19. Congratulations go to all for making the commitment to design and operate buildings in a sustainable manner.