Carbon Capture Makes In-Roads Despite Glaring Down Side
May 25, 2011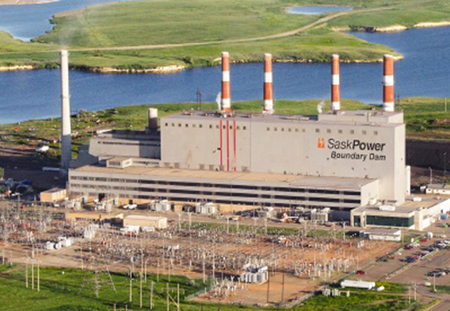 As the Obama administration
promises to speed up oil production
in the U.S., I can't help but make a striking comparison to the carbon capture industry. The price of oil has crept up yet again and speeding up production is another knee-jerk reaction to offer relief to consumers. Similarly, carbon capture is gaining momentum and is basically enabling our addiction to coal. Is this any way to make in-roads with clean energy efforts? Carbon capture involves trapping the carbon dioxide at its emission source, transporting it to a storage location (usually deep underground) and isolating it. This means we could potentially grab excess CO2 right from the power plant, creating greener energy. But
According to IEEE Spectrum magazine
, "the technology needed to capture carbon has a huge downside as it could nearly double the amount of water a plant uses for every kilowatt of electricity it delivers-easily erasing any gains from techniques aimed at conserving water and reducing thermal pollution."
And this, from Jared Ciferno, technology manager for the existing plants program of the National Energy Technology Laboratory: "This technology was not developed in a water-constrained environment. The bottom line is that [carbon] capture takes energy, and that translates to additional water use."
Despite this rather glaring drawback to carbon capture technology, it continues to make rapid in-roads around the world, dressed up as a viable means to save the environment, create jobs and untold economic fortunes. The BBC recently reported that a new study from The Scottish Enterprise found that more than 5,000 Scottish jobs could be created if three proposed carbon capture and storage projects move forward, ahem, full steam ahead. Here's more
from the BBC article
:
The Scottish Enterprise study found that up to 4,600 jobs could be created during the construction phase of the projects to 2020, with a further 454 operational jobs supported when the sites were up and running. Another key finding of the research, published at the All Energy conference, was that the CCS projects could boost the Scottish economy by £2.75bn, generating an additional £535m per year during their operational lifetime.
Adrian Gillespie, from Scottish Enterprise, had this to say: "The far-reaching impacts revealed in this study underline the potential of carbon capture and storage, not only in long term economic and environmental terms but also in the shorter term, delivering significant immediate benefits for the Scottish economy."
And it's not just Scotland joining in on the carbon capture fun. It's also taking off in the great white north - Saskatchewan Canada to be more precise. The government there approved construction of the Boundary Dam Integrated Carbon Capture and Storage Demonstration Project - one of the first commercial-scale carbon capture and storage facilities in the world. Here's more from the Government of Saskatchewan's web site:
The $1.24 billion project will transform an aging generating unit at Boundary Dam Power Station near Estevan into a producer of reliable, clean electricity while reducing greenhouse gas emissions by approximately one million tons per year - the equivalent of taking more than 250,000 vehicles off Saskatchewan roads each year - in addition to capturing carbon dioxide (CO2) for enhanced oil recovery. 
Bloomberg is also reporting
that
a company called 2Co is getting in on the carbon capture game via the Don Valley Power Project in South Yorkshire, England. The complex will generate 900 megawatts of low-carbon electricity from 2015 with carbon capture and storage (CSS) technology fitted to it. Don Valley will also capture as much as 5 million tons of carbon dioxide a year for storage beneath the North Sea. While that all sounds fine and dandy, it appears that this is nothing more than a ploy to gain easier access to oil and ease taxes.
"The potential for using CO2 for Enhanced Oil Recovery could help meet U.K. fiscal needs as it would bring access to taxation revenue from extra North Sea oil production and significantly reduce the overall cost of CCS to the U.K.," said Lewis Gillies, chief executive of 2Co and former BP Plc executive.
I don't think it's a bad thing to tie economic benefits to alternative energy solutions - it's obviously a must-have to make it all work. But continuous talk of "near term benefits" seems very short sighted and allows us to conveniently tout unproven and flawed sustainable solutions.