Collaboration Formed for Developing Next-Generation Cool Roofs
May 3, 2011
In an effort to improve the effectiveness of current cool-roof technologies,
Oak Ridge National Laboratory
(ORNL) and
Lawrence Berkeley National Laboratory
(LBNL) have joined with
Dow Chemical Company
to advance the research and development of solar-reflective coatings. According to Energy Secretary Steven Chu, "Cool roofs are one of the quickest and lowest cost ways we can reduce our global carbon emissions and begin the hard work of slowing climate change." With more than 20 billion square feet of commercial building roofing space available for retrofit, the potential for saving is enormous.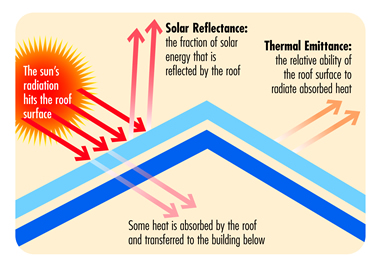 ORNL will partner with LBNL to capitalize on experience they both bring to the table from their applied research in the field. In collaboration with Dow, the labs will work on improving solar-reflective roof coatings by giving them the ability to continue reflecting sunlight after years of exposure to the elements. This includes developing technologies that improve the long-term resistance to dirt build-up and microbial growth, with the overriding goal to design and commercialize the next generation of cool roof components. Replacing or resurfacing conventional roofing materials with improved reflective roof coatings offers building owners the opportunity to save both money and energy on air conditioning. Cool roofs enhance roof durability and reduce both building cooling loads and the urban heat island effect, a phenomenon where the temperature in a metropolitan area is significantly warmer than in the surrounding rural areas. In December, the
Department of Energy
completed the installation of a cool roof that covers approximately 25,000 square feet on its Headquarters West Building in Washington, DC. This spring, DOE will also install a cool roof on the Headquarters South Building, covering approximately 66,000 square feet. As a result of the new cool roof installations on both buildings, taxpayers will save a total of $8,000 per year in energy costs. DOE has released Guidelines for Selecting Cool Roofs, which provides technical assistance on types of roofing materials and how to select the roof that will work best on a specific facility. For a copy of the guide, visit
www1.eere.energy.gov/femp/pdfs/coolroofguide.pdf