Another Paper Bottle Hits the Shelves
March 24, 2011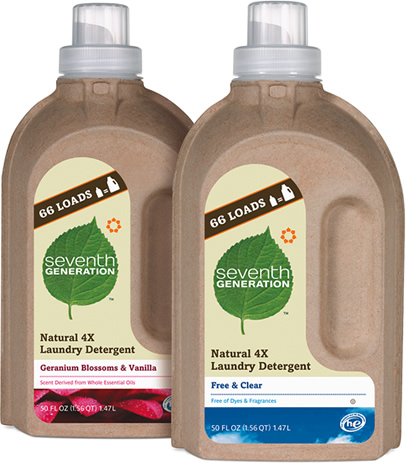 As reported in an earlier post about a
hybrid milk container
, the paper bottle is being utilized by another company for a completely different product.
Seventh Generation's
4X Laundry Detergent is now packaged in a recyclable or compostable paper bottle. Although a bottle is typically made from glass or plastic, the paperboard system is an ingenious way to achieve packaging sustainability while still providing the consumer with a familiar packaging appearance. Produced by
Ecologic Brands
, the same company that created the above-reference milk container, the paper laundry bottle is comprised of an outer paperboard shell, an inner plastic pouch, a resealable spout, and a cap. The package comes apart easily and each component can be recycled: the paperboard to recycling or compost pile and the plastic components (inner bag, spout, and cap) to local recycling programs. The company states that this packaging system uses 66% less plastic than a typical 100 oz 2X laundry detergent. The contents of the bottle are just as environmentally friendly as the packaging. The 4X Concentrated Laundry Detergent is made from all natural ingredients that are plant or mineral derived. It is non-toxic with no optical brighteners, dyes, or synthetic fragrances and is hypoallergenic. Seventh Generation products are available throughout the country at retailers like Whole Foods, Fairway, Henry's/Spouts, and Sunflower Market.