Product Spotlight: Skystream 600 Lets People Have the Power
January 21, 2011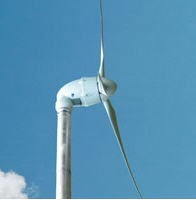 Featured in the GE "Home of the Future" exhibit at the 2011 Consumer Electronics Show,
Southwest Windpower
's Skystream 600 is an efficient, power grid-connected turbine that can provide an average of 7,400 kWh of clean, low-cost energy per year in 12 mph average annual wind speeds, which translates into 60 to 80 percent of an average home's energy requirements. Supplied with the interactive Skyview(TM) system, users can monitor exactly how much energy the wind turbine is producing from anywhere internet access is available. Skystream is designed to work in tandem with an electric utility to power a house. When the wind is blowing, Skystream pivots to catch the best wind and provides clean, quiet electricity. When it generates more electricity than needed, the electric meter spins backwards to indicate that the homeowner is selling electricity back to the utility. When the wind isn't blowing, the utility supplies the electricity for the home. Southwest Windpower, based in Flagstaff, Arizona, was founded more than 20 years ago. They design, manufacture, and distribute
small wind systems
(400-3000 watts); they have 170,000 units installed worldwide and sell 15,000 turbines annually. GE invested in Southwest Windpower in early 2009 and they are now part of GE's ecomagination clean energy business strategy.