State Transportation Departments are Helping Keep Winter Green
December 27, 2010
Several states have turned to new technology and environmentally sensitive solutions to cut costs and improve efficiency when battling Mother Nature's winter forces. These solutions are examples of how winter issues can be addressed in a more environmentally friendly fashion while also keeping a green eye on the bottom line.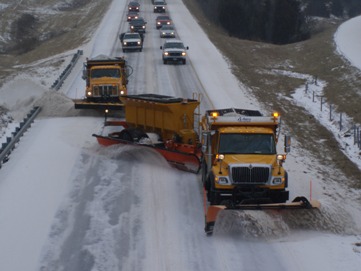 This season more than a dozen state DOTs will be using the highly efficient 26-foot-wide
Tow Plow
, a steerable trailer-mounted plow that is pulled behind a conventional plow truck, allowing two travel lanes to be cleared and treated in a single pass. Not only does this save fuel, but it also reduces the amount of time, equipment, and manpower needed to clear the roadways. The Utah DOT recently installed 17 solar-powered
HomeView Technologies
® road condition monitoring cameras at remote locations throughout the state. Instead of sending a snow plow to investigate a location, supervisors can take a quick look and decide whether an area needs to be plowed, ensuring optimal use of resources. This winter, the Tennessee DOT will join the ranks of states that use a substance called
Magic Salt
to help melt ice and snow during lower temperatures. Magic Salt is made from potato juice, and is biodegradable, non-corrosive, and environmentally friendly.  TDOT and several other states, including Maryland DOT, will also use beet juice to improve snow and ice removal from roadways when temperatures fall. The Colorado DOT has deployed snowplows equipped with a Maintenance Decision Support System (MDSS), which combines advanced weather and road condition prediction and rules of practice to help operators determine the proper application of anti-icing and de-icing chemicals on a route-by-route basis, limiting the amount chemicals used to only what is needed to get the job done properly. These few examples show that innovation sparked by environmental concerns has a positive impact on budgets and leads to the wise use of resources.