Sustainability Takes Front Row Seat at Nation's Stadiums
November 24, 2010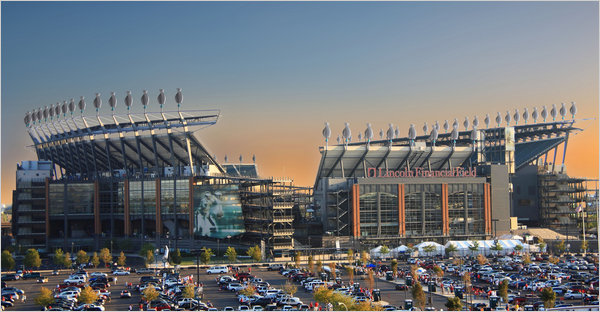 With the amount of water, electricity (and beer) consumed at the nation's stadiums and convention centers on any given day, logic would dictate that this public arena isn't one that's particularly hip to deploying sustainable best practices. But faster than you can say "Let's get ready to rumble", it turns out iconic structures like Infineon Raceway, Anaheim Convention Center and Lincoln Financial Field are all bringing some form of sustainability out of the nosebleed section and into the front row in order to run more efficiently. Infineon Raceway is Northern California's premier motor-sports destination, featuring a world-class road course, drag strip and karting center. Its annual race schedule is headlined by the NASCAR Sprint Cup Series. The raceway
recently entered a multi-year relationship with Panasonic
to create a solar-electric-power generating installation at the raceway with a capacity of more than 350 kilowatts, along with a new dual sided, solar-powered LED display board. In total, 1,652 of Panasonic's Sanyo solar panels will be installed at the raceway. Here's more, from Business Wire:
Panasonic will assume a charter sponsor role in the raceway's new green performance program in an agreement that runs through 2015. That initiative will significantly enhance the facility's existing sustainable practices in its daily business operations, while at the same time communicating a clear message to the raceway's customer base about the performance benefits of green transportation technologies.
"Infineon Raceway is uniquely positioned to take the message of sustainability to the horsepower-and-performance crowd who have not necessarily been the early adopters in this movement," said Steve Page, president and general manager of Infineon Raceway. "This partnership with Panasonic is the first major building block in this new initiative and we're delighted to welcome them as a founding partner." Looking toward expansion, Page said the goal is to include low/no-carbon racing. The raceway is also developing plans for a series of green performance summits, ultimately establishing the Sonoma facility as the hub for new low/no-carbon race technologies. The Anaheim Convention Center is also serious about reducing its carbon impact and was
recently awarded the Leadership in Energy and Environmental Design (LEED) certification
by the U.S. Green Building Council (USGBC). LEED is the USGBC's leading rating system for designing and constructing the world's greenest, most energy efficient, and high performing buildings. Brian Daniels, Anaheim Convention Center LEED AP O&M project administrator, said, "The Anaheim Convention Center team have worked diligently to meet and exceed sustainability standards. Some of our efforts include revamping to reflect LEED criteria, an aggressive recycling program, efficient and water-saving plumbing fixtures and an expanded energy-saving electricity and solar energy system." The convention center's LEED certification is a big deal in more ways than one. At 1.6 million square feet, it's the largest on the West Coast.  "The Anaheim Convention Center's LEED certification demonstrates tremendous green building leadership," said Rick Fedrizzi, President, CEO & Founding Chair, U.S. Green Building Council. For Lincoln Financial Field, home of the Philadelphia Eagles, becoming more efficient means a winning mix of wind, biodiesel and solar,
according to a recent article in The New York Times
. Last Thursday, The Eagles announced they would install about 2,500 solar panels, 80 20-fott high wind turbines and a generator that runs on natural gas and biodiesel to ensure the stadium will be able to generate all of its own electricity, the first stadium to do so. Here's more from The New York Times:
To become self-sufficient, the Eagles have hired Solar Blue, a Florida-based company that will spend more than $30 million to install the solar panels, wind turbines and dual-fuel co-generation plant by the start of next season. Solar Blue chose vertical wind turbines because they produce less noise than bladed ones. They will also capture energy at night. The panels and turbines will meet about 25 percent of the stadium's energy needs, with the generator covering the remainder, and will be visible to fans in the stadium, on television and to drivers passing by.
Sounds like a winning combination. What do you think?