Rechargeable LED Light Bulb Makes U.S. Debut
October 21, 2010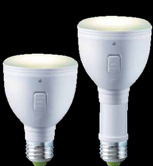 A rechargeable light bulb? What? And
why
? A new product is hitting the market that could revolutionize lighting (or could just be another gimmick that will flop).  From the marketing info, it sounds like a pretty cool product: MagicBulb, the award winning light bulb that will stay lit after the power cuts out.
MagicBulb
is an LED bulb that is rechargeable, cuts energy use, doubles as a flashlight, and is eco-friendly. Said to last for 20,000 hours, the MagicBulb does not contain any harmful elements and has three different switch functions to alter how the bulb is used:
Bottom switch:
Can be used as a normal light bulb (when electricity supply is on, light stays on. When electricity supply is off, light stays off.)
Middle switch:
Rapid recharging for the built in rechargeable battery and light will stay off.
Top switch:
Light always stay on when electricity supply is switched on (but when electricity supply is switched off, light will stay on for 3 hours provided the built in battery is fully charged). When bulb is removed for the socket, if the battery is charged it can used as a flashlight by pulling down the bottom end to form a handle.   Available in two sizes, the MagicBulb replaces all types of E27 or E26 socket light bulbs and emits a natural, UV and infrared free light. Check out the video:  
MagicBulb