Product News: Vision Systems
Zoom Lens features detachable servo drive unit.
Press Release Summary: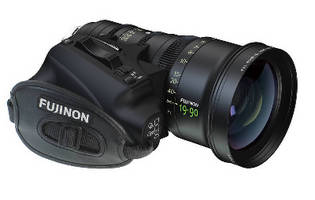 April 18, 2012 - Suitable for use as standard PL lens or as ENG-Style lens, PL 19-90 Cabrio ZK4.7x19 features 19-90 mm focal range with flange focal distance adjustment and macro function. Unit has 9-blade iris and covers 31.5 mm sensor size on digital cinema style cameras. LDS and /i metadata compatibility enables users to record position information of zoom, iris, and focus for computer animation and other uses. For visibility in dark shooting situations, lens has luminous barrel markings.
FUJIFILM Medical Systems USA, Inc. - Wayne, NJ
Original Press Release
Newest Fujinon PL Mount Zoom Features a First for Cine-Style Lenses
Press release date: April 9, 2012
Lightweight and compact PL 19-90 CABRIO (ZK4.7x19) zoom features detachable drive Wayne, N.J., - FUJIFILM North America Corporation, Optical Devices Division will introduce the newest member of its PREMIER PL Mount Zoom family during the NAB convention (Booth #C7525), running from April 14th-19th in the Las Vegas Convention Center. The PL 19-90 Cabrio (ZK4.7x19) features an exclusive detachable servo drive unit, making it suitable for use as a standard PL lens or as an ENG-Style lens. The ZK4.7x19 also features flange focal distance adjustment, macro function, and is LDS (Lens Data System) and /i metadata compatible. With a 19-90mm focal range and weight of only 2.7kg including servo motors, this lens has the longest focal range available in a light weight zoom. "We're very excited to bring this new lens to NAB this year. It bridges the gap between film- and news-style shooters, it affords a new level of flexibility to all," explained Thom Calabro, Director, Marketing and Product Development, FUJIFILM North America Corporation, Optical Devices Division. "Someone more accustomed to shooting feature films or commercials may not want a servo attached to the lens, but an operator used to shooting video in a typical ENG-style will be very comfortable with the servo. Cinematographers will be right at home with this lens. The lens is set to accept industry standard cine motors and matte boxes. Plus, the lens has all the lens data output that appeals to a Cine-style shooter. LDS and /i metadata compatibility is very useful when you want to record the position information of zoom, iris and focus for computer animation and other uses." The digital servo on the PL 19-90 has 16-bit encoding, so operators can be assured that all lens data output is extremely accurate. The PL 19-90 covers 31.5mm sensor size on a digital cinema style camera. While sensors on standard broadcast cameras are all the same size, sensors on digital cine cameras vary greatly. This new zoom ensures the image captured will cover large sensors for optimal, full-frame resolution. A nine-blade iris part of the design as well, creating the most natural-looking imagery possible. Barrel markings are luminous for visibility in dark shooting situations. Distances are listed in feet or meters and can be changed in the field. The PL 19-90 can be controlled using cinema industry standard wireless controllers, as well as existing FUJINON wired and wireless units. Whether you are from a film background or a video one, the Premier PL 19-90 offers uncompromising quality and unprecedented flexibility. The other Premier PL Mount Series lenses are available in 14.5-45mm T2.0, 18-85mm T2.0, 24-180mm T2.6, and 75-400 mm T2.8-T3.8. About Fujifilm
FUJIFILM North America Corporation, a marketing subsidiary of FUJIFILM Holdings America Corporation consists of five operating divisions and one subsidiary company. The Imaging Division sells consumer and commercial photographic products and services including film, one-time-use cameras, online photo services and fulfillment, digital printing equipment and service. The Electronic Imaging Division markets consumer digital cameras. The Motion Picture Division provides motion picture film, and the Graphic Systems Division supplies products and services to the printing industry. The Optical Devices Division provides binoculars, and optical lenses for closed circuit television, videography, cinematography, broadcast and industrial markets. FUJIFILM Canada Inc. markets a range of Fujifilm products and services. For more information, please visit www.fujifilm.com/northamerica, or go to www.twitter.com/fujifilmus to follow Fujifilm on Twitter. To receive news and information direct from Fujifilm via RSS, subscribe at www.fujifilmusa.com/rss. FUJIFILM Holdings Corporation, Tokyo, Japan, brings continuous innovation and leading-edge products to a broad spectrum of industries, including electronic imaging, digital printing equipment, medical systems, life sciences, graphic arts, flat panel display materials and office products, based on a vast portfolio of digital, optical, fine chemical and thin film coating technologies. The company was among the top 16 companies around the world granted U.S. patents in 2010, and in the year ended March 31, 2011, had global revenues of $25.8 billion*. Fujifilm is committed to environmental stewardship and good corporate citizenship. For more information, please visit www.fujifilmholdings.com. * At an exchange rate of 86 yen to the dollar. All product and company names herein may be trademarks of their registered owners. FUJIFILM Optical Devices Division, 10 High Point Drive, Wayne, New Jersey 07470. Phone: 973-633-5600. Fax: 973-633-5216. Web site: www.FUJINON.com