X-Ray Systems inspect pc boards and semiconductors.
Press Release Summary: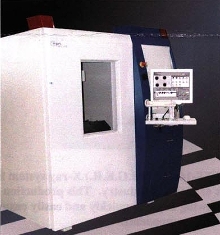 June 13, 2002 - FXS-160.40 (T.I.G.E.R.), with total magnification of 2800x, provides 3D views of PCBs to ensure quality of BGA, microBGA, CGA and Flip-Chip components. Region of interest always remains in same position on result image, while user tilts image intensifier up to 60°, and rotates 360° for various angles of view. FOX-160.25, for semiconductor industry, provides total magnification of 7200x and feature recognition of 500 nanometers. Focal spot size is less than 1 micron.
Original Press Release
The FXS-160.40 (T.I.G.E.R.) With AIM Technology
Press release date: May 29, 2002
The FXS-160.40 (T.I.G.E.R.) X-ray system has been developed to meet the rigorous needs of the PCB industry. This production line machine allows inspection from any viewing angle to quickly and easily ensure the quality of BGA, microBGA, CGA and Flip-Chip components.

FXS-160.40 (T.I.G.E.R.) Highlights:
- Designed for assembly / production environment
- Real-Time Microfocus X-ray
- Automatic BGA Analysis & Void Calculation Operators
- The image intensifier tilts (60°) and rotates (360°), around the PCB for oblique angled viewing
- Total Magnification of 2800X
- Maintenance / Service friendly with front door access
- Particularly user-friendly

What is AIM Technology?
FeinFocus developed AIM Technology as a means of obtaining 3D inspection views from a 2D inspection system. AIM is extremely useful for the in-depth inspection of double-sided boards and features pure software controls for all part inspection tasks.

- Intuitive & Ergonomic Controls
- 360 deg x 60 deg Oblique Angle Viewing
- Frame and Zoom
- Video Display Sample Positioning
- Anti-Collision Features
- Click and Center
- Frame and Zoom-Out
- Region of Interest Viewing Remains Constant

Learn about the Latest FeinFocus Introduction.
The FOX-160.25 - With Nanofocus Technology

The industry's first nanofocus X-ray inspection system for semiconductor manufacturers.

FOX-160.25 Highlights:
- Total magnification of 7200x (Geometric magnification of 2400x)
- Feature recognition of 500 nanometers (0.5 microns)
- Highest resolution in the industry
- Whole area inspection of 300x400mm
- Focal spot size of less than 1 micro m
- High precision manipulation of 5 axes
- Optional Digital Detector


SMT Vision Award 2002 - Best New Product (Inspection)

For further information please contact:
Christine Olive
FeinFocus USA, Inc.
Manager, Marketing & Customer Services
(203) 969-2161 phone
(203) 969-2162 fax
c_olive@feinfocus.com