X-Ray Microanalysis System characterizes microstructures.
Press Release Summary: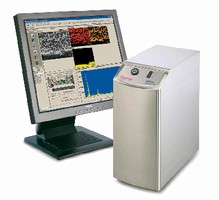 August 10, 2006 - Equipped with 30 mm² silicon drift detector, NORAN System SIX is deployed on electron microscopes to provide chemical information in addition to imaging capabilities. Direct-to-Phase software performs energy dispersive spectroscopy analyses concurrently with sample acquisitions. Automatic controls eliminate need to set acquisition and analysis parameters. System characterizes samples in terms of phases, enabling new compositionally unique features to be identified and mapped.
Thermo Fisher Scientific Inc. - Waltham, MA
Original Press Release
Thermo Upgrades its X-ray Microanalysis System for Ultimate Productivity in Microstructure Characterization
Press release date: July 31, 2006
CHICAGO, Illinois (July 31, 2006) - Thermo Electron Corporation has improved its X-ray microanalysis system, NORAN System SIX, enabling superior productivity gains in high throughput microstructure characterization laboratories. Deployed on electron microscopes to provide chemical information in addition to the microscope's imaging capabilities, NORAN System SIX is now powered by the innovative new Direct-to-Phase software to perform energy dispersive spectroscopy (EDS) analyses concurrently with sample acquisitions, thus enabling scientists to make better informed decisions across a range of industries including mining, minerals, geophysics, metal production, semiconductor and microelectronics, ceramics, art and archeology, forensics and nanotechnology. Combined with a newly introduced 30 mm² silicon drift detector, NORAN System SIX operates at ten times the efficiency of traditional X-ray microanalysis systems. This improved system will be showcased on Thermo's booth #1516 at the Microscopy and Microanalysis 2006 Conference, Navy Pier, Chicago, IL, USA, July 30-August 3. Typically a time-consuming process, conventional X-ray microanalysis requires a number of steps to get to a good result. Subjective decisions regarding the sample's composition and operation of the X-ray microanalysis system are required at key decision points in the process. Thermo's NORAN System SIX compresses data acquisition to intelligent reporting in just one single step. Critical decisions are made by the microanalyzer itself throughout the acquisition, analysis and data interpretation process. The Direct-to-Phase software enables the system to terminate based on statistically and compositionally significant feedback. Alternatively, the analyst can visually observe the development of data and then decide when sufficient information is available for proper data interpretation. Traditionally, X-ray microanalysis combines spectral data with imaging capabilities to create spatial maps of each element in the sample. However, materials typically do not exist in simple elemental states; they are often made up of compounds in spatially unique phases. Leveraging the wealth of information collected in a spectral imaging dataset, where a complete EDS spectrum is recorded at every x-y point in the image, NORAN System SIX characterizes samples in terms of phases, not just elemental concentrations, enabling new compositionally unique features to be identified and mapped during the analysis. NORAN System SIX is designed for a wide range of operation. While Direct-to-Phase software enables the analyst to get to definitive answers in the least amount of time, NORAN System SIX facilitates traditional spectral, X-ray mapping and linescan tools in an easy to use interface, and maintains the benefits of using spectral imaging data such as the ability to extract new elements from the data without rerunning the sample. NORAN System SIX facilitates point-by-point analysis, and provides feature sizing with chemical typing capabilities. Automatic controls eliminate the need to set acquisition and analysis parameters that require guesswork and result in trial-and-error operation. However, the analyst can manually set acquisition or analysis parameters when needed for specific operations. For more information about Thermo's updated NORAN System SIX X-ray microanalysis system, please visit booth #1516 at the Microscopy and Microanalysis 2006 conference in Chicago. Alternatively, please call +1 800-532-4752, e-mail analyze@thermo.com or visit
www.thermo.com/microanalysis
Please send all leads from this editorial to: analyze@thermo.com About Microanalysis Thermo Electron Corporation offers precision analytical X-ray instrumentation for materials analysis in research, failure analysis and quality control applications. Its microanalysis products enable compound information at the micron and nanometer levels with electron microscopes and X-ray microanalysis (EDS/WDS/EBSD) instrumentation. Microbeam X-ray fluorescence (MXRF) products for thin-film composition, thickness and small spot applications are also available. A world leader in high-tech instruments, Thermo is recognized for advancements in microanalysis systems and outstanding customer service. For more information, visit
www.thermo.com/microanalysis
. About Thermo Electron Corporation Thermo Electron Corporation is the world leader in analytical instruments. Our instrument solutions enable our customers to make the world a healthier, cleaner and safer place. Thermo's Life and Laboratory Sciences segment provides analytical instruments, scientific equipment, services and software solutions for life science, drug discovery, clinical, environmental and industrial laboratories. Thermo's Measurement and Control segment is dedicated to providing analytical instruments used in a variety of manufacturing processes and in-the-field applications, including those associated with safety and homeland security. For more information, visit
www.thermo.com